I tested a range of chinchilla cages and found the Midwest Deluxe Critter Nation cage to be the best.
As a chilly lover and small pet owner, I know how difficult it can be to find a home that is high quality, spacious enough for your pets, and keeps to a budget.
In the past, I've fallen foul to choosing a cage that was cheaper and found several components soon needed replacing. Tubes chomped, wheels cracked – this ended up making my cost-effective option not so effective, and I wasted a lot of finding alternatives too.
This is where the Midwest Deluxe Critter Nation comes into its own. Neither the most expensive nor the cheapest, it offers excellent value for money alongside a large enough space to house several chinchillas.
Clean up in double-quick time with a removable tray and full-width doors. I know that cleaning out is the least enjoyable part of small pet ownership, so why waste a moment longer than needed?
Of course, every pet owner is different, with maybe only one chilly to house or several so in need of even more space than the Midwest Deluxe offers. That's why we've also covered cages that are perfect for absolute beginners such as the Kaytee My First Home. It's cost-effective, compact, and contains everything you need for your first baby chinchilla.
If you want a home that suits your chinchilla's needs then read on for reviews of the best chinchilla cages! We've explored options for single to multiple chilly setups and habitats suitable for young chinchillas to old. We've also selected homes to suit every budget.
VALUE OPTION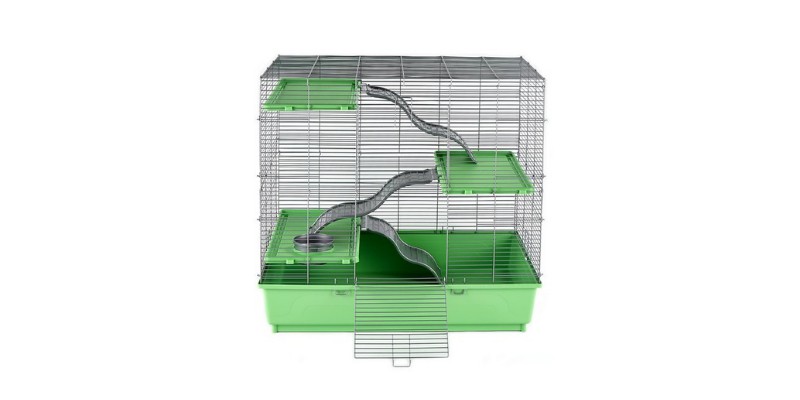 Kaytee My First Home
Reputable brand with over 150 years of experiencing
Comes as a complete starter kit
Comes with a deep base for controlling mess
Available at:
EDITORS PICK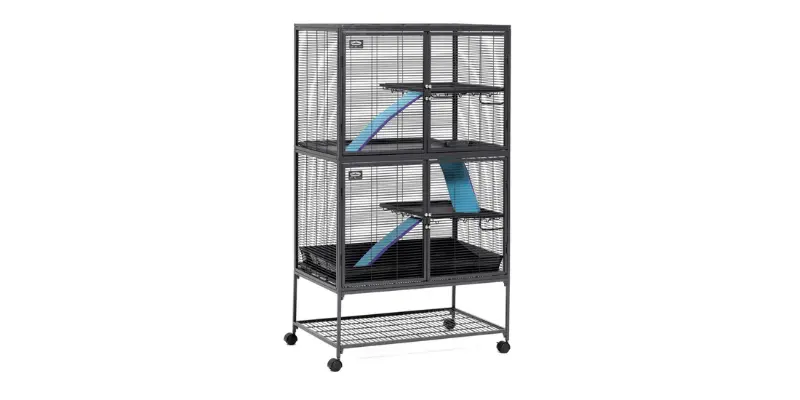 Midwest Critter Nation
Excellent amount of space for growing chinchillas
Wide doors for easy cleaning and handling
Available at:
LARGE OPTION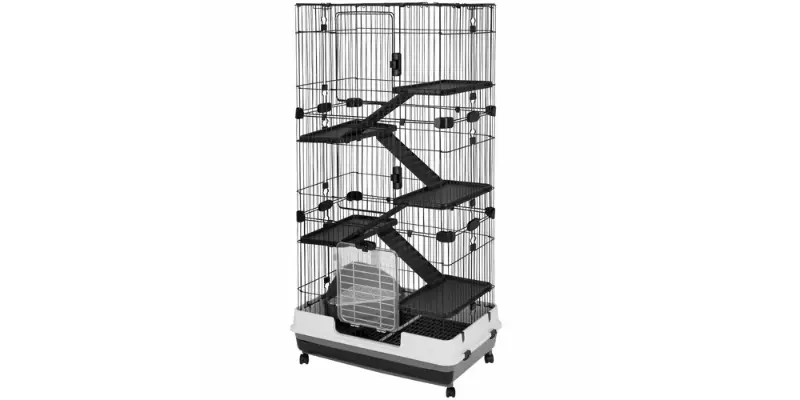 A&E Deluxe 6-Tier Cage
Top shelf quality materials
Comes with 3 doors for multi-level access
Folds down flat for easy and secure storage
Available at:
Midwest Critter Nation With Stand – Best Chinchilla Cage Overall
Want a spacious, quality-built cage that boasts a host of safety features and customization options for your chillies? The Midwest Deluxe Critter Nation cage ticks all these boxes and more.
Available in a one or two-story option, Midwest has catered for multiple or single chinchilla setups and even offers an add-on should your brood grow further. Other chinchilla owners rave about this cage on chewy.com commenting:
"Hands down the best cage. I hope to buy another one in the future. Super easy to clean, lots of space for climbing, beds, litter boxes, etc…Just an all-around perfect cage."
Safety is a priority, with flat bottoms on every area to protect delicate chilly feet. The ramps have happy feet covers for traction while still being comfortable underfoot.
Full-width doors on every level guarantee easy cleaning along with the removable trays. The doors also feature critter-proof dual locks for easy one-handed opening – perfect for the busy owner who needs to catch their chillies and clean them out in record time.
And if cleanliness is your thing, you'll love the storage shelf underneath to store spare treats, food, and bedding.
Some buyers complain of complicated assembly that takes a long time to complete. But for all the benefits of such a well built, top-quality cage, it's definitely worth the initial build time.
Dimensions
Pros
Cons
25" W x 62.5" H x 36" L
Critter-proof door latches
Many attaching points for customization
Full-width doors for easy cleaning
Complex assembly
Expensive
A&E Cage Company 60-in Extra-Large Deluxe 6-Tier Small Animal Cage – Best Large Chinchilla Cage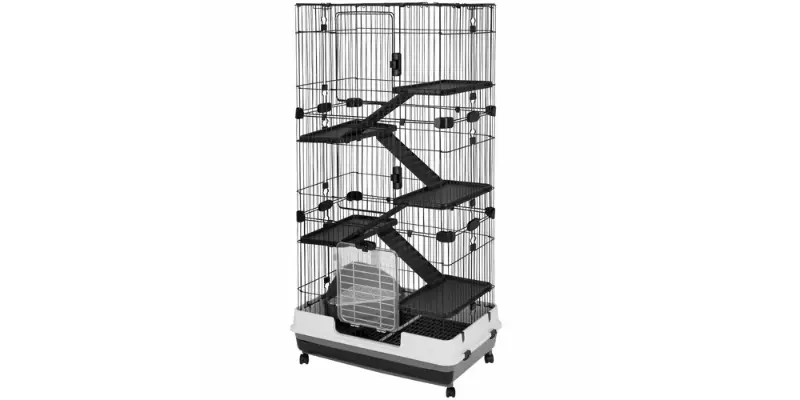 If you have 3 or more chinchillas or just want to give your chillies all the space to stretch out choose the A&E Cage Company Deluxe Small Animal Cage.
Boasting a massive 60-inches in height, this cage literally stands head and shoulders above its competitors. With a large solid floor and five further levels, your chillies will have masses of room to explore, play or snooze to their liking.
The whole cage packs down for easy storage thanks to the cage clips that connect the levels. and casters on the bottom allow for easy transportation. However, the clipped construction makes the cage feel less sturdy than a cage that features a solid outer framework.
The doors of this cage are quite narrow (necessary because of the clipped-together construction). Scooping up your chilies can therefore be more challenging. However, if your chillies prefer the comfort of their surroundings to a cuddle on your lap, they will adore the palatial size of this cage.
Dimensions
Pros
Cons
39" W x 60" H x 20" L
Huge space
3 doors for easy access
Flat packs for storage
Very expensive
Limited door width
Clipped together construction
Living World Deluxe Habitat – Best Cage for Older Chinchillas
If your chillies have started to slow down due to aging and spend less time climbing and exploring, consider the Living World Deluxe Habitat for lower-level living.
Super quick to assemble, this is ideal if you are less than handy and want a home for your chilly that is ready to go in minutes.
Access is through a small door in the front and then two huge doors in the roof of the cage. These doors give you plenty of space for reaching in without leaving an escape route wide open.
This cage features an upper level with a tip-proof feeding bowl, drip-proof water bottle, and a hidey-hole below for cozy snoozing. My house rabbits enjoyed this cage very much, though take the 'tip-proof' claim with a pinch of salt. I ended up removing the bowl and using the molded dip in the upper-level flooring to hold their food.
This cage takes up much more floor space than some other cages but this is important if your chilly no longer climbs so much but still needs space to stretch out.
Dimensions
Pros
Cons
47" W x 24" H x 23" L
Mainly floor level living
Built-in hidey-hole
Included bowl and water bottle
Takes up more floor space
Largely plastic construction
YaheeTech 6 Level Small Animal Hutch – Best Cage for Multiple Chinchillas
Yaheetech's Pet Cage offers plenty of room for multiple chillies to do their own thing without standing on each other's toes.
Many of Yeheetech's cages originated as aviaries, which might sound like an odd choice for a chinchilla home. However, the extra height and pull out plastic floor tray from the original aviary design make for excellent chinchilla living quarters.
We really like that the ramps and levels are adjustable. You can entertain your younger chillies or make life a bit easier as your chillies age and become less active. This is also great if you have chinchillas of various ages living together. By making the lower floors easier to access you can accommodate your older pets while stretching your younger chilies with top floor challenges.
We also liked that the cage comes with a food bowl and water bottle, saving you a future buy if this is your first chilly setup.
The doors on this cage are quite small. The porthole design is attractive but less practical than wider, whole-level options. This makes catching your chinchillas much more challenging. There is also wire flooring in this cage that will need replacing or covering.
Dimensions
Pros
Cons
25.2" W x 52" H x 17.2" L
Attractive curved corners
Adjustable ramps and levels
Small doors
Wire floor needs replacing
Prevue Hendryx Black Feisty Ferret Cage – Best Multi-Level Chinchilla Cage
The Prevue Hendryx cage offers fantastic multi-level space for your chillies to roam within a solid frame construction. With several ramps and even a cute hammock included, this is a great beginner setup for a couple of chillies. It's easy to clean and super quick to assemble – saving you time to spend getting to know your new babies!
We love the double door design that opens up floor-to-ceiling on each of the two main levels. This makes cleaning a breeze, along with the fully removable bottom tray so soiled bedding is easily removed. You can keep the floors separated, making it an excellent choice for owners with different sex chillies wanting to avoid any surprise litters!
Prevue claims the doors are totally escape-proof. We still recommend checking they're secure each time you lock them – we all know chinchillas love a spot of escapology!
For the size and build, the Hendryx offers great value for money and is the perfect choice for those with a mid-range budget without compromising on quality.
As suggested by the name, this ferret cage requires some adaptations to be chinchilla-friendly. The metal bar flooring on the second level is unsuitable for soft chilly feet. Replace or cover the bars with fleece for an inexpensive modification.
Dimensions
Pros
Cons
20" W x 54" H x 31" L
Easy to assemble
Double doors for easy access
Removable bottom tray
Metal floor on 2nd level needs adapting
Quality Cage Crafters Chinchilla Mansion – Best Plastic Free Chinchilla Cage
Quality Cage Crafters make (unsurprisingly) quality pet cages that meet the needs of the most discerning small animals. With a range of customizable options and add-ons, this premium brand delivers only the best in cages with ingenious engineering not seen in other brands' designs.
If you worry about your chillies chomping on plastic, then this is the ideal choice for you – the only cage on the list that boasts zero plastic.
The shelves of this cage are wood, so will support good dental hygiene if your chinchillas fancy a nibble. Remember that wood absorbs urine so if your chillies like to do their business at a height, the shelves may begin to smell.
Another amazing design feature is the sheet metal flap that comes into play during cleaning. The bottom tray slides out for quick cleaning and the flap then prevents any escape attempts. This means that your chinchillas can stay in the cage during cleaning time – ideal if you don't have a spare pair of hands to handle them while you clean house!
Quality Cage Crafters also produce chinchilla wheels, nest boxes, and corner shelves (all plastic-free) so you can customize your chinchilla's dream home with ease. One of the best parts of being a chilly owner is getting to discover their unique personalities. With this cage, you can build a home that reflects their unique qualities and interests. Every add-on, as with the cage itself, requires minimal assembly to make housing your chillies as simple as possible.
The clever features, ease of assembly, and plastic-free design of this cage all come at a premium price so this cage suits seasoned chilly owners invested in chinchilla care. If you do have the cash to spare, there are few downsides to this innovative setup.
Dimensions
Pros
Cons
30" W x 48" H x 24" L
Wooden shelves – no plastic!
Sturdy construction
Escape-proof flap for cleaning
Very expensive
Wooden shelves can absorb waste
Kaytee My First Home Multi-Level Habitat – Best Value Chinchilla Cage
The ideal starter kit for any first time chilly owner, the Kaytee My First Home contains everything you need to begin your journey as a chinchilla parent. Featuring a food bowl, water bottle, and even bedding, this is a one-stop-shop for setting up your chilly's new home.
A deep base helps contain any mess from bedding. The three extra levels and connecting safety ramps will help your young chilly explore while finding its feet in its new home.
If space is at a premium in your home, this cage will sit on a bench or table, without needing the floor space of larger models. The cage is also easily moved or transported because of its compact size.
Assembly is quick and easy and the smaller size means that cleaning is also speedy.
This is the most cost-effective option on the list and is considerably cheaper than many of the other cages reviewed. That said, the lower price comes at the expense of size and build quality. We recommend replacing the plastic food bowl with a metal one to avoid chewing and keeping an eye for wear on the rest of the plastic components of the cage.
This is an ideal starter kit for young chinchilla enthusiasts. However, we'd recommend saving up for a larger cage as your chilly grows or if you decide to add another chinchilla in the mix.
Dimensions
Pros
Cons
29" W x 30" H x 18" L
Complete starter kit
Deep base for less mess
Budget-friendly
Only suitable for a single chinchilla
Lots of plastic to chew
Needs replacing with a larger cage in time
Quality Cage Crafters Collapsible Travel Cage – Best Chinchilla Travel Cage
If you love to travel and wouldn't dream of leaving your chilly with a sitter, let them travel in style with the Quality Cage Crafters Collapsible Travel Cage.
The best feature of this cage is how the entire top collapses into the bottom tray, making storage quick and easy. This is particularly important for a temporary cage – you won't reach for a cage that takes ages to set up.
Similarly, you don't want something that takes up loads of room when not in use. Many buyers have found they reach for this rather than a traditional pet carrier for quick trips such as vet visits. The home comforts of this cage reduce their chilly's stress and makes them as comfortable as possible during their journey.
As with Quality Cage Crafters' larger models, this cage is plastic-free. It includes a shelf, ChinRamp, and HopSpot to alleviate travel boredom and make overnight stays comfortable for your chilly.
Again, the price for a travel cage is hefty – you'll find this costs as much as some of the cheaper larger cages on the list. However, all reviews for this travel setup are extremely positive with many saying the quality justifies the cost.
Dimensions
Pros
Cons
24" W x 18" H x 18" L
Packs down for storage
Plastic-free
Premium materials
Expensive for a temporary home
Only big enough for a single chinchilla
What to Look for When Buying a Chinchilla Cage
When deciding on a new chinchilla cage, it is helpful to think about a few key points before deciding on the best fit for you and your chilly. Read on for some top tips to help you choose.
Material
The materials used in the construction of your chinchilla cage are incredibly important as anything a chilly can chew they will chew. This makes plastic a divisive material amongst chinchilla owners. Metal bars are a must to avoid accidental swallowing or breakages.
A plastic tray in the bottom of a cage is usually fine, but be cautious of the excessive use of plastic platforms or ramps. If your chosen cage contains them, be vigilant and replace any areas that show signs of wear.
If possible, avoid any wire flooring as it is painful for delicate chilly feet. Cover up wire flooring with fabric but be aware this will likely get chewed and will smell after time.
Wire bars are often given a powder coating to prevent rust and increase longevity. However, make sure the cage you choose states this powder is non-toxic so your chillies can chew to their hearts' content.
Size
As with all pet cages, the bigger the better. Where possible, buy the largest cage you can comfortably house and afford. The smallest recommended cage for a single chilly is 16"x18"x16" but we would recommend a larger floor space and certainly more headroom for a happy chilly.
Chinchillas love to climb, jump, and adventure. A taller cage with less floor space is a better choice than one that is wide but low ceilinged unless your chilly is less mobile.
Price
As with most cages for small pets, the sky's the limit in terms of price. You can find cages that range from $100 to over $600 for top-of-the-line custom-made cages.
Decide on your maximum budget before shopping and choose your compromises if your wallet doesn't stretch to cover everything on your wishlist.
Accessibility and Design
A cage purposely designed for a chinchilla's needs will feature a range of levels to mimic a chilly's natural desire to climb. Choose textured ramps to prevent slippage and accidental injuries. The best cages offer some customization of height-adjustable ramps to suit your chilly's preferences.
Flooring should be solid and free of wires to protect your chilly's feet. Removable floor trays are excellent for easy cleaning.
Doors should be as wide as possible for ease of access but should also feature reliable locking mechanisms for peace of mind and to prevent any chillies on the loose! The wires that make up the doors and the top of the cage should have bars spaced widely enough for good ventilation.
The best cages also feature wheels on casters for easy portability – these cages are heavy!
Buying a Chinchilla Cage – Frequently Asked Questions
Buying a Chinchilla Cage – Next Steps
My favorite chinchilla cage overall is the Midwest Deluxe Critter Nation Cage. For easy cleaning, heaps of space and the ability to add an extension, this mid-range cage is a winner. I love the full-width doors and removable tray, reducing cleaning time considerably.
My First Home by Kaytee ranks as the best cage for first-time owners and is the most budget-friendly on the list. It is compact while still providing enough space for your new pets to settle in.
Yeheetech's 52-inch Pet Cage is perfect if you already have multiple chillies or are considering adding more soon. This skyscraper of a cage maximizes living space without taking up valuable space on your floor.
Having read these reviews it should be clear that there is a vast range of cages for every chinchilla and its owner. Check out the pros and cons for each cage before making a decision and have fun picking a new home for your chillies!