As much as we love our ferrets, there's one fact we can't ignore – they can really stink! That's why when testing products to find an odor control litter formula, I found Marshall's Premium litter to be the best ferret litter.
As a ferret parent, I know how drastically your pet's environment can change when you find the right (or wrong) litter. The daily maintenance required when it comes to handling ferret litter is made so much easier when you're not dealing with horrid smells or ineffective formulas.
Marshall's makes all of this easier using paper-based ingredients that are safe for your little one's eyes and nose. It's incredibly absorbent and keeps up with your pet's frequent urination, neutralizes odors, and its pellet design makes it easy to dispose of.
While Marshall's is my favorite, I know it won't be for all. Owners who own multiple pets may want a more versatile option and not everyone is after premium prices! Whatever your best ferret litter is, you can find it here.
Read on to find out which is the best litter for your ferret. From budget options to our favorite value picks, there's something here for everyone. For some extra help, check out our guide at the end for tips on choosing litters, training ferrets, and answers to frequently asked questions!
Top 8 Best Litter for Ferrets
No matter what age, size, or sex your ferret is, you are going to want to find a litter that is absorbent. Made with different materials and suited for every ferret shape and size, here are our top choices of litter for your little four-legged friends.
1. Marshall Ferret Litter – Best Litter for Ferrets
Our top rec – Marshall Premium – comes in 3 variations: 18, 10, and 5-pound packs. Made from recycled papers, this litter offers a dust-free and non-allergenic formula, perfect for ferret's sensitive respiratory systems.
What stands out about this formula is it's specifically catered to ferret's, and I've always felt more comfortable using products made with my pet in mind, even if it's just small tailored differences.
Buyers have commented that for the price, you can find a cat litter that does the same job for less, however, a little goes a long way with this brand. It only requires a layer a few centimeters thick across the bottom to sufficiently support your pet. And since it's not clay-based, you're not losing product to cakiness.
What makes this litter so lovable too is that it's pawfect for the planet. Biodegradable and flushable, there's no need to stick this litter in the bin, just dispose of your ferret's mess in your bathroom. Or compost it for an even better environmental impact. Although warning, some buyers have complained of finding the recyclable packaging shedding into the litter.
Pros
Environmentally friendly
Easily disposable
Ultra absorbent
Cons
2. So Phresh Paper Pellet Small Animal Litter – Best Paper Litter for Ferrets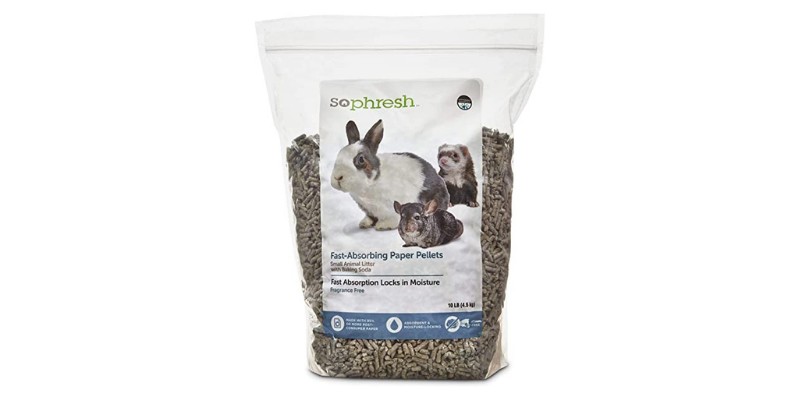 A company that needs no intro at all, So Phresh brings us a staple litter found in loads of pet households.
This is actually Petco's brand litter, so you can expect the same things here as you do with typically store brand items: effective mid-range quality, easy accessibility to the product, and consistent results.
So Presh uses 100% recycled paper-based pellets infused with the all-favorite household item baking soda for a natural odor-controlling litter. The pellets look similar to the Marshall's Premium litter, however, this one supports a range of small pets, including rabbits and chinchillas, for those wanting a more versatile option.
While this product is slammed with 5-star reviews, buyers did mention the rising prices and disliking the artificial fragrances in the litter. So if you're aiming for a budget-friendly unscented option, you're better suited to others on this list.
Pros
Paper-based litter means clay or aggravating pet sensitivities
Praised by users as their go-to
Cons
Can be consumed by the ferrets as the ingredients emit a pleasant odor
Prices on this product are rising quickly
3. sWheat Scoop Natural Cat Litter – Best Cat Litter for Ferrets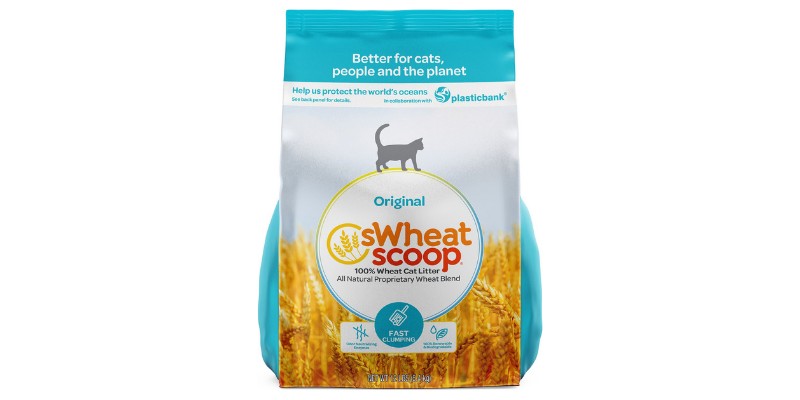 sWheat Scoop Natural Cat Litter is a fantastic way of keeping both your ferret's cage and planet in tip-top condition. Being the world's first litter to help prevent ocean-bound plastic from entering the ocean, this is a litter with a destiny. Every purchase of their litter works towards projects in ocean conservation.
Made for easy scooping and cleaning, this super-absorbent litter eradicates any nasty smells and odors from your home. It's an excellent choice for pet owners that want to satisfy their cat and ferret's need all in one litter. And it's 99.5% dust-free so you don't have to worry about this cat litter irritating your ferret.
100% natural, wholesome and eco-friendly, no chemicals are used in the creation of this litter meaning a cleaner and safer litter box for your little furry friend. But despite being more expensive than other litter brands, buying a bag can help more than just your ferret at home.
Pros:
Great for the planet
Super absorbent
Made with natural materials
Cons:
Pricer than other alternatives
4. So Phresh Scented – Best Scented Ferret Litter
Sometimes controlling odor isn't enough, and you want to add a fresher scent to your ferret's cage as well. Luckily, So Phresh has a solution with its Scented Crumbled Paper Small Animal litter.
Coming in a large 10-liter bag, you certainly get bang for your buck with this product. Continuing on with our love of paper-based litter (since clay can irritate our precious ferrets), instead of pellets you get a much softer litter with this crumbled paper base, which is excellent for absorption and keeping things dry and fresh.
It's completely non-toxic and biodegradable, however, it's advised against flushing or disposing of in any other way besides in the trash.
If you're after a scented product, this is the litter to buy, but if scented isn't at the top of your list, pellets offer better absorption and are less likely to irritate your pets.
Pros
It is 100% non-allergic and has been thoroughly lab-tested
Long-lasting scent that buyers love
Cons
Very lightweight which can be messy
Scented products are a bit gimmicky
5. Purina Yesterday's News Unscented Paper Cat Litter – Best Ferret Litter for Odor Control
When it comes to controlling odors, there's no litter better than Purina Yesterday's News Unscented Cat Litter. This paper-based litter is much more absorbent than its cheaper rival but provides better support with controlling unwanted odors in your home.
This eco-friendly litter is 100% clay-free meaning you can relax knowing your ferret is safe from harmful dust and chemicals. Pricier than other brands but worth the expense, this litter is a great choice for those with male ferrets in their home.
This #1 Veterinary recommended eco-friendly litter is easily disposable and great at keeping your ferret's cage looking and smelling fresh all day long.
Pros
The nature of the product is highly absorbable which means less mess in the cage.
Great for the environment
99.7% dust-free
Cons
Owners mention cleaning poop is difficult
Pricier than other alternative
6. Kaytee Small Animal Potty Training Litter – Best Ferret Litter for Potty Training
Experts in small pet care, it's no surprise Kaytee was able to whip up this effective potty training litter.
Proven to reduce cage cleaning by up to 30%, its use of bentonite – which is comprised of volcanic ash – has ultra-absorbent properties, and combined with other included minerals, gives you a fantastic non-toxic odor neutralizing formula.
And this is exactly why it's a great option for potty training. We also recommend this for new ferret owners or those potty training because it's a reputable brand that's easy to trust and rely on. You can also buy all the other components, like a litter box, all from the same company and create an easy starting kit.
However, despite its amazing qualities, this litter can be rather messy to clean so it's best to place it in a litter box that is wide and deep.
Pros
Great if you are on a budget
Suitable for a variety of small animals
Great for absorption
Cons
Can be messy to clean
Not biodegradable
Lower quality than other brands
7. Carefresh Complete Natural Paper Bedding for Ferret
The main feature of the product is that it's made up of 100% reclaimed material that is 3x more absorbent than other materials.
It's completely dust-free and offers a pillowy-soft base for any ferret litter box. Its extreme absorbency helps control odor for up to 10 days as well as maintain a dry environment for your ferret. This biodegradable litter is compostable as well as able to throw away in the bin.
This is an excellent option for those looking for a notable brand and versatile soft litter, as this one supports all small pets. It also offers easy clean-up as the paper clumps together after use.
It's worth noting there have been some accounts of people finding dust in this litter, even though it's advertised as dust-free, so if your pet is super sensitive to allergens it's better not to risk it.
Pros
Easy clean-up as paper clumps together
Biodegrable and compostable
Cons
Not the safest bet for those with allergies
Soft litter is very messy
8. Wood-Stove Pellets – Best Litter for Outdoor Use
For those with outdoor ferrets, wood-stove pellets are a fantastic alternative to paper-based litter. Made from hard-wood materials, these pellets are 100% safe for your ferret as they don't contain any of the harsh chemicals found in pine, cedar, or other soft woods.
When finding the best wood-stove pellets for ferrets, it's important that you check for wording to support your ferret's health. Look for phrases such as "kiln-dried to remove harmful phenols" and "denatured wood pellets" to know if it's completely toxic-free for your pet. Since these pellets break down to a sawdust-like appearance, these can be very messy and not ideal for indoor use.
Pros:
Very affordable
Eco-friendly
Ultra-absorbent
Cons
Can be messy to clean
Need to be vigilant when purchasing
Choosing Litter for Your Ferret
There are many factors that are to be considered before buying a litter box for the ferret. This makes sure that neither ferrets dig their own poop nor they feel uncomfortable.
Odor Control
Litter odor can disturb ferrets and make them uncomfortable. The pelleted litters are therefore the ones that are to be considered as it is the choice of the experts. It will also allow the overall training management of the ferret easy to perform.
Dust free
The ferrets have a very sensitive respiratory system and therefore it is important that dust-free litter is chosen for them, that's why we like pellets. Ferrets tend to roll over and smell their litter while they poop. Pellets are heavier than soft paper and remain in place. They also do not spread dust and are super absorbent.
Stress-free cleaning
This is by far the most important factor that is to be considered. Clean litter boxes promote health for the ferrets and also save them from fatal diseases that can be caused once the poop is in the litter. Ferrets are highly sensitive creatures and therefore do not use the litter box if it is not cleaned. It can be regarded as a form of protest.
Training Your Ferret
Usually doing their business in tight corners, the best way to litter train a ferret is to place your ferret's litter in the corner of the cage.
Patience is key. Like toilet training any pet, you will have to deal with mess. Putting the litter in your pet's already designated bathroom spot will train them quickly and before you know it – no more messy cages.
Litter also absorbs other liquids and odors, keeping their homes as happy as ever.
FAQ
Why Do Ferrets Need Litter?
Like cats and other small mammals, ferrets do their business in their living quarters so a litter box helps encourage your ferret to poop and pee in one specific place.
However, unlike other small pets, ferrets poop and pee more frequently due to their small digestive systems. Ensuring a dedicated bathroom space prevents any nasty mess from occurring in their cage.
Alongside their food, water, and bedding, a litter box will keep away stinky smells from poop and pee. Place any litter boxes well away from any food or water sources as contamination may occur.
Top Tip! No matter what ferret you have at home, you will notice their need to hide their food. Keep litter boxes and food trays on either side of the cage to prevent your ferret from hiding food where it shouldn't!
Do I Have To Use Litter?
There are no set rules to owning a ferret. Uniquely individual, no ferrets are the same and neither are their owners. We recommend ferret litter for its liquid and odor absorption but it is not needed to own a ferret.
I've found paper towels a useful alternative for my pets because they can be easily removed and replaced. Paper towels are also a great alternative if you wish to buy essentials for your ferret's cage alongside your visit to the grocery store.
Despite their absorbency abilities, paper towels aren't specifically designed as a litter alternative so can be rather problematic.
Cons can include:
Lack of odor control
Easily destroyed by your pets
Ferrets tend to pull it from specific corners
Doesn't prevent mess from sticking to the bars of the cage
Alternating between paper towels and litter is a great way to keep your ferret's cage clean and tidy. In the first few months, during toilet training, paper towels are a fab way of controlling mess. As your ferret grows, replace paper towels with litter once their toilet training is over.
Where Do I Put Ferret Litter?
If you decide to opt for ferret litter, you will need to place it in a litter box. Specially designed for smaller animal cages, these litter boxes are an amazing addition to your ferret's home.
Ensure the box is not too small or too big for your ferret. A wrong-sized litter box will cause problems for your ferret and you will find it causes more problems and mess.
You will find all ferret litter boxes are triangular in shape and simply clip onto their cage. Pour their litter into the box and they are set to go. Check out Kaytee Hi-Corner Small Animal Litter Pan. Designed to prevent spillages and accidents in your furry friend's home, this is one litter box you're sure to love.
Benefits of a Litter Box
Litter boxes are a great way to train your ferret to do their business in a specific place in their cage. Doing this will prevent areas of their cage from becoming contaminated with their pee and poop. And for ferrets who prefer softer bedding, like blankets, having a litter box will stop their bedding from becoming sodden with their mess.
Did you know? Male ferrets secrete stronger odors than female ferrets, especially during heat. With these strong odors, litter is crucial to keeping their cage from becoming too smelly.
Helpful Hint – Feeding your ferret wet cat food, often practiced in shelters and vets, will cause loose stools so litter is necessary to help prevent messy and mucky cages. Keep them on a dry kibble diet if you want to keep their poop firm and easier to remove from their cage.
How Often Should I Change Their Litter?
Unlike their bedding, you must change your ferret's litter every day or even twice a day. As their urine can be potent, changing their litter ensures no lingering odors build up around their cage. We recommend removing and replacing your ferret's litter at the end of every day.
Are All Litters Safe?
The answer is NO! Not all animal litters are safe for your ferret.
Wood-based litters made from softwood such as cedar and pine contain toxic chemicals that can lead to respiratory issues in your ferret. Softwood is also extremely dusty leading to irritation in your ferret's eyes and nose.
Clay-based litters are another problematic choice for your ferrets. On contact with liquid, clay becomes soft and sticks to your ferret's paws when finding a place to poop. Ferrets scoot after doing their business and clay may get stuck in your ferret's rectum causing severe blockages
Silica litters such as pearls or gel contain chemicals harmful to our ferrets. Ferrets can suffer from silicosis, the inhalation of particles of silica which can be fatal. Extremely expensive and messy, this is one litter type we certainly do not recommend.
Corn-cob litter should be avoided at all costs. These litters are extremely dusty and will cause problems to your ferret's respiratory system. Being naughty nibblers too, our ferrets tend to ingest materials they come into contact with and corn-cob litters may lead to blockages and gastrointestinal issues.
Helping Your Furry Friends
No matter what, your furry friend needs a litter that supports their everyday life. Throughout their growth, you may notice your ferret needs different litter depending on their age, gender or even time of the year.
With ferrets experiencing heat between May-September, this is the time you will need a litter where odor control is the aim. Depending on what they eat, dry or raw food changes your ferret's bowel and urinary movements so if you plan on feeding a raw diet focus on absorption.
Whatever ferret you have at home, investing in one of these brilliant brands will guarantee to improve the appearance and smell of your ferret's cage each and every day.