Whether you're a seasoned gerbil owner or a brand new gerbil parent, choosing the best gerbil cage or tank for your little guys or gals is no easy task – unless you go for our favorite the Prevue Universal Small Animal Home of course.
Having shopped for gerbil cages in the past, sifting through the countless options out there is exhausting. I ended up narrowing it down to my basic needs, a cage with space, great accessibility, and versatility. Prevue's small animal home satisfied this beautifully with their 40-gallon cage and minimalist design that allows you to add various attachments so you can build and modify the cage to your needs.
But how do you choose what best suits your fuzzy friends? Every gerbil and parent is different, and have their own needs that shouldn't go ignored like available space, budget, and temperament.
We've rounded up the 7 best options to suit all your gerbils' needs. Read on to find out the pros and cons of each cage or tank and discover the best cage for your pet. Explore materials, cage size, depth, and layouts in our handy buyer's guide and become an expert in gerbil housing!
Prevue Universal Small Animal Home – Best Gerbil Cage for Multiple Gerbils
The Prevue Universal Small Animal Home is a massive 40-gallons in size so this cage is perfect if you're homing 3 or 4 gerbils. It is also a cost-effective option if you need the space but you're on a budget.
Made from metal and heavy-duty plastic it should stand the test of time as it's also marketed for animals larger than gerbils.
You can customize the layout by creating different levels and changing things up if your gerbils start to look bored with four different attachment points for the platforms. The closely grouped metal bars allow for gerbils to climb without you ever needing to worry about them slipping through and escaping. The platform included helps curb the mess from over-zealous diggers though not as well as a high-sided tank. What this cage lacks in-depth, it makes up for in floor space.
While not the most stylish cage, the fuss-free design is easy to take apart and clean and the two doors make it easier to catch your gerbils for a cuddle.
Pros
Easy to disassemble for cleaning
Large enough for 3 or 4 gerbils
Reasonably priced for the size
Cons
Lower sides = more mess
Functional design
Savic Habitat XL Gerbil Cage – Best Starter Cage for Two Gerbils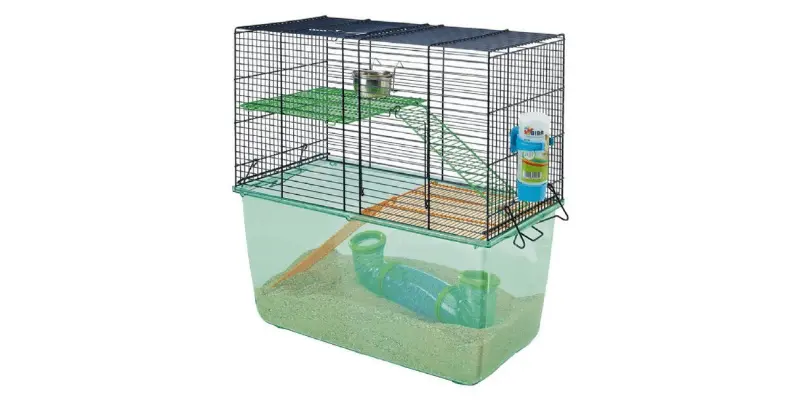 If you're looking for a spacious setup to house a couple of gerbils then look no further than the Savic Habitat XL Gerbil Cage.
Featuring a lower-level plastic tank that clips free from its wire topper, cleaning is an absolute breeze. Mess stays at a minimum with the high-sided tank and the completely metal upper-level construction keeps your gerbils' cage stain-free, unlike plastic alternatives.
You'll also get a food bowl, water bottle, and a plastic tunnel that your gerbils can hide away below their substrate for fun burrowing activities. This will likely get chewed over time, but it's a cute toy to help make their house a home.
The Habitat XL is pricier than some other options and, for the price tag, a glass tank or stronger plastic is preferable. That said, it's unlikely your gerbils are going to be able to make a break for it through the bottom of this cage – just be careful you don't drop it while cleaning.
This is a fantastic starter set as it contains everything you need to begin your gerbil journey. Add food and bedding and you're good to go!
Pros
Plenty of space for two gerbils
All in one setup
Quick to assemble
Cons
High price point
The plastic base is not as sturdy as a glass tank
Kaytee My First Home Small Animal Tank Topper – Best Add-On for a Tank
Kaytee is always a great choice when it comes to housing your small animals. They know what makes your gerbil tick and have spent years developing a range of options that will delight any small pet.
Assembling the cage requires no tools, so it's perfect for newbies, but you'll need a 10-gallon tank to sit below this topper as it has no flooring on its own. Once you add this to your tank your gerbil will have a stimulating multi-level playground for hours of fun.
Made from chew-proof wire and stain-resistant plastic, this is an easy-clean option and comes with a host of accessories for your gerbil. You'll get ramps, shelves, a food bowl, and a water bottle included in this set. Look out for the cute Little Brick House for your gerbil to use as a den or bedroom when they're not tunneling.
Bear in mind the size of this setup as it's only suitable for a single gerbil or juvenile gerbils. But if you're starting out and want to give your new babies an exciting playground, you can't go wrong with this gerbil enclosure.
Pros
Quick, snap-together assembly
Loads of accessories
Easy to clean
Secure and safe door latch
Cons
Doesn't come with a tank
Only suitable for single gerbils or a couple of juveniles
Prevue Hendryx Deluxe Cage
With a nice pop of Bordeaux red, this cage is designed with complete space in mind for your gerbils. It comes loaded with accessories, including two houses, ladders, platforms, and even a 5 1/2 in. diameter exercise wheel.
This way, if you have more than one gerbil they can have their own nesting areas while having plenty of space to explore together. Although caution when having a wheel in a cage with multiple pets, as they can get rambunctious and accidentally hurt each other.
The base also easily snaps off, giving you easy access to cleaning and maintaining your little gerbil's homes.
Hot tip!: Cater to your gerbil's natural instincts and really make this a place of comfort by putting the homes on the platforms as gerbils love being above ground level.
Pros
Simple design with a pinch of color
Lets you create a natural enviornment for your gerbils
Easy maintenance
Cons
Not as premiuim desgin or build as other on this list
Shallow sides on the base means more chance of mess
Little Friends Mayfair Gerbilarium Cage with Accessories – Most Stylish Gerbil Cage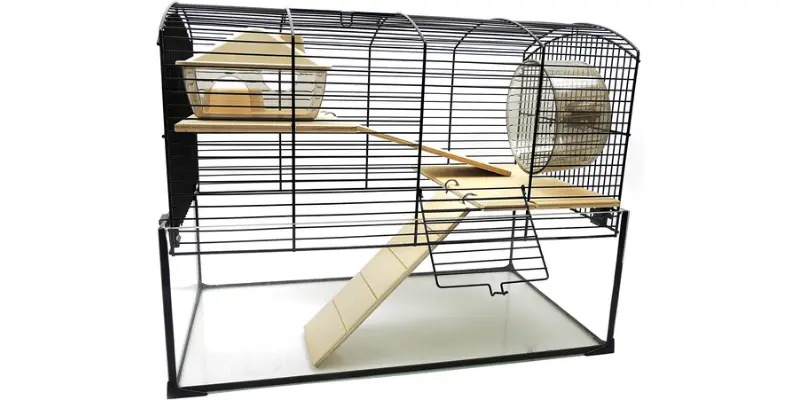 If your gerbils only deserve the best, then choose the Little Friends Mayfair Gerbilarium Cage.
Packed with stylish design features including neutral accessories and a curved topper, the Mayfair features everything you need to meet your gerbils' standards and is ideal for new owners starting from scratch.
The glass base tank feels premium and is deep enough for some top tunneling and burrowing.
The Mayfair comes with more accessories than most gerbil cages and includes a food bowl for their fancy snacks, a hideaway, and several ramps and platforms for multi-level adventures. It even comes with a wheel so your gerbils can get their daily exercise without you having to shop around for one.
Your gerbils are likely to chomp on the wooden platforms included and they will wear over time. This can happen with plastic too so don't let it put you off this cool scandi-style design.
There are few downsides to the Mayfair other than the price but you're getting what you pay for with the sleek, grown-up design and quality materials. If you're on a budget, keep looking. If you can afford to splash out, treat your gerbils to the Mayfair.
Pros
Gorgeous, grown-up design
Packed with accessories
Solid glass tank included
Cons
Premium price tag
Quick to sell out online so can be hard to get a hold of
Wooden platforms will wear over time
You & Me Small Animal Cage Topper – Best Gerbil Cage Topper for Easy Space Expansion
Here is another high-rise tank topper that you can use for your pet's gerbilarium. The You and Me Small Animal Cage Topper comes fully assembled so you can add an extra couple of levels to your gerbil's home in the blink of an eye! It's made of high-quality materials and designed to double the living space for multiple gerbils.
This cute tank topper definitely has a more trendy and homey feel to it than other toppers on this list, so it's an excellent choice for not only increasing space but the aesthetics of your cage. Also, since it's preassembled it's ideal for parents that don't have time to build toppers, or the necessary tools or skills.
As with other toppers featured, you will already need a 10-gallon tank before you start, so this is not the choice if you're starting out and want everything ready in one purchase. But if you're looking for a quirky little addition to your tank that's as cute as your cage's lodger, this is a great choice.
Pros
Cute pitched roof design
All in one construction – no assembly required
Instantly doubles a 10-gallon tank's space
Cons
Doesn't come with the tank
Difficult to store if not in use
Aqueon Fish Tank
This isn't technically a gerbil cage, however, there are a few important reasons why we've recommended it.
First, it's an easy and affordable option that pairs well with the tank toppers listed above. Now, right off the bat, you can order a multistorey setup for your gerbil and pack it full of accessories and fun toys. There are multi-level cages you can buy, but there's something about the customization a tank and topper give that makes the experience feel way more tailored to your pet's needs.
Second, it's a great opportunity to reuse materials. If you've owned fish in the past and have an unused tank laying around, I hope this gives you the inspiration to clean it up and restore it to its former glory. In the end, a lot of these cages are similar and have great reusability with the right tools.
This fish tank is also incredibly sturdy and offers a classic look that will suit any home.
Pros
Works with tank toppers
Offers a clearview of your pet at all times
No open spacing on the cage walls means less mess
Cons
Not actually a gerbil cage
Is cheaper to buy an already established cage
What Should I Look For When Choosing a Gerbil Cage?
There are several areas to consider before picking the best gerbil cage or gerbilarium for your pet. It's recommended you house gerbils in pairs at the very least, so it's important to pick a home that will comfortably house the number of gerbils you have.
Why Size Matters When Choosing a Gerbil Cage
Gerbils need about 10 gallons of space for one gerbil and then add on an extra 5 gallons for every additional gerbil you have. Check out the dimensions of any cage you're considering and that it's big enough for the number of pets you own.
Having too small a space for your gerbils can cause stress and lead to fighting. Signs of stress include bar chewing and obsessive digging. If your gerbils seem stressed, you may need to size up.
You'll also want to provide enough depth to your cage for a good amount of burrowing. Gerbils are natural tunnelers so allow plenty of room to create secret tunnels in the depths of their home. This is why many owners convert aquariums or terrariums as a base for their gerbils' homes.
Best Materials for Gerbil Cages
If you already own gerbils, you'll know they love to chew. Bear this in mind when considering your cage construction. Metal and glass are the most durable options but wood and plastic help wear teeth down and are replaceable when needed.
Accessorize Your Gerbil Cage
Make sure your cage has plenty to stimulate your gerbil. Several of the cages reviewed come with toys to keep your critters entertained but, if not, remember to provide a range of toys to keep your pets happy and stimulated.
Security and Safety
If you have a pet rodent, it's important to always keep them safe and secure, especially if you have other pets in your home such as a cat or dog.
Like hamsters, gerbils are excellent at escaping from their cages, therefore you'll always have to look after them from time to time just to make sure they're still there. And to make sure they're not escaping anytime soon, always close the doors and the opening of their cages.
For those who are using wired cages, make sure that the bars have at least one and a half spacing between them. Anything bigger and your little gerbil could potentially squeeze through the bars.
Easy to Clean
If the cage that you have chosen is easy to clean, then you have the biggest advantage. Although gerbils don't produce much odor, it's still good to know that the cage you've bought is easy to clean.
Cages with a big rooftop door are great as you'll have more access to cleaning your pet's habitat, therefore you might consider getting one of those.
Can They Live in a Hamster Cage?
Gerbils may look like a hamster with a rather long tail, so if you're wondering if you can put them in a hamster cage, then the answer is no. Gerbils are very energetic burrowers, therefore they'll need a tank that has more than 6-inch of bedding. The hamster cage's solid base is too shallow for the recommended bedding thickness, therefore there wouldn't be enough room for your pet. Your gerbil wouldn't get to live out their natural digging and burrowing instincts.
If you insisted on using a hamster cage for your gerbil, you'll only be forced to deal with the mess your pet's about to make, because most of the bedding would only be kicked out through the wired bars of the cages.
In addition, these little rodents are also active chewers. So plastic accessories and plastic bottoms of cages, which are often used for the hamsters, will be chewed to pieces within an hour or so. And when they ingest some of the plastic, it can cause serious health complications on them.
What To Do Next?
If you want a cage that has plenty of space and comes with everything you need to get started, go for the Prevue Universal Small Animal Home. It's a brilliant all-rounder and our overall favorite. If you already own a tank and are looking to give your gerbils more room to play, our pick would be the Kaytee My First Home Small Animal Tank Topper as it creates multi-level entertainment at a reasonable price point.
Whatever your needs are, we hope you found them catered to above in our list of the best gerbil cages.