Poop. Yes, we said it!
No matter what furry friend you have in your home, we all have to deal with poop on a daily basis. Whether it's constantly finding poop bags in your coat or replacing litter boxes, poop is a part of our lives as pet owners and we wouldn't have it any other way.
The best ferret litter box must reduce odor, perfectly fit your ferret's cage, and be easily accessible. That's why I loved Marshall's Lock-On Litter Pan! With its secure and high-back design, my ferret's and I adapted to using this pan with no effort. My favorite part is no longer dealing with tipping litter boxes.
However, as a lover of these four-legged furballs, I know no ferret is the same. So I've composed a list of all the best ferret litter boxes we believe are pawfect for your furry friend.
When it comes to providing our smaller pets with the perfect place to poop, a litter box is a great way of ensuring their mess doesn't cause a mess in their cage. So read on for a list of some of the best litter boxes for ferrets and find the best one for you!
Choosing the Best Box
There is nothing we love more than giving you a helping hand when it comes to your pets. With hundreds of litter boxes to choose from, understanding the best size, shape, material, and price is exactly what we are here to help with.
Your ferret's litter box is a staple in their cage so getting it right makes all the difference. Ferret's don't bury their toilet mess so only a light sprinkling of litter is needed in their box. Look for boxes that are shallow and easy for your ferrets to scoot back to do their business
The best litter boxes for ferrets will be:
Made from plastic as it's easily wiped and cleaned
Triangular-shaped if your cage is rectangular – this means it will fit right into their cage's corner.
Have locking clips to keep their litter box secure to the cage.
Designed with a low lip so your ferrets can poop and pee with ease.
The Best Ferret Litter Boxes
Whether you are bringing home a ferret for the first time or have a whole heap of these little creatures in your home, here's a list of the best ferret litter boxes you can find.
Marshall Lock-On Litter Pan: Best Overall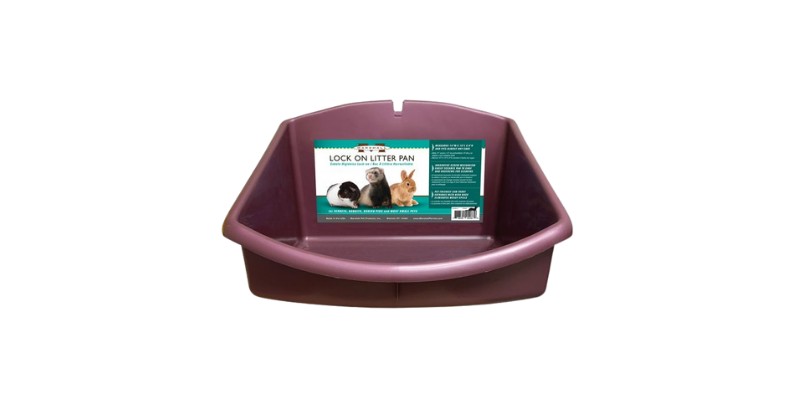 This litter pan is one of the best on the market. Its high-back design and secure locking feature keeps your ferret's cage mess-free every single day. This is definitely a litter box to purchase when bringing home your ferret for the first time. Great for toilet training and easy to clean, Marshall Lock-On Litter Pan is a seamless addition to any ferret cage.
The only litter pan to use an innovative screw mechanism, this litter box locks firmly onto your ferret's cage to reduce tipping and spillages. Its tall sides also prevent mess from sticking to the bars of their cage and keep their poop in one disposable place.
Some buyers noted they struggled to adjust the box into the corner of their cage and others disliked the sticker on the back being tough to get off. However, the security and design of this ferret litter pan out-do most boxes on the market and therefore far outweigh any downsides. It's also versatile, suiting owners and pets new and old.
Pros:
Low entrance
High design
Fixes to any cage
Cons:
Won't easily slide into the corner of their cage
Kaytee Hi-Corner Litter Pan: Best for Toilet Training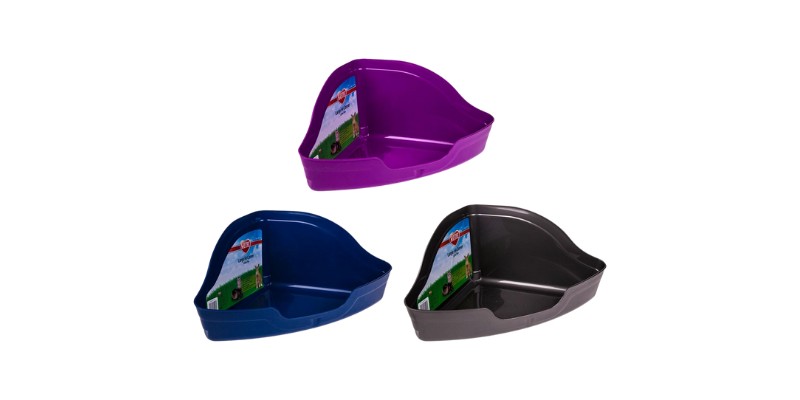 When bringing home a ferret for the first time, it's important to make their home as comfy and cozy as possible. Recommended for younger ferrets and those who need toilet training, the tall sides and low front make this an easy pan for your pet to use.
As ferrets have a tendency to poop in corners, they often poop on the bars of their cage making their home very, very messy. With its high-rise design, this litter pan is created to avoid the bars in your ferret's cage becoming covered with poop. Its specialist design contains the mess in an easy-to-clean container.
Its triangular shape also means it fits easily into their cage with minimal movement. Created in a range of colors to match your ferret's toys and furnishings, this litter pan offers fun customization.
While the Kaytee brand is beloved by all, pet owners mentioned disliking the low lip in the front, however, that's what makes it so perfect for ferrets! The low front makes it easy for our little fur friends to back into the litter box while still containing any mess, especially while toilet training.
Pros:
Wide design for maximum coverage
Great price
Works for multiple ferrets
Cons:
Only available in one size
Litter can spill out the front
Littermaid Self-Cleaning Box: Best Litter Box for Multiple Ferrets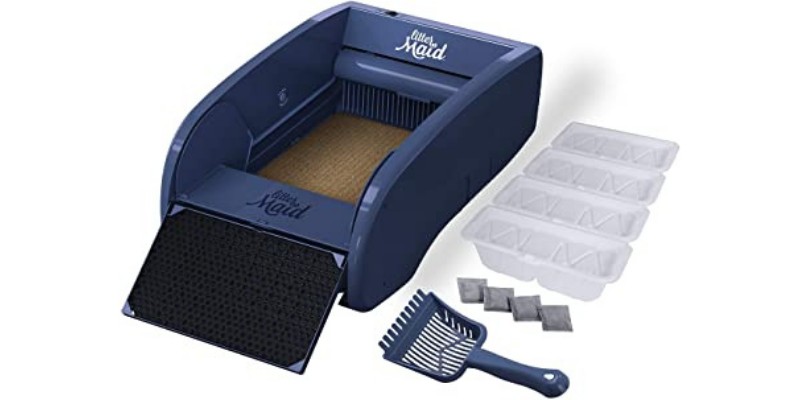 As adorable as our animals are, cleaning up their business is a gruesome task so there is no better solution than an appliance that can clean itself. Well, here to save the day is the Littermaid Self-Cleaning Litter Box.
Advertised as a cat litter box, this model is great for owners who have more than one ferret as its large bed and self-cleaning action keep up with the frequent use. Although this litter box is for outside the cage, you'll find it still manages the smell and mess like it's inside.
How does it work? This litter box automatically scoops your ferret's poop into its hidden container so you don't have to deal with any of the mess. Using specialist carbon filters, this litter box locks in nasty smells keeping their litter smelling fresh and clean. Waste is put into a bag in the container and when it's time to clean just pull out the bag and toss!
Like all robotic appliances, this option is definitely on the pricier side, but when you consider the time and effort saved it's well worth the investment.
Pros:
Completely automatic
Locks in odors
Works for multiple ferrets
Cons:
Cannot be used inside your ferret's cage
Ware Scatterless Lock-N-Litter Pan: Best Value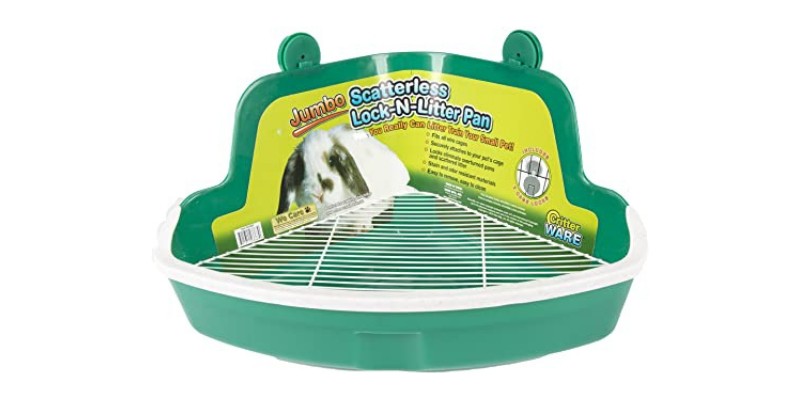 As one of the best-value litter boxes on the market, Ware's Scatterless Lock-N-Litter is great for those not wanting to break the banks as it's cheaper than other leading brands.
For older ferrets, who are trained to use litter pans, this is a great addition to their cage. With its easy-to-reach design and secure fitting, your older ferret will soon adore their pawfect place to poop.
Its triangular design makes it ideal to fit snugly into your ferret's cage. Simply clip, fill and your furry friend is all set.
Despite deep-pan designs often being unsuitable for our furry friends, this litter box is beneficial as its deep design is combined with a grated lid for easy toileting. Your ferret's poop and pee are easily contained, keeping their cage as clean as possible. As bars and grated lids can become messy after prolonged use, this litter box is fab because when you notice build-up, the lid can just be simply pulled out and cleaned.
Pros:
Affordable
Great for older ferrets
Clips for easy fixing
Cons:
Bars can become messy and hard to clean
Nature's Miracle Advanced High-Sided Corner Litter Box: Best for Odor Control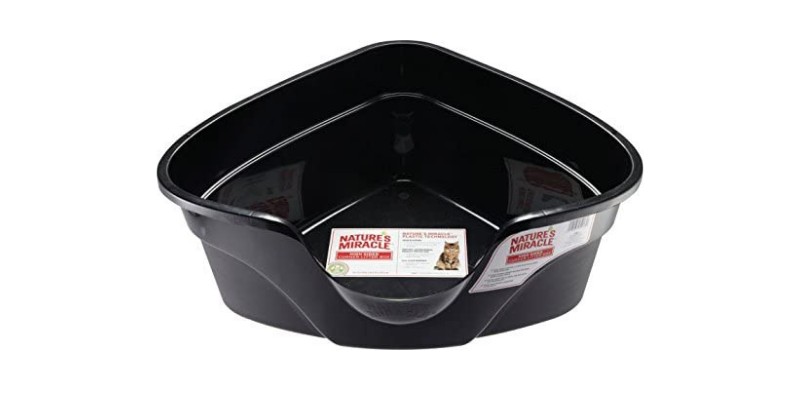 During their heat season, your ferret's poop and pee may smell stronger than normal. Nature's Miracle Litter box is superb odor control as it is designed with plastic, specifically manufactured to absorb odors, making it a great choice for ferrets between May-September.
Its non-stick surface prevents any mess from caking onto the plastic making clean-up as easy as ever. The triangular design slips easily into your ferret's cage but its lack of clips means it can be easily flipped over by your ferret.
If you purchase a litter pan that contains no clips, no fear you can pick up litter pan clips such as Cattit litter box clips from amazon for under $5.
Pros:
Great for odor control
Easy clean with non-stick surface
Cons:
Expensive
Requires additional clips
Why Do Ferrets Need a Litter Box?
Ferrets don't necessarily need a litter box to be happy and healthy, but buying one can save you a lot of trouble when cleaning their cage.
With small digestive systems and frequent urination, you may notice your ferret poops and pees more than a dog or cat. Omitting strong and pungent smells, litter and litter boxes will help alleviate any odors from your ferret's cage keeping your home smelling as fresh as a daisy.
Ferrets also have a tendency to do their business in corners so finding a litter box that can easily slip into the corner of their cage is ideal. Fill their cage with suitable litter and your ferret is all good to go.
How to Toilet Train Your Ferret
Just like our kittens and puppies, toilet training is essential when you bring home a Kit (baby ferret) for the first time.
Once you set up your ferret's cage, take notice of where they do their business. They often will have a preference as ferret's don't like to poop and pee where they eat or sleep. Place paper towels down (like puppy training pads) in these areas and eventually, your ferret will only poop in these places.
Top Tip!: Do not expect to place a litter box in your kit's cage and expect them to poop there straight away. It takes time for ferrets to adjust to a new home so patience is key.
When setting up a cage for a Kit, we recommend soft and cozy bedding such as Katyee paper-based bedding and a paper-based litter for maximum absorption.
What Do I Use in Their Litter Box?
Similar to our felines, ferret's require litter to help absorb the moisture and odors created from their business. Suitable for all smaller pets, the type of litter for your ferret will be both absorbent and safe.
Paper-based litter is one of the best types of litter for your ferret as it is 100% natural and great at absorbing odors and moisture. Produced in eco-friendly ways, paper-based bedding contains zero harsh chemicals or ingredients that can harm your ferret making it pawfect for their litter boxes.
Litter can be purchased from many online retailers and is affordable too so buying your ferret's favorite things doesn't need to break the bank. Just simply pour the litter into your ferret's box and replace it daily or twice daily depending on their needs.
The Importance of Cleaning Their Litter Box
Cleaning your ferret's litter box daily is an important rule when owning a ferret. As they tend to sleep, eat, play and poop in the same cage, keeping on top of your ferret's mess will keep them safe and healthy.
Daily maintenance of their litter box will also give you clues about the health of your ferret. Healthy ferret poop should be small, in thin tubular shapes, and firm to pick up. Different colored poop such as green or yellow hint at gastrointestinal problems which will need to be checked by a vet.
Top Tip!: Ferrets have looser and darker stools if they have recently consumed raw meat. If you notice darker stools after giving your ferret red meat, don't panic, the blood tends to make their stools darker.
However, any sudden changes to your ferret's stools and behavior should be checked by your local veterinarian immediately.
What Litter Boxes Should I Avoid?
When choosing a ferret litter box, here are a few designs to be wary of:
Standard Rectangular Design – Used as regular cat litter boxes, these aren't suitable for your ferret as poop tends to build up and spill over making these designs completely impractical and messy.
Grated lids – Some ferret litter boxes contain grated or barred lids, these aren't the best for your ferret as their poop is very different from other pets such as rabbits, guinea pigs. Their mess can stick to smaller bars and grates making their litter box extremely hard to clean.
Love a Litter Box: Next Steps
As a ferret owner, I highly recommend Marshall's Lock-On Litter Box as the best on the market. With its innovative locking system and high walls, this litter pan is suitable for any ferret, young or old.
Available on Chewy, this pawfect product will be a great addition to your ferret's cage. Combining the best litter and litter box for your ferret will ensure that their home is safe and sanitary all year round.