After testing numerous cages for my two furry friends, I discovered Yaheetech 6 Level Cage to be the best ferret cage for those looking to house multiple fun-loving ferrets.
Now, after bringing home a rescue 6 months ago, our beautiful boy, Kiko, needed a cage alongside his female counterparts, and the Yaheetech 6 Level cage was the perfect solution. Its easy-clean and spacious layout provided the ideal environment for our ferret to have ample amounts of space to run and play all day long.
However, as ferrets have such a vast range of needs and wants, here's a list of cages best for baby ferrets, male & female ferrets, multiple ferrets, and even ferrets kept outdoors. So, whether you have multiple, different sexes, or you're a first-time ferret owner, here's all you need to know about the best ferret cages on the market.
So grab your furry pal and a cup of coffee, and read on to find the ideal home for your little furry friend.
Our Thoughts
When looking through our cages with your furry friend, consider your ferret's age, size, and behavior when choosing the right cage for their home. Our list of the best ferret cages will hopefully showcase one that your ferret will love and adore.
Yaheetech 6 Level Large Ferret Cage – Best Ferret Cage Overall
Wanting a cage that does it all? Created by the brains at Yaheetech, the best ferret cage for overall size, security, and housing multiple ferrets is the Yaheetech 6 Level Large Ferret Cage. Suited for a wide variety of smaller mammals including ferrets, this cage is truly the best for housing our little furry friends.
Incredibly tall, this cage is a perfect home with multi-tiered systems in your ferret's home. 52 inches high and 31 inches wide, this spacious cage is ideal for hanging hammocks, toys, and several platforms for your ferret to play on.
Made from heavy-duty metal for extra security, each panel is fitted with bars measuring 7/8" apart meaning your escapologist will struggle to get themselves free from their happy home.
However, despite its rave review, the plastic tray provided can wear over time and need replacing. But there are tons of cool liner sets on Etsy for purchase to create a stylish and cozy home.
Pros:
Spacious (ideal for adding toys, tunnels and hammocks)
Great for multiple ferrets
Safe and secure with extra-locking doors
Cons:
Plastic tray can wear over time
Prevue Hendryx Black Feisty Ferret Cage – Best Cage for Single Ferrets
As a ferret owner, I would advise against keeping male and female ferrets together in the same cage. After researching that mating can often be aggressive and sometimes harm female ferrets, I did not want to expose my two Jill's to any trauma when we decided to adopt a male ferret for the very first time.
Deciding on his home was a tricky choice as we knew he didn't require a cage as big as our Jills. Prevue Hendryx Black Feisty cage turned out to be the best investment we had ever made. Its two-tiered platforms and spacious living area made the ideal home for our beautiful boy. Equipped with a hammock, platforms, and ladders, this cage is a great cage for those bringing home any ferret for the first time. Safe and secure with its strong locks, there is no chance your furry friend can escape their brand-new home. The only downside to this fantastic cage is the grated tray underneath. However, this tray is removable which is a brilliant benefit as often they can become too messy and very hard to clean. Overall, this cage is highly recommended for those who wish to add a Hob to your ferret family.
Top Tip!: From May to September, Jills fall into heat which can affect their health causing problems such as anemia. It is often recommended to mate your Jills, give them a yearly hormone injection, or have them spayed. However, bringing a Hob into your home can be beneficial as mating naturally brings them out of season (just remember to have your Hob vasectomized or you could end up with ferret babies everywhere!)
Pros
The product comes with a stand which makes it easy to set up.
The doors are strong enough to protect the mammal from external dangers.
Cons
The play accessories are not added to the product.
The pet lovers must add the plastic sheet to all levels so that the ferrets don't have to move onto the wires.
PawHut Large Outdoor Hutch – Best Cage for Outdoor Use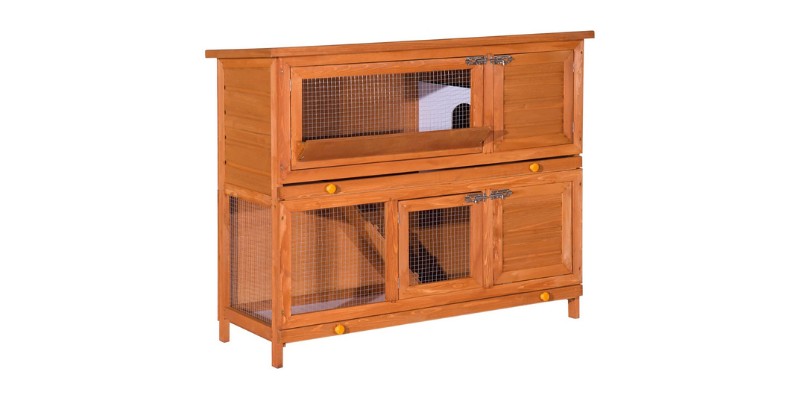 For ferret lovers who prefer to keep these pets outdoors in hutches and wooden cages, searching for a cage can be a tricky task. Just like rabbits, ferrets thrive both indoors and outdoors so for those looking for the perfect hutch for any outside home, PawHut's Large Outdoor Hutch is the ideal place for your furry friends to live.
This 48inch, spacious, wooden hutch is created with two platforms making it ideal for multiple ferrets too! Its sturdy frame and large room make it a great place for those wanting to breed these adorable furry friends. The easy-to-climb ramp makes both decks of this hutch easy to reach and even more fun to climb. Safe and secure with its easy-to-lock system, escaping is out of the question and ensures no night-time predators can access the hutch either.
Easy to clean and water-resistant, no matter what the weather, your ferrets will be safe and cozy all year round. Despite being well-ventilated, outdoor hutches can tend to be cold, so to make this hutch more comfortable check out our best outdoor bedding brands to make your ferret's home as snuggly as ever before.
Pros:
Highly spacious and great for multiple ferrets
Water-resistant
Easy to clean
Cons:
Can get cold so requires insulation with good bedding
Ferplast Rabbit 100 Indoor Cage – Best Starter Cage for Single Ferrets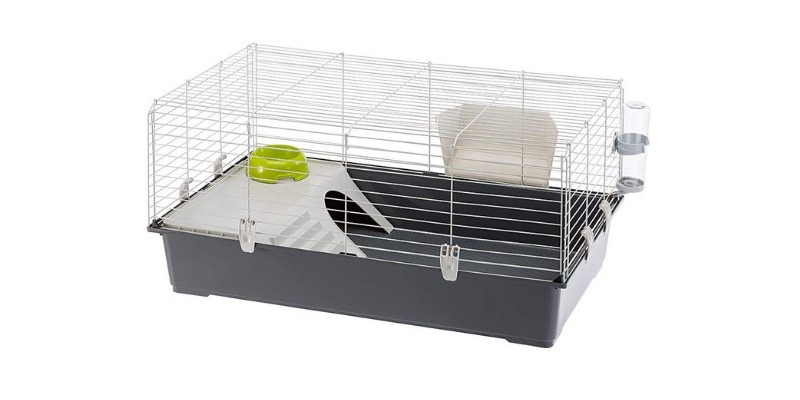 So, you have a new ferret. But where do you put them you might ask? Ferplast Rabbit Indoor Cage is the pawfect palace to place your ferret's when bringing them home for the first time. Like me, there might be some of you out there that venture off on a day out and come home with a furry friend by your side. If you hadn't considered investing in a large cage before bringing your ferret home, this classic cage is ideal whilst your ferret waits for its forever home.
Spacious, great value and easy to clean, this humble and happy home is a great way to begin training your ferret to use the litter box. However, with its small and compact design, this cage is not suitable for multiple ferrets so if you have more than one, feast your eyes on the cage below for when you bring home more than one furry friend.
Pros:
Great value
Ideal for single ferrets and new owners
Cons:
Small space not great for multiple ferrets
Ferplast Two-Story Cage – Best Premium Ferret Cage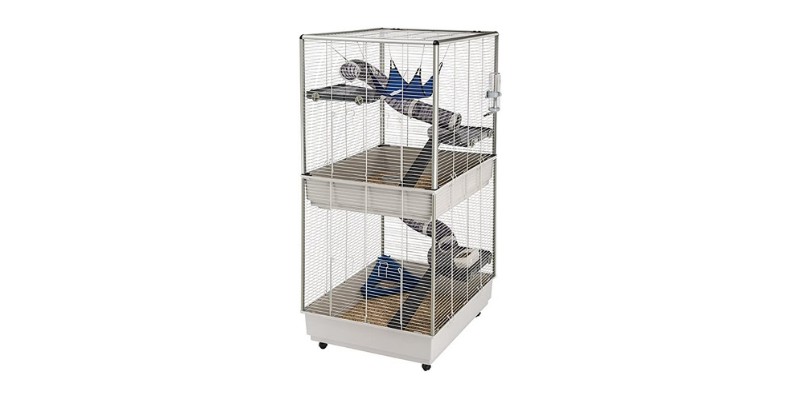 For those looking to splash a little cash on their furry friends, Ferplast Two Story Ferret Cage is one of the best premium cages on the market. Suitable for housing multiple ferrets, this sturdy, safe, and spacious cage is the ideal home for any ferret you own.
What's Included:
Water Bowl
Play tubes
Three adjustable platforms
Ladders
Climbing Ramp
From litter boxes to ladders, this cage provides all the equipment you need to ensure your ferret has a happy home. With many of these accessories costing between $15-50, this cage gives you everything in one easy purchase meaning no more shopping around for everything your furry friend needs.
With enough accessories and toys to keep your ferret occupied for hours, this is one cage that hardly needs any explaining! Mounted on four locking casters, this cage is easily moved anywhere in your home. Its high price tag may be a little off-putting for some but all the added extra included in your ferret's new home makes it worth the big bucks.
Pros:
Incredibly spacious (great for housing multiple ferrets)
Added extras are fantastic
3 access doors meaning you can reach your ferret on every level
Cons:
MidWest Homes for Pets Ferret Nation

– Best Starter Cage for Multiple Ferrets
For those seeking a little more room for multiple ferrets, Midwest Homes strikes with a great cage pawfect for those with more than one furry friend. Different from its Ferplast Single counterpart, this double-tiered cage has enough room when bringing more than one kit (baby ferret) home for the first time. Jills are great at adjusting to living quarters more than Hobs so this is a perfect starter set for new Jills in your home.
With rapid growth rates, it is vital that you don't keep your ferrets in this cage for too long as the space will become too small for your ferrets. However, it's a great solution for giving your new kits a cozy home while they adjust to their new surroundings and until they're big enough for a larger cage.
Featuring ramps that connect its tiers, your multiple kits can play for hours of ferret fun by testing out the different floors and shelves. Included with this cage are platforms, ramps, and shelves, and the other awesome part is the base of the cage is leakproof – perfect for potty training!
Pros:
Great value for new ferret owners
Lightweight so easily adjusted in your home
Easy to clean
Cons:
Small space when your ferrets start to grow
PawHut Soft Pet Cage – Best Cage for Travel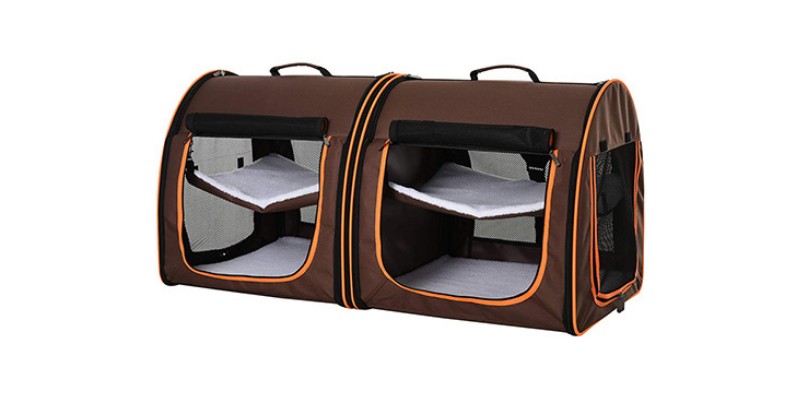 Throughout our ferret's lives, we may experience the occasional visit to the vet. Making their temporary home comfortable and cozy is paramount for a happy and healthy pet. PawHut's Soft Dual Carriage Pet cage is an affordable and snuggly alternative to plastic cages when out and about with your furry friends.
Delightfully designed for maximum space and comfort, this cozy cage is the ideal way to transport your ferrets to the vet, to the shops, or even for a playdate with other ferret friends. Its large domed design allows for maximum height meaning your furry friends have enough space to relax and maneuver whilst staying safe and secure. What's even better about this snuggly space is the soft, blanking lining keeping your ferret anxiety-free as they can feel at home in this blissfully bedded bottom.
For ferrets who like to notoriously nibble the bars of their cage, you might find the mess of this travel cage a little too easy to undo. Overall, the cage is a superb solution for transporting pets, not just ferrets, so no matter what pet you have at home, investing in this carrier cage is 100% the right idea!
Pros:
Cozy and comfortable
Affordable
Foldable design so easy to store
Cons:
Nibbly ferrets can potentially chew through mesh windows
Things to Consider
If you're a new ferret parent, here are a few things to consider to help make your choice easier.
Safe & Secure
No matter what ferret you have in your home, it is imperative the cage is safe and secure. As natural nibblers and escape artists, it is vital to look for a cage with small bars, hard plastic or metal trays, and doors with secure locks. Even experienced ferret owners, like myself, can get caught out by leaving a cage door slightly open so be sure to find a cage that is easy to lock and secure.
Correct Size
As no ferret is the same, finding your ideal cage is dependent on your ferret's size, behavior, and even gender. The cage you purchase must have the ideal amount of space to suit the needs of the ferret (or ferrets) you decide to bring home.
Female ferrets, or jills, adapt to smaller spaces better than male ferrets, or hobs. While it's best to always get as much space as you can, with jills, you can get away with slightly smaller (and likely less expensive) options as opposed to hobs.
Why Cages Are Important?
Like many small mammals, ferrets need to live in a cage or hut to keep themselves – and your furniture – safe. Tending to nibble, gnaw, and scratch, allowing your ferrets to roam free may leave your sofa, carpets, and cushions in a tattered and shredded mess.
As natural predators, ferrets tend to squeeze themselves into small holes or crevices to forage for food. Leaving your ferrets without a cage or safe space to sleep means exposing them to potential hazards around your home. Sleeping for approximately 18 hours a day, your ferret requires somewhere safe, snuggle and secure to rest their head after a long day's play.
Somewhere to eat, sleep and play, providing your ferret with the most suitable cage ensures they live a long and happy life.
Ferret Cage FAQ
Choosing the Best Cage
With its spacious and secure environment, there really is no cage we could recommend more than Yaheetech's 6 Level Cage. Easy to build, move, and store in your home, this is one cage your ferrets will love for the rest of their lives.
What makes this cage and Yaheetech so great is that if anything happens to your ferret's cage, their amazing customer service team is on hand to help no matter what! With replaceable parts easy to order, your ferret's have a home for life!
If Yaheetech doesn't quite do it for you, for easy buying check out the other cages above where your ferret's forever home is just a simple click away.