I tested a range of chinchilla foods and found Oxbow Essentials Chinchilla Deluxe Food to be the best chinchilla food for a reasonably priced product that meets all of a chinchilla's dietary needs, whatever their age.
I've always loved chillies and have owned a variety of small animals so I know how daunting it can be when you're faced with endless food options to choose from. Knowing what your chilly needs in its diet and what to avoid is tricky and changes as your chilly gets older too.
This is why Oxbow Essentials Chinchilla Deluxe Food is such a great choice. It takes all the hard work out of choosing. Packed with vitamins, high in fiber, and great at wearing down those ever-growing chilly teeth, it is a good-value all-rounder that consistently rates highly across chilly owners.
That said, we know that every chilly is different and some have more specific dietary needs than others. That's why we've also found great options for chillies who have sensitive tummies like the Science Selective Chinchilla Food. It's perfect for chinchillas with a delicate disposition who have struggled with other pellet foods in the past.
We've also explored foods that are best suited to young chillies such as Mazuri Chinchilla Diet. The high protein content is great for building muscle and will make sure your chillies have plenty of energy! Older chinchillas are also covered with the Sherwood Pet health Adult Chinchilla Food – formulated for adult chinchilla's less protein-heavy diet.
Read on to find out my top 8 chinchilla foods and find out what to look for when choosing the best food for your ball of fluff.
VALUE OPTION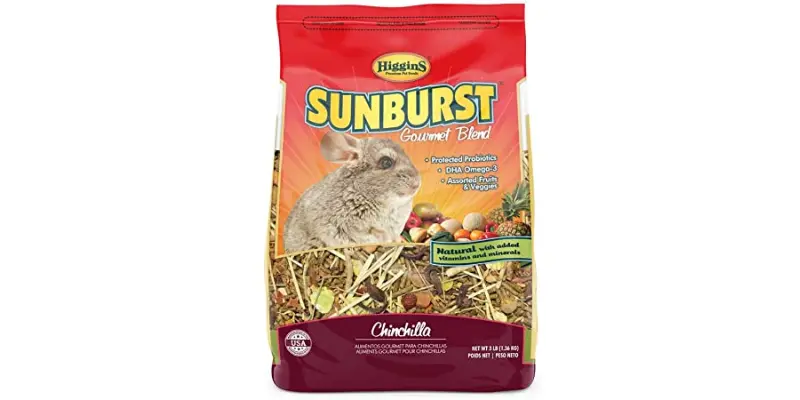 Higgins Chinchilla Food
Excellent mixtures of textures – great for picky eaters
Full of probiotics for a healthy digestive system
Perfect for weight managment
Available at:
EDITORS PICK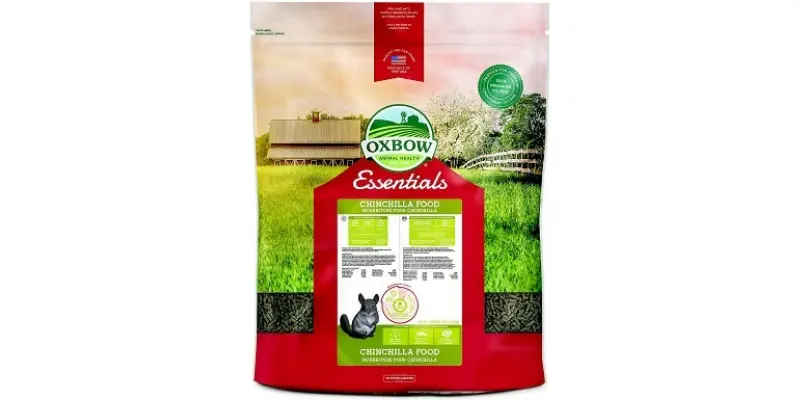 Oxbow Essentials
Packed with important vitamins and minerals
Range of bag sizes to choose from to suit your budget
Available at:
PREMIUM PICK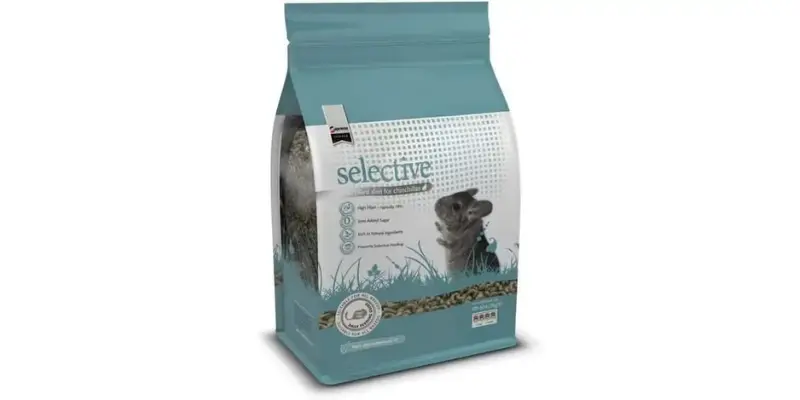 Science Selective
Top shelf quality ingredients
Specially formulated for sensitive digestive systems
No added sugars or preservatives, and low in fat
Available at:
Top 8 Best Chinchilla Food
Before we move on, there's something you need to consider.
Chinchillas have originated from a mountain area and have adapted to eating dry food. Therefore, you should make sure that their foods are dry, as feeding them with wet food can make your pet bloated.
With that in mind, here are the best dry foods to feed your pet:
Oxbow Essentials Chinchilla Deluxe Food – Best Chinchilla Food Overall
Time and again, Oxbow Essentials comes top for a great value chinchilla food, packed full of everything your chilly needs to stay healthy. Oxbow is a trusted pet food manufacturer. They have cared for small pets for years and this food has countless positive reviews online with owners on chewy.com calling it their 'go to food' and commenting:
'This is by far my fur balls' preferred food! Even my fussiest always loves anything from Oxbow. I have rescues that were once in bad shape and the right food and lots of Timothy Hay makes all the difference.'
New chilly owners who are worried about making the right choice and beginning their chilly journey in the right way, this food is the perfect choice. Nobody wants to feel like a bad parent by picking a food that isn't right for their fur baby. This food puts all these fears to bed.
It is a high-protein pellet formula so your young chinchillas will grow up healthy and strong without picking up the bad habit of selective feeding. It contains added vitamins C, E, and B12 and plenty of alfalfa which is the best type of hay for young chillies as it contains more energy than timothy hay.
One downside is that this formula does contain cane molasses which some owners choose to avoid. If you have a chilly who is watching its weight or is older, I'd look elsewhere due to the extra sugar and the higher calorie alfalfa.
Nutrition
Pros
Cons
Protein – 18%
Fat – 2.5%
Fiber – 23%
Fortified with vitamins and minerals
Ideal for young chinchillas
Choice of bag sizes
Contains some cane molasses
Not ideal for older chinchillas
Supreme Petfoods Science Selective Chinchilla Food – Best Food for Sensitive Tummies
As I've said in previous small pet food articles, I love the Science Selective range and the way every food is specifically tailored to each animals' needs. The Selective Chinchilla Food is no different. Tons of research has gone into it to ensure the nutritional content is exactly balanced for your chilly's needs.
If your chilly has a sensitive tummy, Science Selective is a great choice. If your chilly has struggled with diarrhea when on other foods or they just don't look their best, try Science Selective. High in fiber, low in fat, and no added sugar or preservatives, it has everything your chilly needs in a pellet without any nasty additives to irritate their gut.
The pellets contain parsley, plantain, and linseed which contains those all-important omega-3 fatty acids for a gorgeous coat.
Another fairly expensive brand, it's well worth the expense if you want a food that won't irritate your delicate chilly. The bags are also only available in a single 1.5kg size so I recommend setting up auto-delivery so you never run out of this premium chinchilla food.
Nutrition
Pros
Cons
Protein – 18%
Fat – 2.5%
Fiber – 23%
Fortified with vitamins and minerals
Ideal for young chinchillas
Choice of bag sizes
Contains some cane molasses
Not ideal for older chinchillas
Oxbow Garden Select Chinchilla Food – Best Organic Chinchilla Food
Another choice from Oxbow, their Garden Select Chinchilla Food is a natural, GMO-free pellet formula with no hidden nasties and no added sugar. If you want a chemical-free choice from a brand you can trust then look no further.
Featuring a blend of three different types of hay, Garden Select is suitable whatever your chilly's age. This formula gets its name from the blend of herbs and vegetables including tomato, yellow pea, rosemary, and thyme to create an enticing combination of flavors.
However, vegetables are not strictly necessary to maintain a healthy chilly diet as they aren't part of a wild chinchilla's diet. Including vegetables in chinchilla foods is hotly debated amongst owners so avoid if you do wish to ditch the veggies.
Because of the inclusion of veggies, this is not the best choice for brand new owners. It is best suited for those who've owned chillies for a while and are confident in knowing what suits their pet.
Nutrition
Pros
Cons
Protein – 16%
Fat – 2.5%
Fiber – 18-23%
Non-GMO formula
Combination of 3 types of hay
Enticing herb garden blend
Added vegetables are not necessary for a chinchilla's diet
Mazuri Chinchilla Diet – Best Food for Young Chinchillas
Mazuri Chinchilla Diet not only contains several fiber sources including Timothy Hay but also has a host of added live probiotics and vitamins to encourage healthy digestion.
For owners who want to give their chinchillas the very best from day one, pick Mazuri's Chinchilla Diet.
These pellets are perfect for young chillies due to their high-protein formula. They also contain flaxseed which is rich in omega-3 fatty acids – brilliant for keeping skin and fur super soft. Your young chillies will look and feel great from top to tail.
To be clear, this food is great for all stages of your chinchilla's life and isn't only suitable for young chinchillas. However, it's perfect for starting your chilly off on a long and healthy life by giving them a food packed with so many benefits. It will also encourage healthy feeding habits from the outset and support their energetic and playful attitudes.
Quality like this doesn't come cheap and Chinchilla Diet is one of the most expensive brands of food on the list. This is unsurprising considering the additional health benefits crammed into this formula, although some websites suggest this is not suitable for pregnant chinchillas.
However, those with smaller budgets should consider other brands on the list.
Nutrition
Pros
Cons
Protein – 20%
Fat – 3%
Fiber – 18%
Added probiotics for healthy digestion
Omega-3 fatty acids for healthy skin and fur
High-protein blend – perfect for young chillies
Expensive
Not suitable for pregnant chinchillas
Higgins Sunburst Gourmet Chinchilla Food Mix – Best Food for Weight Management
There's nothing worse than visiting the vet and getting the "it's not fluff, it's fat" look. If your chilly needs to shift some weight, Higgins Sunburst Gourmet Blend is a very low-fat option that your chinchillas will love.
Higgins manufactures a variety of Sunburst blends for different small animals that often feature highly in reviews and contain a unique array of ingredients best suited to your own pets' requirements. With a forage-friendly blend of hay pieces, fruits, veggies and legumes, your chinchillas will have fun picking through this exciting chinchilla food mix.
A surprising bonus to this food is the addition of probiotics – unusual in a food that is this good value. The probiotics will give your chilly's immune system a boost and will also help with digestion. It also contains those all important Omega-3 fatty acids for silky-smooth fur and improved eyesight.
The main issue with this food and all blends is that your chilly may just pick out all of the treats and ignore the bits they find boring. If selective feeding is an issue, consider switching to pellets to maintain a balanced diet.
Nutrition
Pros
Cons
Protein – 14%
Fat – 2%
Fiber – 18%
Contains probiotics
Low fat
Exciting mix of textures and flavors
Can encourage selective feeding
Lower protein content
Contains fruit and veggies
Kaytee Field + Forest Chinchilla Food – Best Food for Picky Eaters
If you want your chillies to have pellets in their diet but struggle to find a brand that they enjoy, try Kaytee Field + Forest Chinchilla Food. I'm a big fan of the Kaytee brand – from toys to cages to food. Kaytee is an established, reliable brand with years of experience and know-how when it comes to giving your small pets the best in life.
The uniquely shaped pellets formed just for little chilly paws are easy to hold and also aid in dental hygiene. They feature ever-popular timothy hay and alfalfa as well as a range of delicious vegetables to entice picky eaters.
While vegetables aren't needed in a chinchilla's wild diet, pets who shun pellets often enjoy the flavor they bring to this particular pellet. The extra high fiber content comes from a mix of timothy and alfalfa hay so these are perfect for younger chillies who have heaps of energy!
The vegetable content is really the only downside to this offering from Kaytee. However, if you struggle to get your chillies to eat any other pellets, I think this is a small price to pay for the peace of mind you get knowing they're getting a healthy balanced diet.
Nutrition
Pros
Cons
Protein – 16.5%
Fat – 3%
Fiber – 23%
Unusual shaped pellets – perfect for chilly paws
High fiber content
Vegetables are not necessary for a chilly diet
Sherwood Pet Health Adult Chinchilla Food – Best Food for Older Chinchillas
As the name suggests, Sherwood Pet Health Adult Chinchilla Food is specifically designed to provide everything your adult chilly needs to stay healthy and happy. Don't allow the lesser-known brand name to put you off – Sherwood understands that a chilly's nutritional needs differ as they grow older and this food reflects that.
The fiber content is significantly higher than most chinchilla foods to promote healthy digestion. This food is also free of filler foods including soy and grain which some owners find can affect their chilly's digestion. If you have tried your chilly on Science Selective and they don't enjoy the taste, this is an excellent alternative for delicate tummies.
The pellets also contain not just Omega-3 fatty acids but Omega-6 too – keeping your chilly's cholesterol levels in check as they age.
The higher fat content is not ideal if your chilly needs to shed a few ounces. But if your chilly is in good shape and you want to continue maintaining their health, Sherwood Pet Health Adult Chinchilla food is an excellent pick.
Nutrition
Pros
Cons
Protein – 15%
Fat – 5%
Fiber – 24%
Very high in fiber
Designed for adult chillies
Omega-3 and 6 fatty acids for healthy eyesight and low cholesterol
Higher in fat
Less easily available
Higgins Sunburst Veggie Stix Gourmet Treats – Best Chinchilla Treat
My favorite treat for chillies is the Sunburst Veggie Stix from Higgins. They are the perfect size for humans to hold as well as chillies so are an excellent bonding aid and playtime reward.
I love using treats at playtime to encourage good behavior and to work on hand-feeding. Treats that are easily visible in large human hands are great for nervous chillies that need to work on human interaction.
Made from a variety of hays, grains, and vegetables, these are an ideal occasional treat for small animals in general. Each stick measures about 2-inches long, so these are quite large and are not recommended as a daily treat but rather as a big-time reward.
If your chillys eat a daily diet that is free from veggies, these treats will be all the more enticing. Bring these treats out on special occasions and drive your chillies wild!
Nutrition
Pros
Cons
Protein – 9%
Fat – 4%
Fiber – 5.5%
Perfect size to use during playtime
Different colors and flavors in each pack
Too large for daily treats
Guide to Chinchilla Food
Whether you're a new chinchilla owner or you've kept these adorable creatures for years, it's always useful to refresh yourself on the dos and don'ts of picking a nutritionally balanced chinchilla food.
Read on for a useful overview covering everything you need to know before making your choice.
Homemade Chinchilla Food
We always recommend buying a manufactured chinchilla food rather than making your own at home. This guarantees your chillies get all the nutrients they need and provides peace of mind that you're giving them the best diet.
Chillies have particular needs when it comes to their protein, fat, and fiber intake so ensure they're getting exactly what they need by choosing a properly researched store-bought chinchilla food.
What to Look for When Buying Chinchilla Food
When buying chinchilla food, look for one that consists of the following:
| | |
| --- | --- |
| Protein | 16-20% |
| Fat | 2-5% |
| Fiber | 15-35% |
Higher protein foods suit younger chillies best and a higher fiber food is great for helping with a chilly's digestion. Added vitamins, minerals, and probiotics are always a great bonus!
Types of Chinchilla Food
There are two basic types of chinchilla food:
Pellets – pellets take all the necessary ingredients needed for a healthy chilly and reform them into uniform pieces of food. They are the best way of making sure your chilly gets a nutritious meal in every single bite. The only downside is some picky little pets won't eat them.
Forage mixes – containing blends of various hays, grasses, vegetables, fruits and seeds, chillies are natural foragers so love rummaging in their food to find the best treasures. The variety of texture, color and flavors is a big draw for chillies too. However, this often leads to selective feeding, meaning a chinchilla picks out its favorite snacks and leaves the rest. This will result in an unbalanced diet and is problematic if not addressed.
There's also a range of common hays and grasses found in chinchilla diets:
Timothy Hay: This hay is the most common type of product that is sold in most pet shops. Timothy hay comes in green dried grass and in three cuts, this would depend on your pet if he's a picker eater or not. The hay is low in protein and high in fiber. Since it is very common in pet shops, you can easily get on online or at your local pet store.
Orchard Grass: If you are looking for a leafy meal for your pet, then you should get the orchard hay as it is rich in fiber and low in protein. The dried grass will have a green to bluish color depending on the leaf's maturity.
Oat Hay: This type is also a good source of fiber with low amounts of protein. But unlike timothy hay or grass, you should only feed this to your pet in small quantities as it contains oat heads. This comes in a brownish color.
Alfalfa Hay: If your chinchilla is sick, young, nursing, or pregnant, then this type of hay is a suitable choice of food for your pet. You can also feed this occasionally to your healthy adult chinchilla as a treat. Alfalfa hay comes in bright-green colored leave

and is sweet and very nutritious to your pet.
Ingredients
Did you know hay and grasses make up 80-90% of your chilly's recommended diet? Always make sure your chinchillas have a bunch of hay about the same size as them to munch on throughout the day to keep their digestion on track and keep their teeth worn down.
Timothy hay is the best type of hay for older chillies, whether mixed in with their food or given separately. Alfalfa is great for younger chillies due to its higher energy values but switch this ingredient out once your chillies reach adulthood.
Look for foods that contain linseed and flax. They contain health-boosting fatty acids and are great for a chilly's overall health and appearance. Keep an eye out for added probiotics and vitamins for extra health benefits too.
Foods and Ingredients to Avoid
Chinchillas gain weight super easily so it's vital to keep their meals and snacks as low-fat and low-sugar as possible.
Avoid fruits and vegetables in high amounts as they are unnecessary for a chilly's diet and often contain high levels of sugars. Other snacks to avoid include high-fat nuts and seeds such as peanuts and sunflower seeds.
Fillers such as corn or soy-based ingredients bulk out the food but do little for your chilly's wellbeing.
Bag Size
Chillys eat a very small amount of food per day. Give them between 1 and 2 tablespoons of food alongside plenty of hay and fresh water to prevent overfeeding.
Bear this in mind when choosing your bag size and think how long a bag will last. Bigger bags need airtight storage to keep food fresh so consider sizing down if this is a problem.
Price
As with any animal food, the price can vary hugely from brand to brand. Having researched available chinchilla brands, I recommend buying the best quality food your budget will stretch too. As a rule of thumb, the higher-priced foods will contain those added probiotics, vitamins, and minerals needed for optimum health.
However, if you're on a tight budget, ensure your chilly always has access to good quality hay and keep treats to a minimum to help with overall health, weight management, and dental hygiene.
FAQ:
Buying Chinchilla Food: Next Steps
Having researched all kinds of chinchilla food, the best all-rounder that will suit chinchillas of any age is the Oxbow Essentials Chinchilla Deluxe Food. This is the perfect food if you want something that has countless excellent reviews, is vitamin-enriched, and has great value.
The Science Selective Chinchilla Food is also highly recommended, particularly if you have a delicate chilly who has had tummy issues when trying other pellets on the market. The combination of premium ingredients and added probiotics are great for sensitive tummies.
Choosing quality chinchilla food can be a tricky business. So make sure to read our reviews before making your choice to ensure a well-informed decision that benefits your chilly inside and out!