Physical activity is one of the most important factors in your ferret's life. So, after testing all the harnesses under the sun, Marshall's Ferret Harness and Lead turned out to be the best ferret harness when taking my ferret for an adventure in the great outdoors.
My three fun-loving ferrets adore exploring the garden and outdoors in their harnesses. The ability to take them out without stress or worry is one of the reasons Marshalls Ferret Harness is a fantastic harness due to its easy fitting and adjustability. No matter how fast or wriggly your ferrets may be, this is a harness for you.
As your ferret grows, their size and shape will change so their harness needs to as well. Choose a harness that supports their body whilst keeping them safe to ensure walkies are fun and enjoyable for both you and your ferret. But for those wanting a little bit more style and substance to their ferret's harness, venture through this list of the best ferret harnesses 2022, which will most definitely make you eager to explore the outdoors with your little furry friends.
Best Ferret Harnesses 2022
For everything you need to keep your ferret, safe, secure, and comfortable when out and about, take a peek at our list of the best harnesses for your little, furry friend.
Marshall Ferret Harness + Lead –Best Ferret Harness Overall
As an owner of three of these master escapologists, when it comes to support and safety, there is no harness better than Marshall. Equipped with both harness and lead, this superb set provides you with everything you need to take your furry friend out for an adventure.
This harness features a quick snap button for easy put on and off. It also provides complete adjustability that will serve as escape-proof. You can get it in a number of colors such as royal blue, teal, green, purple, black, and red.
Have an extra wriggly ferret in your home? No fear! Marshall's harness and lead are fully adjustable meaning no matter what size, shape, or even escape-ability of your ferret, they are 100% safe and secure in this perfect product. What makes this harness and lead so appealing is the price tag. At just $11.99, this superb set is a great present for new ferrets in your home.
If my obvious adoration for Marshall's Harness isn't enough, the reviews from Amazon speak for themselves. Described as "very good quality and excellent value for money", this set certainly won't break the bank.
Adjustable fitting to suit any breed
Comes with matching lead so no need to shop elsewhere
Brilliant price tag – great for those on a budget
· More suited for adult ferrets
Kaytee Ferret Harness – Best for Comfort
Masters in all things small and furry, the brilliant brains at Kaytee have another ferret-perfect product for you. If comfort is your main need when shopping for a harness for your ferret, look no further than Kaytee Comfort Harness and Leash.
The harness holds a neck size of 5 to 7 inches and a waist size of 7 to 9 inches. It comes with Velcro straps that are fully adjustable in order to find the perfect fit. Featuring e-z snap buckle, the safety of your pet is nothing you need to worry about. Plus, its elasticity means no injuries should happen.
Made with a padded, nylon material for full comfort and support, this is a great harness for Kits who fancy a run around on the garden grass. Ensuring their harness is comfortable is great for those extra-wriggly ferrets, especially kits, who are young and still developing. Its easy-to-clip D-ring makes attaching to a leash simpler than ever and located on your ferret's back, the harness is maximum comfort and support. Available in three different sizes and colors, this cozy harness is suitable for growing kits who love to run and play.
Stretchy fabric (great for growing kits)
Padded fabric makes a comfortable wear
Comes with leash so no need to purchase matching accessories.
Limited colors available
Maybe too small for adult ferrets
RYPET Ferret Harness – Best Premium Harness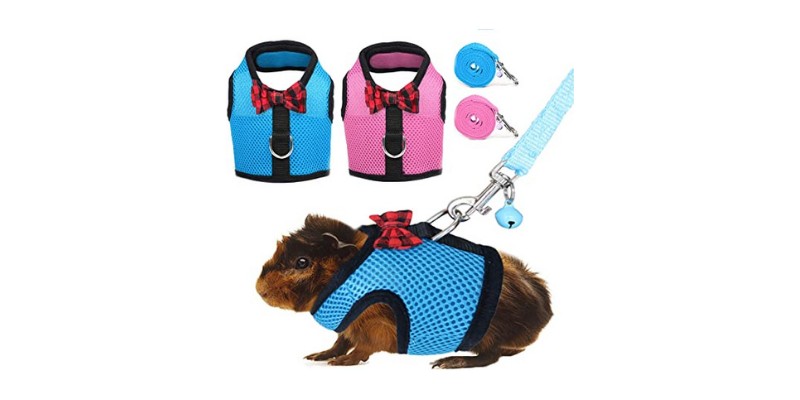 For those wanting to splash a little extra cash on their animal apparel, RYPET Ferret Harness is the best way to go. Premium in quality and design, what makes this harness stand out from the rest is the high-quality materials used in its design. This two-piece set, containing a mesh vest and leash, is the best set for those with multiple ferrets too. With its delightful design featuring a stylish bow tie, these harnesses are the ideal way of taking your two ferrets out and about.
Featuring stretchy and breathable mesh coating, this harness will keep your ferrets cozy and cool all day long. Created with a D-ring for secure and easy connection to the included leash, this is one harness guaranteed to make your ferret look and feel good. Created with comfort in mind, this harness is secured with Velcro so perhaps not the best for those ferrets who like to nibble and gnaw their way out of things.
Duo-pack (great for those with multiple ferrets)
Soft and cozy (kind on fur and skin)
· Secured with Velcro so may be easy to undo for ferrets that like to scratch and nibble
Ancol Ferret Harness & Lead – Best for Boys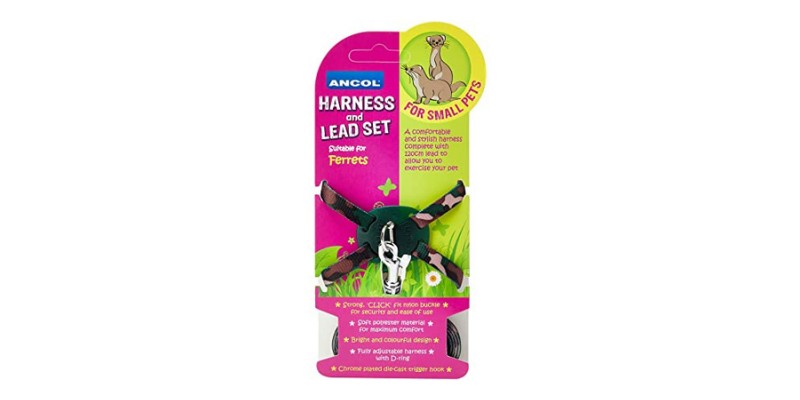 Want a harness that doesn't break the bank? Ancol's Ferret Harness and Lead is the pawfect solution for an accessory on a budget. Priced at just $4.36, this is one ferret staple you will want to buy right away.
As Amazon's choice for ferret harnesses, our reviews wouldn't be complete without featuring this camouflaged delight. Owning a rather robust and chunky Hob, finding a suitable fitting harness was tricky. With its easy-to-fit straps and secure fitting, Ancol's Ferret Harness and leash worked out to be the best pick for our 4-year-old Albino, Kiko.
Despite lacking the material unlike its vest-based counterparts, this harness does exactly what it says on the tin. Easy-fitting and 100% secure, this well-designed value harness and leash has most definitely prevented Kiko from easily slipping away. Made with super soft material for maximum comfort, there really is no harness more suited for that special male in your life than Ancol.
Soft material (kind on skin and fur)
Easy to adjust and fit
Suits male ferrets better just to shape and size
Too large for trimmer Jills
Living World Small Animal Harness – Best Value Ferret Harness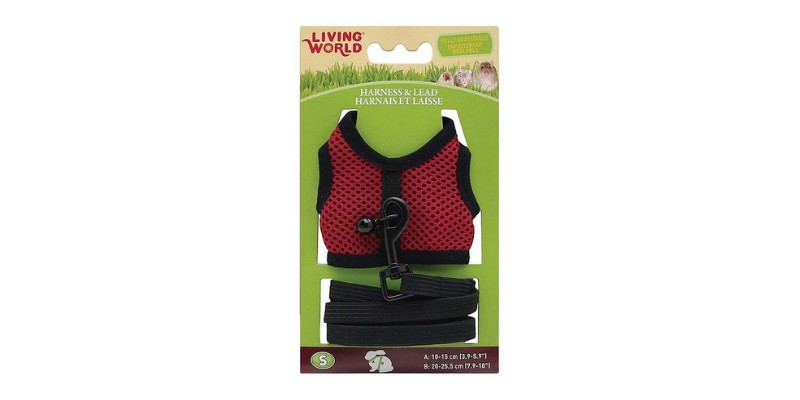 For any pet owners out there, purchasing accessories for our pets need to be both great quality and value. When it comes to hunting for the right harness for your ferret, when it comes to value and quality, Living World does it best.
Wanting to explore beyond your ferret's cage without spending too much? Have no fear! Living World's Harness and Leash set is the best harness for safety, comfort, and of course, value.
Made with high-quality materials, the harsh leash is light, durable to allow for free and fun movement without any worry your ferret might try to escape. The harness is also fully adjustable, fitting securely around your ferret's chest meaning no force or restriction on their collar or throat.
Added Bonus! Fitted with a small bell, no matter where your ferret might wander off to, you can most definitely hear them coming.
Great value
Small bell makes for cute and easy locating
· Only available in one size
Why Are Ferret Harnesses Important?
As avid adventurers, ferrets love to play and explore. Needing between 2-3 hours of active play every day, taking your ferret for a walk, or running outside can be a brilliant form of exercise for your little furry friend.
Like our canine companions, it is advised to use a lead when having any outdoor play as their agile and escapologist-like behavior can often lead your ferret wanting to run and explore all on their own. A lead ensures their activity is well-monitored and no chance of your ferret running off into the wilderness.
With a lead must come a harness. We would never recommend any leads that are attached to your ferret's collar only as this can cause significant strain on the throat and neck. A harness allows a safe, comfortable, and pain-free way of always keeping your ferret close when out and about.
What to look for when buying a ferret harness?
If you are thinking of purchasing a harness for your ferret for the first time, there are a few things you need to consider before clicking to buy.
Safety
When testing any harness for the first time, it is imperative you give it a go around your home. Ease your ferret into their harness. Be reassuring. This is a funny experience for them so it makes them feel at ease. I encouraged my little ones into their harness by placing Beaphar Malt paste on their tummies to make the fitting easier than ever. Practice around your home and once your ferret is used to exploring, try some fun in the fresh, adventurous air.
Fitting
One of the most important factors of your ferret's harness must be the fitting. Try to avoid harnesses that just fit around their collar. These furry little creatures are expert escapologists and no matter what age, breed or even size ferret you have, they become rather masterful at working out how to slink and slide their way out of any ill-fitting harness
When it comes to finding a harness for your ferret, ensure it is well-fitting, secure and 100% safe but most importantly, it needs to be comfortable. Choose one that fits across their chest and collar to provide support to their most delicate and precious of areas. With baby ferrets (Kits) you want a harness that looks like a jacket as this will protect their vital organs whilst they develop.
Material
Ensure the harness is soft yet durable. Despite their love of adventures, our pets do prefer being apparel-free so choose a harness that features soft and comfortable fabric that won't rub or irritate their backs, bellies, and collar.
Avoid cheap and low-budget harnesses and leads. These are often poorly manufactured with inadequate stitching and security. When it comes to your ferret's safety, this is one area you don't want to budget on.
Size
Choosing the right size of harness for your ferret is dependent on your ferret's age and shape. Not all ferrets are made the same so ensure you measure around your ferret's belly and collar before selecting a harness to purchase.
Ferret harnesses, like the ones mentioned above, are adjustable, but ensure you select a harness 100% suitable for your furry friend. From Kits to adults, ferrets experience lots of developmental changes in their weight and size, therefore, the harness you purchase for the first time, isn't likely to fit them later in life.
Price
We all love a good bargain but when it comes to your ferret's safety, buying a harness that is cheap is never a good option. For those looking for a quirky harness, prices range from everything up to $25 if you want your ferret in the latest, cool-looking designs.
However, fully functional, safe, and comfortable harnesses range from $7-10 and are ideal accessories for those just looking to give their furry friends a walk on the wild side. Be wary of harnesses under the $5 price point as they can be ill-fitting, poorly made and not safe for your ferret.
Ferret Harnesses FAQ:
Buying Your Harness
For full functionality, safety, and comfort, I recommend Marshall Ferret Harness and Lead. It provides everything you and your ferret needs for a walk, run, or adventure in the great outdoors. With matching lead to accompany your ferret's harness, your furry friend will look like the top dog when out and about.
If you have adult ferrets in your home, this superb set is the pawfect tool for taking your Jills or Hobs to stretch their tiny legs. In an array of classic colors, your ferrets will look fantastic in Marshall's Harness and Lead set. But for those who want a little something extra for your furry friend, take a closer peek at our array of amazing Amazon apparel and find the best ferret harness for them with just a simple click.
Looking for some extra ferret help? Just check out our ferret-friendly guides!: