I tested the best sugar glider toys and accessories and found the Trixie Suspension Bridge Small Pet Hammock to be the best for an all-in-one toy that is perfect for climbing, exploring, and chilling.
Having owned a number of small pets, I know it can be difficult to figure out what toys are suitable for your own particular pocket pal. Sugar gliders have many unique traits, from their super soft hands to their quirky little run, which affects what toys will and won't suit them.
That's why the Suspension Bridge Small Pet Hammock is my favorite sugar glider toy. It's small enough to fit inside most cages and provides a ton of stimulation, whatever your suggie likes to get up to.
In fact, that's why it's so great for first-time owners who are just getting to know their pets. Why waste money on toys that turn out to be a dud when you can get one piece that is a climbing toy, a sleeping toy, and a chewing toy all in one?
Established owners who have their suggie's personality all figured out may be looking for a new toy that fits one need. This article has plenty to choose from, including the Oxbow Enriched Life Play Table if your main concern is encouraging chewing and keeping those teeth in check.
If you have more than one sugar glider, toys made for several suggies at once will fit the bill. The Triple Bunkbed Hammock from Vedem provides plenty of space for two or more suggies to snooze, snuggle or play a game of hide and seek.
If you're feeling overwhelmed by the sheer choice available when it comes to choosing sugar glider toys, don't worry! Keep reading for a round-up of the very best toys available, whatever your suggie is into.
The Best Sugar Glider Toys Reviews
There are few toys on the market made specifically for sugar gliders. Don't become overwhelmed by the limitless number of small animal toys on offer. Read on for our pick of the very best small animal toys around to treat your suggie.
Best Sugar Glider Toy Overall: Trixie Pet Products Cuddly Suspension Bridge + Hammock
If you're just setting out on your sugar glider journey, then the Trixie Bridge Small Pet Hammock is an excellent starter toy for your suggie's new home. If you're not sure what sort of activities your new sugar glider is into, a multifunctional toy such as this is a great way of finding out your new pocket pal's likes and dislikes.
It provides several different play options from climbing to chewing and even chilling on the bottom hammock. The range of different materials, from the lamb-soft hammock to the wooden bridge provides interest and meets a variety of your sugar glider's needs all in one toy. Your suggie will have hours of fun exploring this new toy and all it offers!
The metal clips easily attach to any cage bars. Owners have commented on how easy they are to attach so setting up is a breeze.
Each layer attaches with metal keychain-type closures. They are fully removable, making the hammock washable as well. However, this is a fiddly process and difficult to do if you have mobility problems in your fingers.
The range of materials does mean that some parts of this toy will wear quicker than others. Due to the keychain attachments, you do have the option of attaching other components at a later date. So don't worry if your suggie loves the particular layout of this stimulating and entertaining mini-playground.
Pros
Multi-functional layout
Easy to hang metal hooks
Removable components
Cons
Fiddly to take apart
Some pieces will wear quicker than others
Exotic Nutrition 12" Silent Spinner — Best Sugar Glider Running Toy
Sugar gliders are bundles of energy. A quality exercise wheel is an excellent toy option if you have space in their cage. If you have a particularly active little suggie, help them burn off that excess energy with the Silent Spinner.
The Silent Spinner from Exotic Nutrition provides all the features necessary to make wheel running safe and enjoyable for your suggie. It has no inner axle which prevents any injuries to your suggie's back. Sugar gliders have a particular hopping gait to their run that is unlike other small animals. That's why it's vital that any exercise wheel is free of a central axle otherwise they can hit it off the axle and get hurt.
The backplate and track on the Silent Spinner are completely solid to stop any tails or toes from getting trapped. This wheel works well if left freestanding or attached to the wire cage bar if you worry about it tipping over.
The innovative dual ball bearing design means that this is one of the quietest wheels on the market. This is particularly important if your suggies live in your bedroom. Nobody wants to lie awake at night with the sound of a squeaky wheel keeping them company!
The only real downside to the Silent Spinner is the price. It is the most expensive toy on the list but that is due to its premium design and is worth the money if you have the budget.
Pros
Premium technology and materials
Silent squeak-free exercise
Freestanding or attach to wire bars
Cons
Vedem Small Animals Triple Bunkbed Hammock — Best Sugar Glider Sleeping Toy
VEDEM Small Animals Warm Plush Triple Bunkbed Cage Hanging Hammock Bed Hideout for Sugar Glider Ferret Squirrel (Mint)
Made of cozy plush with soft plush lining- an ideal place designed for your little friends, safe and warm for them to sleep or play inside.
Size: 11.5 x 11.5 inch, Weight: 0.32 LB, Warm and cozy for small animals: rat, hamster, sugar glider, squirrel, ferret, small bird, etc.
Easy and quickly attaches to cage interiors with included clips, your little babies can either lay on the top or curle up inside
Your little friends may enjoy the challenge of climbing in and out of the hammock. It's a form of enrichment and can keep them busy while you're away.
Machine washable. Easy to clean and wash.
Providing your sugar glider with a suitable sleeping toy is a must to ensure they feel safe and protected. The Vedem Small Animals Triple Bunkbed Hammock is the perfect sleeping toy if you have two or more sugar gliders who love to bunk together. Enjoy watching them snuggle up and snooze together in this palatial and plush option.
Your sugar gliders can choose to climb into the array of pockets for a warm and cozy nap or lie on the top hammock to watch the world go by. Alternatively, watch your suggies pop in and out of the multiple entrances and exits for an added fun activity.
The Triple Bunkbed Hammock is easily attached to any wire bars of your sugar glider cage with metal hooks. The hooks quickly unclip from the hammock itself for cleaning. It's also fully machine washable to keep things smelling fresh.
Some owners have noted that the straps that attach to the hooks are thin and easily chewed. In general, plush toys are less hard-wearing than wood or plastic toys and sugar gliders will likely chew them. With this in mind, stay vigilant for any signs of wear or weakness from chewing and replace any damaged ones.
Pros
Suitable for multiple sugar gliders
Fully machine washable
Easy to clip on
Cons
Fabric is easily chewed
Thin hanging straps
Oxbow Enriched Life Apple Stick Dangly Small Animal Chew Toy — Best Young Sugar Glider Toy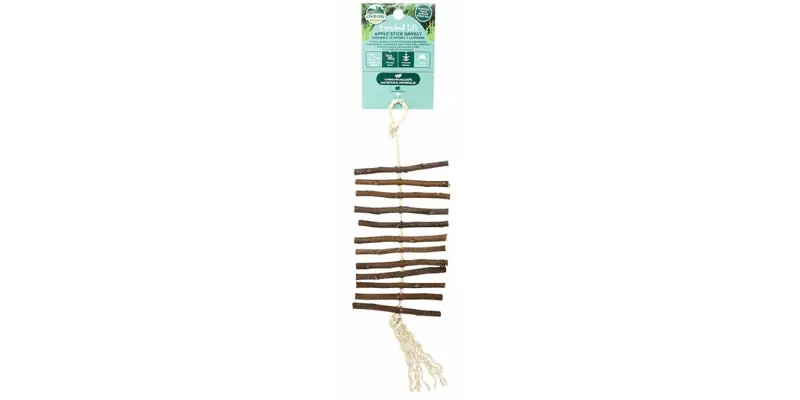 If you're looking for a chew toy that is suitable for young sugar gliders, apple sticks are a popular and safe choice. They're 100% pet-safe and have a flavor and texture that your sugar glider is sure to enjoy. Not only this, they help keep your sugar glider's teeth in check.
Oxbow Enriched Life Apple Sticks are thin enough for small suggies to enjoy chewing on without difficulty. Many apple sticks come packaged in much longer lengths, so this toy is perfect for tiny hands to climb and hold.
The hanging design also adds an extra level of interest rather than the standard bundle of apple sticks. Hang this toy at a spot that will encourage your sugar glider to stretch and climb. This will promote physical as well as mental stimulation.
This toy features absolutely no plastic or metal. Feel free to leave it in your pet's cage without fear of them chewing something they shouldn't.
The rope that holds the sticks together is quite insubstantial so will come apart easily if chewed. This means that the hanging element of the toy may not last very long. If the idea of stray sticks laying around your suggie's cage irritates you, this is not the ideal toy. This is a minor issue, though for a simple, yet enjoyable toy option for your baby sugar glider.
Pros
Small sticks are perfect for young sugar gliders to hold
No metal or plastic
Helps promote good dental hygiene
Cons
The rope will wear quickly
Living World Teach-n-Treat Toy — Best Sugar Glider Floor Toy
Sale
Living World Teach N Treat Toy
Interactive and rewarding toy
Helps teach pets to search for treats
Stimulating and educational
Three levels to provide the optimal learning experience
Keeps your pet healthy and alert
Sugar gliders have curious, inquisitive, and playful personalities. That's why the Teach-n-Treat Toy from Living World makes a perfect sugar glider floor toy and is ideal for spending quality time with your suggie.
Liven up playtime with a stimulating puzzle toy that encourages foraging and problem-solving. With three levels of difficulty, your suggie will need to lift and slide various pieces to uncover their favorite treats.
This is an ideal toy to promote bonding between you and your pet. You can make every playtime different by changing out the treats and adjusting the game mode to keep your suggie engaged and excited.
The Teach-n-Treat is quite a bulky item in comparison to many other sugar glider toys, and will not fit in a cage. As it is only suitable for supervised play, it's not the best choice if you don't handle your suggies so much.
Some owners also say that their sugar gliders simply didn't engage with the toy because they were too lazy to work for their treats. If your suggie doesn't enjoy hard work, consider a less mentally stimulating choice.
Pros
Multi-functional puzzle for mental stimulation
Choice of difficulty and game options
Sturdily built and long-lasting
Cons
Doesn't fit inside a cage
Only suitable for supervised play
Oxbow Enriched Life Play Table — Best Sugar Glider Chewing Toy
Sale
Oxbow Enriched Life Play Table
Innovatively designed to meet key instinctual needs of small pets
Encourages mental and physical enrichment
Wide assortment of items Provides fun and stimulating play
Made with safe, natural materials
Age Range Description: All Life Stages
If you want to encourage your sugar gliders to chew more but they get bored by the same old options, then look no further than the Enriched Life Play Table by Oxbow.
Oxbow's Enriched Life range is a 100% pet-safe array of toys. They encourage problem-solving and mental and physical activity. The Play Table also promotes healthy dental hygiene. It features a huge selection of tastes, shapes, and textures to break up the boredom of everyday chewing.
Made from an all-natural selection of wood and grasses, every part of this toy is safe for your suggie to nibble. They'll also enjoy interacting with the different sizes and shapes of the strung-up toys. This chew toy provides unparalleled variety when it comes to stimulating, chewable fun.
There are no plastic or metal components so your suggies can play unsupervised. There is no need to battle with fiddly clips or clasps when it comes to fitting it in your sugar glider's cage. Just pop this Play Table on the floor and watch them climb, explore and chew to their heart's content.
The construction of this toy is less sturdy than some options and can break apart. Due to its freestanding design, it can tip over so bear this in mind if your sugar glider is particularly boisterous.
Some owners have also noted that it's smaller than they anticipated. This toy is, therefore, best suited to younger sugar gliders, rather than full-grown.
Pros
All-natural pet-safe materials and colors
Freestanding
Promotes good dental hygiene
Cons
Can break easily
Too small for larger sugar gliders
Rioussi Sugar Glider Rope Perch Swing Toy — Best Sugar Glider Hanging Toy
Sugar gliders love to climb so a rope toy is an excellent addition to any sugar glider cage. The Sugar Glider Roper Perch Swing Toy from Rioussi provides a gorgeous pop of color while also providing a stimulating, exciting climbing adventure for your suggie.
These handmade fleece ropes are lovely and soft on your sugar glider's delicate hands. As one owner on Amazon.com noted:
"Our sugar gliders absolutely love these. They make great ropes and bridges for other toys for the gliders to play with. They have a tight enough weave that you don't have to worry about threading, which in other materials can hurt your gliders."
The plaited design makes climbing safe and accessible. Your suggie will love scampering up and down these ropes at high speed.
At a glance, these ropes don't look like much but the beauty of these ropes lies in the customization you can achieve. The handy metal clips on each end mean you can make connecting bridges between toys and set up obstacle courses in your suggie's cage. It's quick and easy to change the layout as soon as your sugar glider shows signs of boredom too.
The ropes are easily cleaned. Just remove the metal clips, pop in a laundry bag, and wash in your machine. The fleece material will dry quickly, so your suggie won't be without their rope toy for long.
Watch out if your sugar glider has particularly sharp nails. Long nails could get caught in the fleece material and cause a painful accident. Also, keep an eye for signs of chewing and wear to prevent any injuries.
Pros
Bright and colorful
Customizable and easy to hang
Machine washable
Cons
Chewable
Sharp claws can get caught in the fabric
Tfwadmx Rainbow Bridge — Best Sugar Glider Climbing Toy
Tfwadmx Hamster Rainbow Bridge Rat Bridge 20X2In Flexible Hamster Climbing Ladders Wood Bridge for Guinea Pig Chinchilla Chipmunk Sugar Glider Gerbil Mice Squirrel
✔SIZE: Hamster wooden bridge is made of 100%natural wood.It is non-toxic. MEASURE:20*2In (L*W) package include:1*hamster bridge
✔MULTICOLOURED BRIDGE FEATURE: Suspension bridge is used on the surface of the colored bridge. Your pet can chew it safely. Chewing toys are easy to disassemble.
✔EASY TO INSTALL: The hooks hold up well if you want to attach them to the side of a cage or aquarium.Hamster rainbow playing bridge is an interesting toy. Made with wooden, steel wire throughout all the ladder,Buckles to prevent steel wire pull off,and quick link fastener for easy attachment in outdoors.
✔FUNCTION: Ladder is suitable for gerbil, guinea Pig, chinchilla, chipmunk, squirrel, Rabbit, mice, parakeet, snack and small animals.
✔Promote exercise and help hamster to develop coordination and balance skills. If you have any questions about the item, please contact us.
A climbing toy is a must for most sugar glider cages. Sugar gliders love to explore different levels and heights. The Rainbow Bridge from Tfwadmx gives you customizable climbing apparatus. It also comes in a gorgeous rainbow color that will brighten up any sugar glider cage.
I particularly like this bridge toy in comparison to others on the market because of the wire bar attachment. This gives an added level of security when adding a bridge to your cage and gives extra peace of mind if affixing to higher levels of the cage.
The wire structure within the bridge means that you can alter the gradient of the bridge, create a tunnel or bend extra bumps into it. The freestanding structure of this bridge allows you to create a fun and interesting obstacle course both inside and out of your sugar glider's cage.
Its wooden construction and pet-safe coloring mean it's safe for your sugar glider to chew. It is sturdily made so should last, even if your suggie is particularly nibbly.
Some owners show concern about the metal on the ends of the bridge and its sharpness. If this is a worry, keep playtime on the bridge for supervised times only. It is also larger than a lot of people expect, measuring 16-inches long. If you have a smaller cage, measure up before ordering or save for playtime outside of the cage.
Pros
Customizable shape
Easy to fix to wire bars
Bright and colorful
Cons
Sharp metal edge
Too long for some cages
Exotic Nutrition Triple Treat Forager Small Animal Toy — Best Sugar Glider Foraging Toy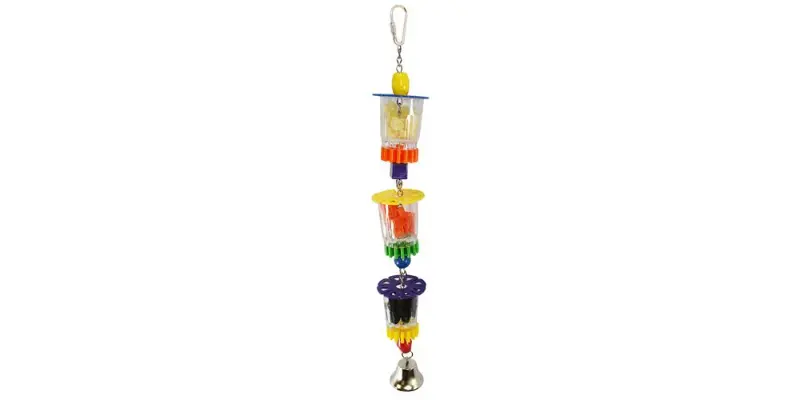 If you're on a budget but are looking for a cheap and cheerful addition to your suggie's cage, consider the Triple Treat Forager Toy from Exotic Nutrition.
Hang this toy from your sugar glider's cage bars. Then pop in a variety of small treats to encourage problem-solving and natural foraging instincts. If your suggie goes wild for treats, add a playful element and make them work for those snacks! The three separate capsules mean you can switch up the treats to keep playtime varied and interesting.
The metal clip is easily fastened onto bars and threaded shut for added safety. The Triple Treat Forager Toy also features a little bell on the bottom. Your sugar gliders will enjoy playing with this extra feature and letting you know it's treat time!
This toy won't appeal to everyone as it is plastic and metal. If you want a more natural, chew-safe option then consider items further up the list. However, this is a nice addition for supervised play and can add an extra dimension to treat time rather than just sprinkling a handful of treats into the cage.
Pros
Three small capsules for a variety of treats
Easy to attach to bars
Bright and colorful
Cons
Metal and plastic construction
DIY Sugar Glider Toy
You can make fun activities for your sugar gliders out of things you have around the house.
Suitable materials include cardboard, wood, and fleece or fabric. However, I would recommend properly manufactured toys, in general. This ensures the materials used are pet-safe and won't irritate or harm your suggies in any way.
What to Look For When Buying Sugar Glider Toys
To ensure your suggie stays safe and happy, there are a number of factors to consider when choosing a suitable new toy or accessory.
Materials
Materials can range from wood, plastic, metal, or plush fabrics depending on the purpose of the toy. Each material has its pros and cons.
Wood and fabric will absorb any pee and begin to smell after time. However, fabric ropes are ideal for suggies' soft little hands. If your suggie is an incessant chewer, make sure any plastic toys are sturdy and ideally made of acrylic to prevent shattering or splintering.
Consider your suggie's habits, likes, and dislikes before opting for particular materials. That way you'll avoid disappointment if they shred a toy in a matter of hours or shun one they don't like the feel of.
Safety
Reputable brands will guarantee all materials used are pet-safe from colors to glues used. Choosing a well-known brand helps give peace of mind that the toy you choose is safely manufactured. Many brands will include information guaranteeing they only use non-toxic materials in production.
Always check toys for signs of chewing and general wear. Replace any broken pieces or the toy entirely if it is no longer fit for use.
Price
Prices can range from a couple of dollars to well over $50. This depends mainly on the complexity of the toy and how long it will last. Some apple-wood sticks are a great budget-friendly option but will only last till they're chewed up. In contrast, an exercise wheel is expensive but will last indefinitely.
Types of Sugar Gilder Toys
There are all kinds of small animal toys available that suit your sugar glider's various needs. The main types on offer include:
Climbing Toys
Sugar gliders love to climb so ladders are a great addition to any cage. Wooden ladders are especially good as they mimic the trees that sugar gliders would climb in their natural habitat.
Hanging Toys
Hammocks, bridges, and ropes that connect various levels of your suggie's cage provide mental and physical stimulation. Your suggies will enjoy figuring out how to navigate these newly built cage levels.
Running Toys
Sugar gliders can seem to have almost limitless energy. Fitting an exercise wheel in their cage will help them to stretch their legs and burn off any excess energy they may have. Make sure any wheel you choose has no middle axle to prevent back injuries. Check there are no obvious gaps to the back or on the track to prevent hurting tails or toes.
Sleeping Toys
Sugar gliders love to play but they also love to snooze and sleep about 12 hours a day. A hammock or pocket toy will give them a cozy hideaway to snuggle up in, making them feel safe and secure.
Chewing Toys
Sugar gliders chew almost constantly and need materials available at all times to satisfy this need. Choose at least one wooden toy to place inside your sugar glider's cage for them to nibble on when the mood takes them.
What to Avoid
Safety is the number one priority when choosing suitable toys for your sugar glider. Avoid any toys that feature flimsy plastic that is easily snapped or material with loose fibers that can catch claws. Also, make sure any wood is strong and unlikely to splinter easily.
Watch out for toys that lack any information about non-toxic colors, dyes, or glues. If in doubt, choose another toy.
Buying Sugar Glider Toys and Accessories: What to Do Next
Having reviewed a number of sugar glider toys and accessories, my favorite and best toy overall is the Trixie Suspension Bridge Small Pet Hammock. It takes the guesswork out of figuring out what your pet likes and allows you to learn your suggie's tastes as they explore this next all-in-one option.
For anyone with a bored and unstimulated suggie on their hands, consider investing in Exotic Nutrition's Silent Spinner exercise wheel. It is the most premium option on the list but it will last a lifetime. Give your bored sugar glider a much-needed outlet for that pent-up energy with a quality exercise wheel.
If you're wanting to encourage your suggie's natural instincts and behaviors, try the Oxbow Enriched Life Play Table. Suggies enjoy a range of colors and textures in the wild. This all-natural chewing toy is bright, bold, and sure to excite your suggie's senses.
Sugar gliders, though growing in popularity, are still quite new to the small pet world. That's why it's important to understand their specific traits and find toys that encourage those behaviors. Of course, nobody knows your suggie as well as you. Check back over the reviews above and match the perfect toy to your treasured furry friend.
Interested in some more suggie tips? Check out our guides below: