Eat. Sleep. Play. Repeat. The mantra for many of our little furry friends. As one of the fastest-paced small domesticated pets, only the best ferret toys keep up with their fast-paced activities.
With play being such an important factor in their lives, introducing toys in your ferret's exercise routine can help improve mental stimulation, physical exercise, and help you bond with your pet.
If there is one selection of toys that stands out as a ferret owner, its the multitude of variety, fun, and suitability for all ages, of the SunGrow Assorted Ferret Toys.
With three furry creatures in my home, keeping my ferrets occupied during times of play is vital. As my Hob, Kiko, tends to destructively chew anything in his sight, keeping him distracted has always been hard.
However, with the introduction of SunGrow toys, both our shoes and furniture have been slightly saved as he appears a little more occupied with the plethora of toys in his home.
As your ferret grows, so does their need for stimulation. From birth, kits love to wriggle and wobble their way around obstacles. In later years, your ferret needs toys to help control mating aggression, socialization, and even oral health.
There is no one size fits all approach to ferret toys, so no matter how old, small, sexed, or even size your ferret is, look at the list of best ferret toys 2022 below!
The Best Ferret Toys 2022
Unlike our dogs and cats, ferrets are naturally sleepy creatures and don't require a whole heap of exercise and play per day. However, when those playful periods begin, choosing toys that help stimulate their active adventures will ensure you have a happy ferret all year round.
For those looking for ball toys, chasing toys, socialization tubes, or even just a cuddly bear, our list of the best ferret toys will keep your furry friend occupied for hours upon end.
SunGrow Assorted Ferret Toys: Best Toys for Multiple Ferrets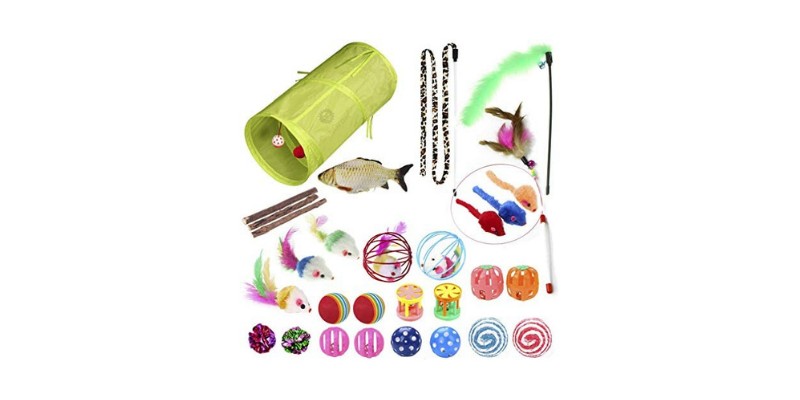 Have more than one furry ferret in your home? Do you wonder how to best support their play? SunGrow Assorted Ferret Toys is definitely the bumper pack for you.
When bringing these little creatures home for the first time, I was advised cat stretching posts were the best way to keep your ferret stimulated. I soon discovered this wasn't the case and needed some toys with something a little extra special.
Containing over 30 pieces of ferret-fun, this plethora of play toys is exactly what you need if you have more than one ferret to entertain. From 2-way tunnels, crinkle mice, and furry teasers, your ferret is spoiled for choice of what to play with in this superb selection.
Have a destructive chewer at home? These toys are specifically designed to beat boredom and help alleviate destructive chewing and scratching. Despite its high price tag at almost $30, the great choice of fun-loving toys will help ensure that all your ferrets have fantastic fun when it's time for play.
Pros:
Great assortment of toys so perfect for ferrets with different needs
Helps beat boredom and prevent unwanted chewing
Cons:
Antidious Interactive Pet Treat Game: Best Interactive Toy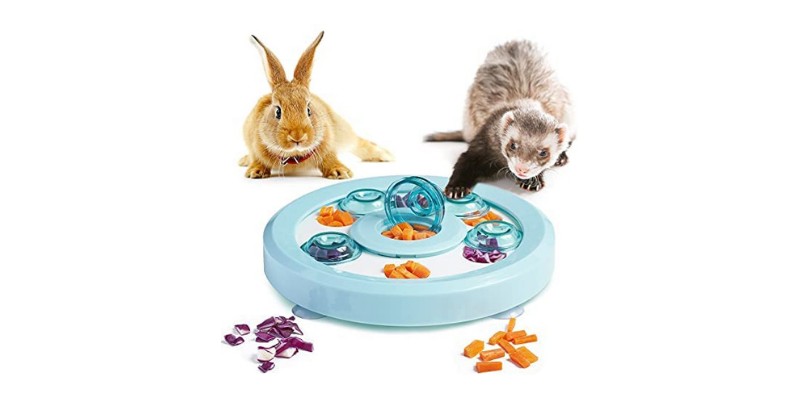 We all know how much our ferrets love to play and when it comes to toys with a difference, this one does it best.
This interactive treat/reward dispensing toy is fantastic for ferrets on weight management plans as your furry friend has to earn every treat they want in this glorious game. Reducing the speed and amount of food your small pet consumes, this toy is perfect for older ferrets or those who may need to lose a little weight.
Its dual level platform encourages foraging for food and treats through observation, listening and touch keeping their paws occupied for hours. Simply place your ferret's best treats into each hemisphere and watch them scour for a scrumptious snack.
The design is for more than just your ferret's play time. Helping to reduce problems caused by overeating such as ingestion, its layout allows your ferret to find and eat treats at a slower and more suitable pace.
Pros:
Great for interactive play
Fantastic for ferrets on weight management plans
Cons:
Marshall Ferret Swimming Pool: Best Toys for Grooming Episodes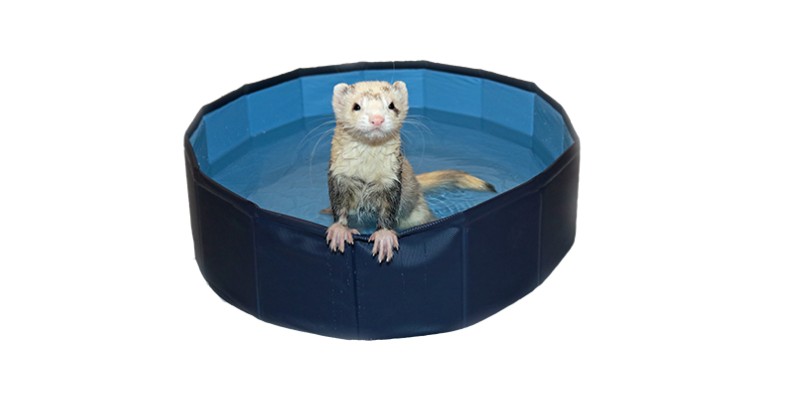 Grooming our ferrets can be a tricky task, especially for those who hate entering the bathtub. Understanding our ferret's worries about bathroom antics, Marshall has created a swimming pool exclusively for these furry friends.
Brilliant for times when your ferret's require a quick bath of freshness, this superb swimming pool will 100% bring a little more fun for bathtime.
Have a new set of kits in your home? This swimming pool is a great way of introducing your baby ferrets to wash times. Its soft and well-insulated lining varies from the harsh coldness of your bathtub helping your new ferret adjust to being in water.
Although this swimming pool won't make your ferret adore water, it can massively enhance the experience for those who tolerate it or can handle the occasional scrub-a-dub-dub.
Pros:
Great for baby ferrets
Great price
Cons:
Not the best option for those whose ferrets hate water
VEDEM Triple Bunkbed: Best In-Cage Toy For Multiple Ferrets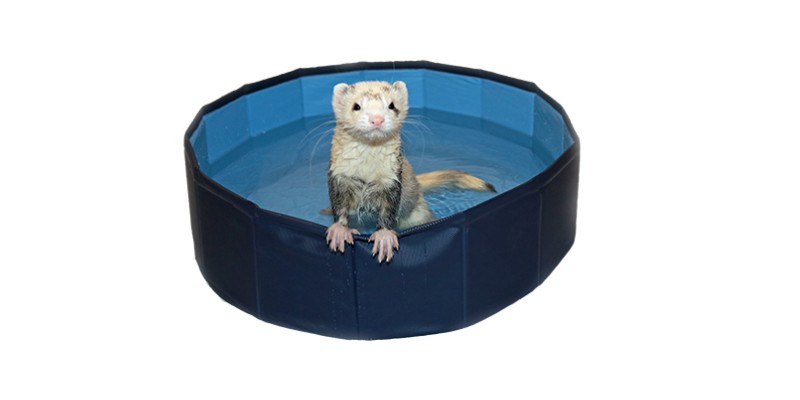 Have multiple ferrets living in one cage? Well, Vedem's Triple Bunkbed is a fantastic solution to keeping your ferrets occupied whilst playing in their home.
Its pawfectly plush material makes it a soft and cozy platform for hopping, jumping and scrambling across their platforms and a great resting spot when they are all tired out from playtime.
As Amazon's Best Seller, this brilliant bunk bed speaks for itself. With easy-to-attach clips for simple fixing to your ferrets cage, this is one toy your ferrets can play with as soon as opening the packet. Another brilliant feature is that it is suitable for machine washing, so like all of our best soft bedding types for ferrets, wash every 2 days for lasting freshness.
Pros:
Suitable for multiple ferrets
Soft and cozy
Easy insertion into cage
Cons:
Does require washing regularly
LEFTSTARER Noctilucent Hang Tunnel: Best In-Cage Toy for Single Ferrets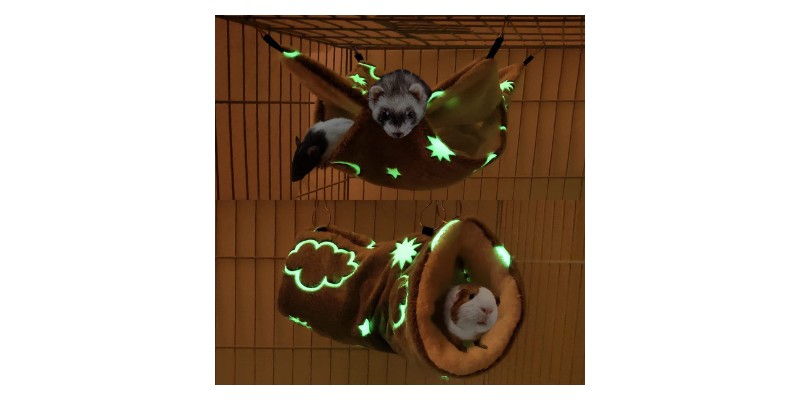 Would you love to see your ferrets play in the dark? Would seeing them running around the stars make you smile? If you answered yes, then LEFTSTARER Noctilucent tunnel is definitely for you.
This soft, plush tunnel fixes easily into your ferret's cage allowing your ferret to run, leap and even relax within its snuggly and cozy interior.
The unique selling point of this tremendous toy is the magical feature of its exterior. Each tunnel is paneled with light absorbing patterns of the night sky which then glow in the dark for long periods of time giving your ferrets an out of this world experience. As ferrets struggle with artificial light, this handy hammock means you can keep an eye on your furry friends without turning on a light.
Absent of batteries, cords or LEDs, this light emitting hammock can bring your ferrets a little extra comfort in the dark. However, this hammock is only suitable per ferret so if you have more than one in your cage, have a peak for a larger size.
Pros:
Natural emits light to soothe your ferret
Soft and snuggly
Cons:
Only fits one ferret at a time
SunGrow Mylar Crinkle Balls: Best Ball Toy for Ferrets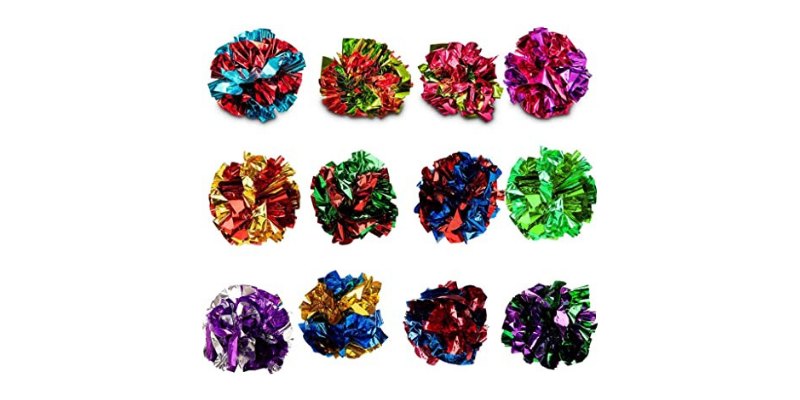 The ball. The best pet toy in the world. Our animals are obsessed with this spherical piece of fun. If your ferret loves to chase your cat or dog's favorite toy, consider investing in SunGrow's Mylar Crinkle Balls and watch your ferret go crazy for these soft, crinkle balls of fun.
Playing with balls can help your ferret's body develop in numerous ways. Improving muscle growth, circulation and even mental stimulation, these are more than just shiny balls, they are pieces of magic for your little furry friend. This fantastic pack contains 24 pieces of circular fun that crinkle and crunch on impact.
For those of you with nibbly ferrets, these balls might not be as durable as rubber or plastic balls designed for naughty nibblers.
Pros:
Can create hours of fun for your ferret
Fantastic for Kits learning to play
Cons:
Not extremely durable so not beneficial for additive chewers
KONG Wild Knots Bear: Best Soft Toy For Ferrets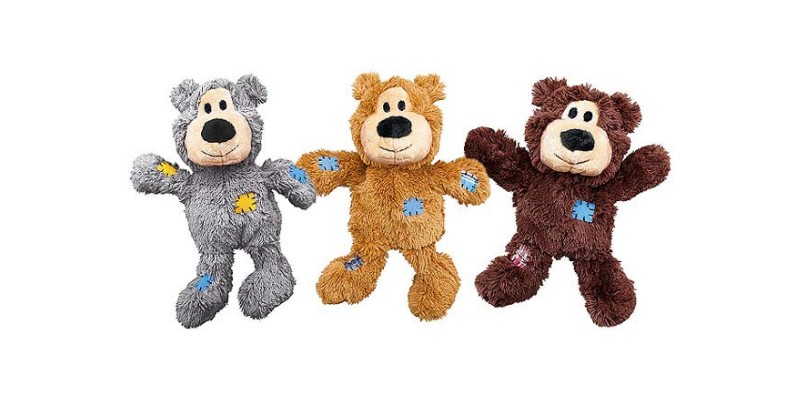 When it comes to soothing slumber, there is nothing that helps our pets feel coziness and comfort like their favorite bear. Kong's Wild Knots Bear is not just a fantastic comforter for your canine companion, this highly-durable, soft, snuggly and affordable toy is a great addition to your ferret's bedding.
No pet's cage or bed is quite complete without a Wild Knots Bear, with three fantastic colors to choose from: Gray, Tan or Brown. These bears are designed with a reinforced rope core making it the best toy for ferrets who have a tendency to pull, thrash and chew their toys around.
Worried about your ferret releasing the bears stuffing if bitten? Kong understands our pets so well, their bear is made with minimal stuffing decreasing the likelihood of unwanted choking hazards being released if the bear accidently breaks upon play.
Available in a small or medium size, this blissful bear is a toy that will most definitely outlive many others in their toy box.
Pros:
Soft and cuddly texture – great for young kits
Long-lasting and durable – brilliant for destructive chewers
Cons:
Like anything plush, if kept in your ferret's cage be sure to wash with other fabric furnishings.
Trixie Suspension Bridge: Best Toy for Climbing Ferrets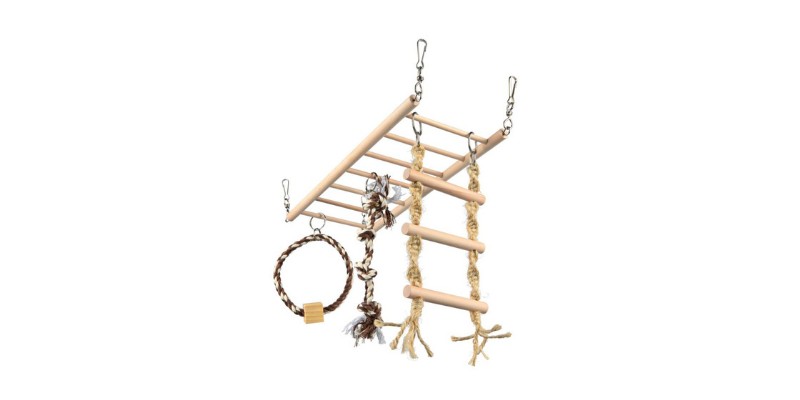 Does your ferret love to climb and clamber up their cage? If, like me, you have a ferret in your home that cannot get enough of swinging from bar to bar, Trixie's Suspension Bridge is fabulous for active ferrets that love to climb.
After noticing my hob's obsession with climbing up his cage to its roof, we knew from a safety perspective we needed to alleviate his need for cage climbing with a toy that could stimulate him in a positive way. Featuring a wooden suspension bridge with attached ladder and a duo of rope toys, this toy is a great addition to any cage but especially those with male ferrets that like to be a little more boisterous now and again.
However, grab them whilst you can as these can sell out rather quickly. Being Amazon's Choice for in-cage toys, we can guarantee a smile on your face when you see your ferret swinging across like Tarzan.
Pros:
Brilliant stimulation for active ferrets
Easy to fix into cage
Cons:
Kaytee Super Pet Sleep-E Tent Super Sleeper
Kaytee is one of the most popular brands that manufacture interesting accessories like toys for ferrets. One of them is this tent. This pyramid shape tent has a swindle interior for better comfort. In addition to that, it has also a round hole which serves as its front door.
With this tent, you can also form a hammock by opening one of the tent walls and unzipping two sides.
This tent, on the other hand, can be attached to wires by means of four carbines or positioned on the floor. With this stuff, your pet ferret will surely have a silent and secure sleep. Moreover, there's a sufficient room for your cute ferret as it is 14-inch high and 11-inch long and wide. When it comes to the exterior, this item from Kaytee is available in various colors.
Your ferret will surely love hiding in this small home and enjoy to swing or swirl in it.
Pros
Washable
Functional
Well-made
Good design
Good capacity
Can be hung and placed on the floor
Cons
Your pet can open the tent
Sizable pets will not fit
Marshall Pet Turtle Tunnel
Ferrets love tubes, mazes, and even tunnels. Actually, they are predators and looking for a place where they can hide. Thus, a comfortable and at the same soft toy tunnel like this one can be a great option.
This turtle tunnel has entrances head and every paw. As a result, ferrets can hide inside it and move over them. The Marshall Pet Turtle Tunnel sports a green (bright color) that attracts animals with ease. Moreover, it can also accommodate several pets, thanks to its big size.
Nevertheless, this toy is made of sturdy fabric and can be washed using your hands. Though it needs even dry.
Pros
Durable
Washable
Comfortable
Big
Interactive and entertaining
Safe
Soft
Ideal for any size of cage
Cons
If left alone, your pet may possibly remove the foam
It's delivered disassembled, thus you have to shape it after receiving.
Pop-N-Play Ferret Ball By Marshall Pet Products
Making your ferret's relaxation time interesting is very important and this Pop-N-Play Ferret ball can be a great help.
This item is a framed box that is very flexible and made from fabric. It features rounded corners as well as two holes that your pet can utilize to jump in it. In addition, this flexible box consists of 35 small plastic balls that are colorful and bright.
The box only consumes small space and can be folded. Actually, it is one of the best ferret toys with such creatures in mind. The good thing about this toy is that it has a convenient Velcro tab that you can use to attach it on the surface.
Pros
Easy to clean
Foldable and durable
Safe
Compacted
Lightweight
Great quality
Big holes
Cons
The balls are made from thin plastic
Ferret Nation and Critter Nation Accessories Kit
This accessory kit for ferret comes with a hammock, tunnel, blanket, and cube. In fact, it is best-suited in any Ferret Nation & Critter Nation habitats.
One of the best things about this product is that it is very easy to install. Its comfortable cube, as well as a hammock, are fastened securely. Moreover, the soft materials and bright colors will surely brighten up your ferret's cage.
Either way, all pieces are machine washable and more importantly, they are dryer friendly. The Ferret Nation and Critter Nation Kit is not only suitable for ferrets but for other small animals as well.
Pros
The accessories are washable and removable
Backed with one year manufacturer's warranty
Attractive colors
Made from comfortable and soft materials.
Cons
The tunnel and cube are not durable
Too short clips
Bungee Ferret Toy by Marshall
The bungee ferret toy is ideal for ferrets are already tired of sitting inside their cage. It's a soft and luxurious ferret toy that is fastened to an elastic and bouncy strip. Even so, the strip comes with a clip that you can use in order to attach it your ferret's cage.
Another good thing about this bungee toy from Marshall in that it will keep your ferret playful and entertained for a couple of hours. If you are wondering how this toy works, the answer is: if your pet will play it the toy will bounce back wildly.
Pros
Adjustable
Good value
Inexpensive
It can offer your ferret the needed stimulation and exercise
Cons
The material used isn't durable
The cord is short
Niteangel Rat & Ferret Cotton Rope Nets
This item isn't just a rope net, it is also an entertainment center and a climbing toy. The construction of this ferret toy is quite simple while the installation process is very simple.
This rope net can offer your pet with the opportunity for socialization, entertainment, as well as physical activity. Meaning to say, it is a versatile toy.
On the other hand, this sturdy climbing tool is a great boredom buster for ferrets. Apart from keeping your ferret busy, this product will also offer your pet place to hide when something or someone shocks him/her. Actually, climbing is also important for ferret's nails which is another good reason why you should purchase it.
As the name suggests, these rope nets are made of cotton and don't contain chemical and other toxic elements that might harm your little pet. Furthermore, its thick strands are easy to climb and intertwined. Nevertheless, it's big enough to accommodate several ferrets.
Pros
Keep your pet's nails in check
Durable and safe
Easy to install
Can accommodate more than one ferret
Cons
The hooks need replacement
Color inconsistencies
Marshall Pet Products Ferret Banana Hammock
Your ferret will surely love this banana hammock made by Marshall Pet Products. This hammock is fully lined using a soft fleece in which your pet can snug in. One good thing about this hammock is that it is great for cold seasons.
This banana hammock for ferret has four straps that can be adjusted. While the hooks that are attached are made from plastic material. However, it is a bit worrying because the hooks might be broken anytime. As a result, your ferret might be suffered from serious injury from a fall.
Nevertheless, if you are planning to get this hammock, make sure to check the condition on a regular basis. This hammock has three openings one for every end and one in the center. If you have two ferrets, they may possibly enjoy playing peek-a-boo in this banana hammock.
Overall, it is a great product that can add a little style to your pet's dull cage or room.
Pros
Can accommodate two small ferrets
Comfortable and soft
Can serve as a play tunnel
Cons
The components are quite fragile
Marshall Pet Products Plush Bell Toy
As what we have said earlier, ferrets are active pets, thus they need lots of exercise in order to stay healthy. This item, however, is the perfect way to help your ferret do that.
The Marshall Pet Products Plush Bell Toy comes with two balls that are made of lenient fleece. Furthermore, it has a small bell in the middle that is certain to give your pet several hours of fun playtime.
This product is made from textile, meaning to say, cleaning this toy is very easy. Moreover, the colors won't fade easily since the pigments are resistant to frequent washes. The pieces of this plush bell toy are made from safe materials, thus you will not need to fear that your cute pet will ingest them.
On the other hand, its size is perfect as both baby and adult ferrets can play with them comfortably. This one of the best ferret toys is very addictive and more importantly, installation is not needed.
Pros
No installation required
Ideal for both baby and adult ferrets
Easy to clean
Offer several hours of fun playtime
Cons
The fabric used is not that thick.
Best DIY Ferret Toys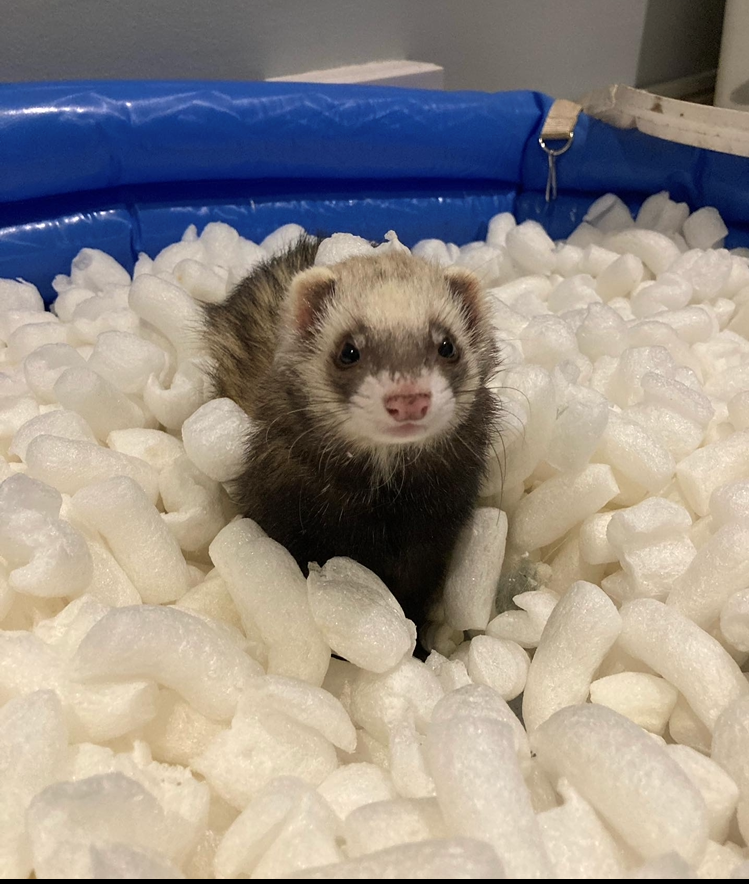 Do your ferrets love to leap into boxes and bags? For my ferrets, they love nothing more than diving into boxes full of shredded paper or foam. No matter what parcel comes through the box, the cardboard and filling is always up for grabs with my trio of furry friends. After the relentless action of removing them from boxes with unsafe material (like plastic bags), my partner and I decided to make a ferret toy just for them.
After purchasing an Intext Crystal Blue Inflatable Pool for just under $13, we then filled it with foam peanuts that we recycled from an empty postal order and wow…the result was amazing. Within minutes our ferrets were hopping and jumping around, wriggling and slithering amongst the foamy peanuts. Creating both tactile and auditory sensations for our furry friends, this was one DIY toy that was easy to make and very cost-effective.
What To Look For When Buying Best Ferret Toys
Material
From their whiskers to their paw pads, ferrets are highly sensitive to materials and fabrics. Loving to cozy and cuddle into anything soft and snuggly, when searching for ferret toys look for cotton or fleece-based materials that your ferret will adore to grab and cuddle.
Ensure the toys you purchase are highly durable and sewn well. Poorly made fabrics will fray and split, exposing potentially dangerous pieces of thread that can get caught and tangled around your ferret's nails, body and even mouth. Look for keywords like "durable", "long-lasting" "suitable for chewers" as these are toys that are made for your ferret's cheeky nibbly behaviors.
Price
Like any product for our pets, there is no right or wrong price. If you want to spoil your furry friends, toys can range up to $25-40 depending on how much you want to buy.
However, mid-range toys are usually priced between $10-15 and won't compromise on quality, design and purpose. Toys less than $2-3 dollars are usually manufactured in mass scales therefore often lacking in quality and design. For a ferret toy that is durable and pawfect, purchasing some fun for more than $3, definitely should do the trick.
Size
When shopping for the best-sized toys for your ferret, safety is paramount. If your ferret loves to play and chase balls, keep their size to that of a tennis ball. Investigating the world with their mouths, ferret's have a tendency to pick up more than they should and purchasing balls, toys or accessories smaller than their mouth can lead to a nasty choking hazard neither you or your ferret will want.
Toys To Avoid Getting Your Ferret
Highly sensitive to noise, toys that emit high-pitched squeaks, rings or chimes are not the most recommended design for your ferret. On hearing alarming noises, ferrets can instantly go into survival mode and panic, increasing the likelihood of defensive or aggressive behaviors.
Also avoid toys with parts that can easily be dislodged or worn away. Wanting to explore the world through their mouth, small pieces of fabric, plastic or foam can easily be swallowed causing a choking hazard to your little furry friends.
Ferret Toys FAQs:
Buying The Best Ferret Toys
Hate scrolling through the internet and spending days deciding on things for your pet? Me too! There is nothing better than websites that take the stress out of shopping and allow you to purchase the pawfect product for your pet with just a simple click.
Both Amazon and Chewy are the great sites for finding the best toys for your ferret and to make life even easier, the list of toys above can all be found on Chewy and Amazon (making the search even easier).
For those with multiple ferrets or even a ferret with a huge personality, SunGrow Assorted Ferret Toys have an array of amazement waiting for your furry friend. Created to support a ferret's natural hunting instinct, observing your ferret's happy dance is guaranteed with SunGrow's selection of toys.
So, whether you are a ferret pro or a first-time owner, purchasing the best toys has never been easier. In need of a treat dispenser? Looking for a snuggly plush? The list of best ferret toys 2022 will ensure you find the perfect fit for your ferret no matter what fun they might want to wake up to.
Looking for some more ferret tips? Then check out our guides below!: