Gerbils are cute, cuddly, and extremely active – in between their frequent nap-capades that is. That's why Kaytee's Tree of Life pet habitat accessory and Exotic Nutrition's Exercise Wheel are the best gerbil toys.
It's important to gather toys like climbing tunnels, seesaws, run-about balls, gerbil wheels, and anything that they can climb safely, because as gerbil lovers, we've all seen how quickly and determined our little pets are when it comes to exploring their home and ours.
The Kaytee Tree of Life accessory and Exotic Nutrition wheel seem to satisfy all of that and more, with Kaytee's multifunctioning build and Exotic's squeak-free and large design. Multiple gerbils can play and explore each of these toys at a time, providing both excellent companion time and exercise.
However, I know not all owners need to support 2 or more gerbils, and that gerbils come in all shapes and ages, so here's a guide to the best gerbil toys for every household.
Read on for a guide on what to look out for, as well as what to avoid, when buying toys for your gorgeous little girls and boys!
Top 10 Best Gerbil Toys & Wheel
Kaytee Tree of Life Pet Habitat Accessory – Best Multifunctional Gerbil Toy
The Tree of Life is a quirky gerbil accessory that covers three different bases – exercising, sleeping, and eating. This option is great if you already have a selection of gerbil toys installed or want to keep things more compact. All you need to do is add food to your gerbils' cage and they're ready to go!
Kaytee has made life easy by making the food bowl detachable for easy cleaning. The tree-trunk snug has no bottom to it so you can remove bedding without having to fish it out through tiny holes. If you have big hands, this is ideal! The wheel has no protruding axle and a molded track for non-slip scurrying.
The plastic construction does mean you'll need to watch for signs of wear. There is no clear way to anchor the Tree of Life down so if your gerbils like to scramble over each other in their nest, they might tip this over from time to time.
Pros
Multifunctional layout – perfect for compact living
Cute woodland design
Easy to clean
Cons
No anchor points
Watch out for signs of chewing
Exotic Nutrition Silent Runner Exercise Wheel – Best Wheel for Multiple Gerbils
If your little pet is full of energy and you're in the market for a wheel, then we recommend this exercise wheel from Exotic Nutrition. As the name suggests, it's virtually squeak-free and big enough for a couple of gerbils to exercise together
Featuring a solid back and no central axle, your gerbils will enjoy a safe run and you won't worry about any trapped tails. Molded track means your critters can reach top speed without slipping!
Another handy feature is that you can either use the stand or attach it to cage bars so this wheel will complement both a tank or cage setup.
This wheel is more of an investment than some of the other toys on the list. If you're on a budget and aren't sure if your gerbils enjoy wheel-running, think about some of our other options. If you have two or more bundles of energy that get bored quickly, this is a great choice.
Pros
9" diameter can accommodate multiple gerbils
Almost-silent construction
Choice of attachment methods to suit any cage setup
Cons
Expensive in comparison to other toys
Takes up quite a lot of space in your gerbil cage
Niteangel Suspension Bridge for Small Pets – Best Gerbil Ladder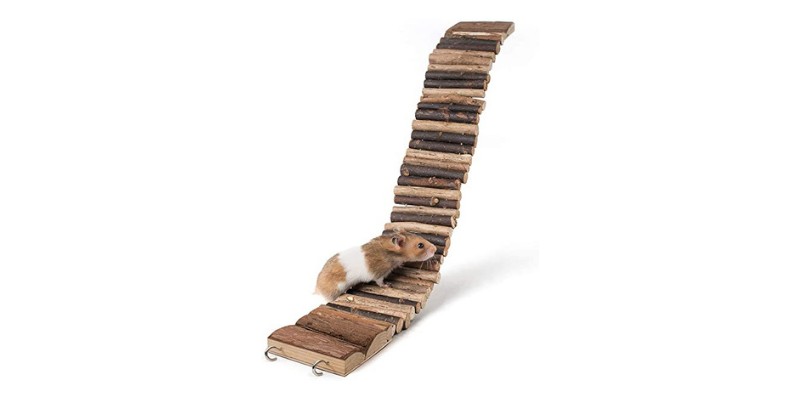 As with the Fun Tunnel, the Suspension Bridge from Niteangel allows you to create different challenges and setups for your gerbils. However, the Suspension Bridge has the added bonus of fitting inside your gerbils' cage so they can play unsupervised.
You can attach the handy metal hooks to cage bars to create bridges, ladders, or hammocks. If your gerbils' tank doesn't have bars, the construction is sturdy enough to build walls or bridges on the floor of the tank. This is best suited to a cage with bars to maximize your playtime options.
Pros
Can create multi-level adventures in your gerbils' cage with hook attachments
Sturdy construction keeps its shape
Destructible materials for safe chewing
Cons
Some owners notice an unpleasant smell
Less suited to gerbil tank habitats
Kaytee Nut Knot Nibbler Toy – Best Gerbil Chew Toy
Any gerbil that loves to chew (isn't that all of them?!) will adore the Nut Knot Nibbler. A puzzle and a snack all in one, gerbils can chomp, pull apart and bury their deconstructed treasure for hours of fun. This toy is made from safe, untreated wood – and some of the most durable – so it'll last ages for even the most excited chewers.
One of the few colored options, this safely-dyed puzzle will brighten up your gerbils' cage and your day when you see your pets enjoying their new toy!
As the puzzle comes apart, try and keep track of the smaller pieces of wood and clear away if they become too small. Also, avoid if you don't like a mess – once your gerbils dismantle this, there's no going back!
Pros
Bright and cheerful
Provides mental stimulation
Gerbils can easily move when deconstructed
Cons
Looks a mess when pulled apart
Small pieces of wood are hard to find and remove
Prevue Hendryx 1092 Nature's Hideaway Grass Tunnel – Best Budget Gerbil Toy
The Nature's Hideaway Grass Tunnel isn't the most exciting looking toy on the list but your gerbils will love the burrowing, hiding, and nibbling possibilities it provides.
Fully edible, signs of wear are not a worry, though this may disappear under your gerbils' substrate in a matter of minutes. With this in mind, this is not the best option if you want to watch your gerbils playing.
However, if you want a budget-friendly option that is ideal for any number of gerbils, young or old, this is the perfect all-rounder.
Pros
Cheap to buy
Fully edible
Light and easy for gerbils to move around
Cons
Likely to move underground so you can't see your gerbils play
Won't last as long as some toys
Ware Fun Tunnel Play Tube – Best Gerbil Toy for Supervised Playtime
If you enjoy free-play with your gerbils, the Ware Fun Tunnel Play Tube is an exciting addition to your gerbils' playtime routine.
The flexible design means you can set up twisty adventure courses for your gerbils to explore while they exercise.
Because it needs to bend, the plastic itself is quite thin. This means that gerbils should only play with the Fun Tunnel under your supervision and keep an eye for signs of wear as they will try to chew through it.
However, if you want to give your gerbils a new, exciting challenge beyond the walls of their cage, the Fun Tunnel can be a great addition to your gerbils' toybox.
Pros
Quick to set up and tidy away for free-play outside of the cage
Flexibility means you can design different challenges for your gerbils!
Cons
Only suitable for supervised play
Won't fit in a cage
Trixie Natural Living Mat House – Best Toy for Curious Gerbils
The Natural Living Mat House is a crowd-pleaser for both gerbils and owners alike. Watch your gerbils climb, tunnel, and adventure with this multi-level playhouse. This is the perfect toy for gerbils who want to explore, climb and get plenty of mental and physical stimulation.
Fill the lower level with bedding for a snug hideaway, ideal if one of your gerbils needs some quiet time while their buddies mountaineer over the top!
The wooden construction is ideal for maintaining dental hygiene, though some buyers have noticed that metal staples have become visible over time so regularly check for signs of wear. The lack of anchor points with this house means tipping is a safety concern. Combat this by wiring one of the ladders to cage bars if you're worried.
Pros
Split level fun means space to climb, play and rest
Natural wood for keeping teeth healthy
Cute log-cabin design
Cons
Watch out for metal staples
No specific anchor points
Kaytee Woodland Get-A-Way – Best Gerbil Toy for Older Gerbils
If your gerbils are getting older and less active, give them a space for some R&R with this Woodland Get-A-Way.
A simple, fuss-free design is perfect for your elderly gerbils with an easy-to-access entrance but also a fun peep-hole if they are feeling a little more adventurous. You can also pamper them with a dust bath by popping some dust or sand on the top for a spa-style treat.
Cleaning is easy with a floor-free design. Simply lift and clear away the bedding. Watch out for gerbils using the top as a toilet. The wood will absorb urine so may begin to smell over time.
Pros
Simple design – perfect for older gerbils to relax
Easy to clean away bedding
Choice of sizes depending on how many gerbils you own
Cons
Will absorb any urine
Less exciting than other options
Kaytee Chew-Moji Ka-bob – Best Refillable Gerbil Chew Toy
If you want a toy that will last, opt for the Chew-Moji Ka-bob. Featuring cute, chewable emoji faces and a tinkling bell, your gerbils can signal to you when it's treat time!
Once your gerbils finish the chews, rethread snacks to this holder for a dental chew that will last and last.
If your gerbils live in your bedroom, a toy with a bell may not be the wisest choice. However, if your gerbils hang out in communal areas only, this is a quirky addition that your gerbils are sure to love!
Pros
Reusable metal holder for future treats
Funny emoji design
Simple design suitable for any age gerbil
Cons
Noisy bell
Only suitable for wired cages
A Guide to Gerbil Toys and What to Look For
As with any small animal, it's important to keep them busy and entertained. After all, a stimulated pet is a happy pet and that's the reason you're here, right? A variety of toys will provide your gerbils with an enriching environment. This is important as gerbils spend the majority of their time in their cage.
What Materials Should My Gerbils' Toys Be?
Keeping your gerbils safe should be priority number one and that's why you need to make sure the toys you provide are of good quality. Gerbils are big on chewing so anything that will crack or splinter easily is a definite no-no.
Keep in mind the purpose of each toy when looking at the materials – wooden toys make great chew toys but will need replacing after a fairly short space of time. You'll want a hideaway to last so think about plastic with plenty of space to fill with warm bedding.
Always remember to replace toys once they begin to show signs of wear to keep your gerbils safe and sound.
What Sort of Toys Does My Gerbil Need?
Different gerbil toys will fulfill different needs for your gerbils and fall broadly under these headings:
Wheels – gerbils are active little critters so a wheel is a must. Let them stretch their legs and hit their daily step count with a wheel!
Tubes/ladders – gerbils love to climb and burrow. Providing toys that feed these natural instincts will definitely be a hit with your pets.
Chews – gerbils need to wear their teeth down by chewing on their surroundings. Have fun with quirky chew toys and look after their dental health too!
Hideaways – gerbils love to get some shuteye so a cozy hideaway will help them feel safe, secure, and snoozy.
Dust Baths – just like chinchillas, gerbils love a dust bath to get clean.
If space allows, choosing a selection from the above is best for your gerbil as they need different accessories for exercise, play, and puzzling things out. You can also see what activities and toys they prefer.
What About Older Gerbils?
Your gerbils' toy preferences can change as they get older. With relatively short lifespans, you might see them slowing down around two years old. When you start noticing the signs, consider swapping out high-energy toys for cozier shelters and chewable snacks.
Best Gerbil Toys: Next Steps
Having read through our reviews, you should now have an idea of what toys will suit your gerbils and their temperaments. If you're still unsure, here are our top picks:
The Kaytee Tree of Life is perfect for those starting out on their gerbil owner journey and already established owners. For an easy choice that ticks all the boxes and saves you valuable time, this is the one for you.
The Trixie Natural Living Mat House is our favorite if you want a multi-sensory toy that is super cute to boot.
The Kaytee Nut Knot Nibbler is our favorite chew toy if you already have hideaways and exercise covered and want to provide some mental stimulation for your fuzzy pals.