I have researched and tested out the best chinchilla toys and my runaway favorite was the Living World Teach-n-Treat Toy. It is multi-functional and provides stimulating fun for chinchillas and other small animals alike.
As a small animal owner, I sometimes feel the guilt of not spending enough time playing with my pets as much as I'd like. Life is so full and busy, it can be hard to find the time in the day to get your chillies out to stretch their legs.
But by choosing a selection of engaging and exciting toys, your chillies can beat the boredom whether playing with you or by themselves.
That's why I love the Teach-n-Treat so much. It offers a level of stimulation and puzzle-solving challenges that I've never seen in any other small animal toy range. By changing the puzzle setting and the treats you're hiding, no playtime need ever be the same and your chillies will love the variation this toy brings.
Of course, not everyone is looking for a toy as bulky as the Teach-n-Treat or one that isn't suitable for inside cage use. That's why we've got you covered whatever you're looking for.
If you're looking for a toy that will keep your chilly entertained yet keep on top of their chewing needs, opt for the Oxbow Enriched Life Play Wall. This is a wall strung with a huge variety of chewable flavors and textures that will keep your chillies busy for hours.
If you have an older chinchilla and you want to give them a cuddly toy they can snuggle up with, my favorite plush chinchilla toy is the Emours Small Animal Cage Hanging Bed. Not only is it comfy, cozy, and super-snuggly, but it's also the cutest chilly toy I've ever seen.
Whether your chilly wants more action and adventure, rewarding puzzles, or simply a spot to chill and watch the world go by, it's all covered in our top 7 chinchilla toys reviews. So read on and find out what made our favorites list and treat your chillies to some tremendous toys.
The Best Chinchilla Toys Reviews
When perusing our favorite toys, do keep in mind your chilly's unique habits and personality to find the best choice for you!
Living World Teach-n-Treat Toy – Best Chinchilla Toy Overall
Living World's Teach-n-Treat toy ranks not only as my favorite chinchilla toy but one of my favorite toys for small animals period.
The Teach-n-Treat toy is unique in its multi-use design. It features three different customizable 'levels' that encourage your chilly to forage to their heart's content.
If your chilly quickly tires of toys, this won't be the case with the Teach-n-Treat. You can change up the activity on a daily basis, along with the treats hidden inside. They can slide, lift and move the lids within the toy to uncover their favorite treats, making playtime both an educational and delicious activity.
For owners who want a truly interactive toy that will stimulate their chinchilla, aid in bonding time, and last for years, then look no further. It's perfect for all ages of chilly as you can alter the difficulty and how many treats you hide inside. The type of puzzle-solving is adaptable depending on your chilly's strength and level of dexterity.
My rabbits spent countless hours playing with this toy. It withstood the chewing, scrabbling, and a particularly memorable episode where one bunny launched the whole thing across the room. If you want a toy that's built to last, my own experiences prove this is the one to choose.
On that note, this is also a brilliant choice if you have more than one type of small pet in the house. It wipes clean and is suitable for rabbits, rats, guinea pigs, and some owners have even reported that their pet birds love it too! Just remember to check the treats you're using are suitable for the pet you're playing with.
One of the only downsides of this toy is its plastic construction. It's certainly thick enough and strong enough that chew damage is not a concern. If you avoid plastics in general, though, this won't be your first choice. It's also larger than the majority of toys and isn't suitable as a cage toy.
However, it's rare to find such a high-quality, engaging, and entertaining toy for small pets at this price point. If you're looking for a new challenge for your chilly, try the Teach-n-Treat.
Three different difficulty levels
Encourages natural foraging instincts
Long-lasting
Too large for cage use
Made entirely of plastic
Kaytee Chinchilla Lava Ledge – Best Chinchilla Climbing Toy
If you're looking for a toy that satisfies your chilly's love of climbing then look no further than the Lava Ledge from Kaytee.
A toy that serves more than one purpose in your chilly's cage is always going to come in handy, especially if you haven't loads of room to spare. The Lava Ledge is just that kind of toy.
Made from pumice, it wears down toenails and keeps claws from getting too sharp. I've always found trimming my pet's claws a stressful experience. I always worry about cutting too close to the quick, so a toy that achieves that while your pet is playing is a real bonus in my opinion!
Lava ledges are also great when it comes to maintaining your chillies' dental hygiene. The natural stone helps to wear down teeth so no need to worry about your chillies chewing toys they shouldn't. They also come in a range of cute, pastel colors to brighten up your chilly's home.
Lava Ledges simply screw to the bars of your chillies cage so you can decide where and what height you place them to encourage climbing and jumping. I would recommend buying two or three at once to create a challenging series of steps. Enjoy watching your chilly hop from ledge to ledge!
Because of the pumice stone's porous nature, they will begin to smell over time if your chilly pees on them, so prepare to swap them out after a while. They will also begin to crumble after heavy use so check regularly to keep your chilly's play area safe.
Wears down teeth and claws
Customizable climbing options
Encourages jumping and stretching
Porous stone can smell over time
Prone to wear and will need replacing
Emours Comfy House Cage – Best Plush Chinchilla Toy
Is there anything cuter than seeing a couple of chinchillas snuggled up in a hammock together? Yes, when that hammock looks like a loaf of bread!
This Small Animal Cage Hanging Bed from Emours is my favorite plush chinchilla toy. It is fully washable and dries in no time on a radiator. It is also super soft and comes with an extra plush slice of bread that doubles up as a mattress.
Owners of chinchillas are often, unsurprisingly, big fans of cuteness. If you're looking for that kawaii touch to add to your chilly's home, then this hanging bed is ideal. I love that it comes with metal hooks in each corner so set up takes no time at all.
It's also big enough to comfortably house a couple of chillies if they like to cuddle up together at nap time. Reviewers on amazon.com rave about this delicious-looking addition to their chillies' home with one saying:
"My two chinchillas love this so much! They've barely left it since I put it in there, it's the only place they sleep now. I was worried it wouldn't fit 2 chinchillas but both of mine fit in perfectly together."
As with any plush chinchilla toy, be vigilant when checking for signs of chewing and replace if you notice any wear and tear occurring. Plush toys also smell if your chilly pees on them, though this is easily remedied by popping it in the wash regularly.
Comfortably fits two chinchillas
Fully washable
Easy to hang on cage bars
Plush toys don't stand up to chewing
Will smell in time
Oxbow Enriched Life Play Wall – Best Chinchilla Chew Toy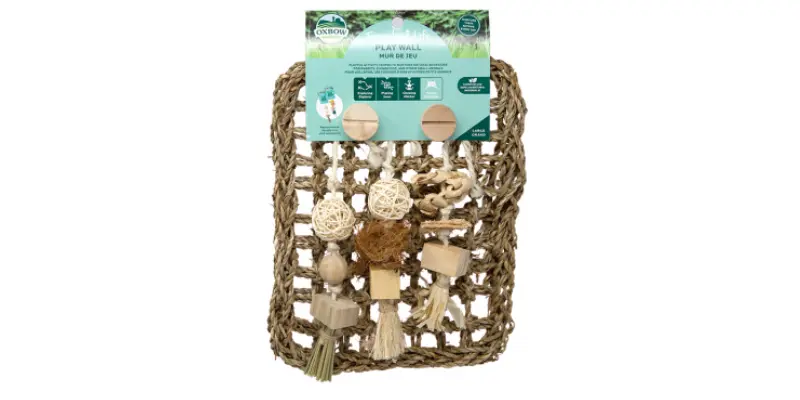 Did you know that chinchillas' teeth can grow between 2 and 3 inches every year? Keep your chilly's ever-growing teeth worn down to maintain good dental hygiene by keeping a chew toy in your chilly's cage at all times for them to gnaw on.
Oxbow is a trusted small animal brand whose Enriched Life range contains countless options to encourage your chilly to keep those gnashers in check. My favorite is the Play Wall as it features a huge variety of textures to keep your chillies interested and engaged. Tie to your chilly's cage bars or use as a playmat when you're spending some quality time together.
The Play Wall comes in a choice of sizes but the large, at almost 12 inches high, is brilliant if you have more than one chilly and want a toy with plenty of room for them to both get involved at once. If you have a single chilly or a smaller cage, consider the medium instead.
The variety of materials used in this toy is excellent. It contains pine, bulrush, loofa, and seagrass to name but a few of the all-natural textures your chilly will love to chomp on.
The only issue some owners have reported is that the wood screws that come with this toy are too large to attach between the bars of some cages. This does depend on the spacing between the cage bars so is not an issue with every cage.
Large enough for multiple chillies to use
Massive variety of textures and tastes
Made from natural, pet-safe materials
Large screws not compatible with some cages
Will deteriorate when chewed
Kaytee Chin Chiller Granite Ledge – Best Cheap Chinchilla Toy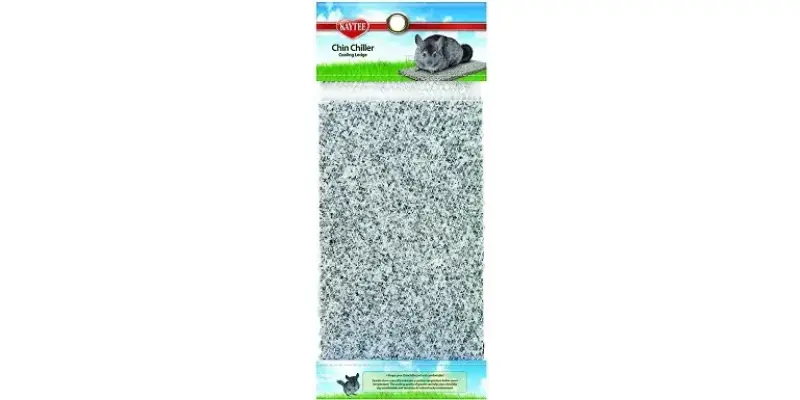 Chinchillas get stressed out in temperatures that exceed 80℉. That's why, if you live in a hotter part of the country, it's vital to provide your chilly with a place to cool down in those hotter summer months.
The Chin Chiller Granite Ledge is the ideal solution and the perfect toy to add to a chilly's cage if you struggle to keep the temperature in your home cool. Made from granite, it always remains a few degrees below room temperature so is the perfect spot for your chilly to chill out. According to thousands of reviews on amazon.com, this is a must-buy item if you live in a hot climate:
"My chins sleep peacefully on the stones 🙂 I'm so happy. It is a MUST to cool your chins down during the summer because chins can't stand the heat."
If your chinchillas are too hot and bothered to enjoy their hammock or hanging bed, the Chin Chiller gives them an alternative spot to relax in their cage and there's enough room for a friend to hang out too.
Though easy to wipe down, be careful when handling the Chin Chiller as it will smash if dropped.
Inexpensive
Keeps chinchillas cool
Easy to wash
Kaytee Small Animal Apple Orchard Chew Sticks – Best Toy for Multiple Chinchillas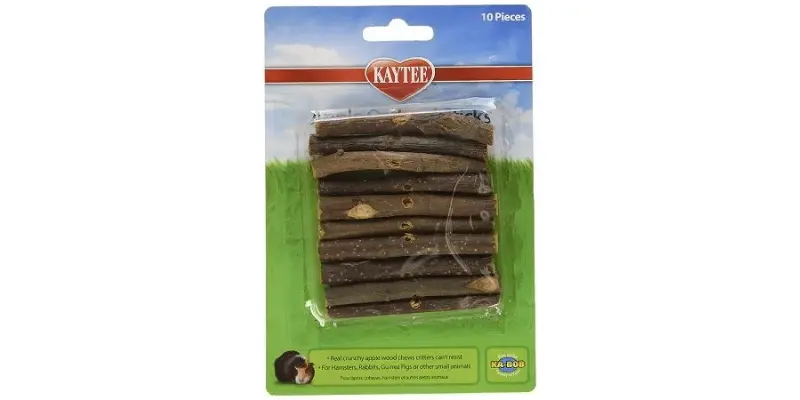 As with any siblings, human or furry, a single toy can lead to squabbling. That's why I've chosen Kaytee's Small Animal Apple Orchard Chew Sticks as my favorite for multiple chinchillas.
The sticks are an ideal boredom buster and are one of the few edibles that are suitable for chinchillas under 6 months of age so feel free to introduce these whatever the age of your babies. Each pack contains ten sticks to share out so however many chillies you have in your brood, you'll keep everyone happy!
These apple sticks are unique in that they each come pre-drilled in the middle so are compatible with any Kaytee Ka-Bob treat dispensers you already own. This gives you a variety of choices when it comes to coordinating play, which is always handy when trying to break the boredom.
Kaytee's Apple Sticks also come from sustainable tree sources, so you know you're making an eco-conscious choice when buying this toy.
As with all chew toys, Apple Sticks are great for wearing teeth down and keeping your chilly's mouth in top condition. Their small size means they won't take up vital space in your chilly's cage if room is a little tight. While not the most impressive toy to look at, it pays to have some smaller toys on hand that don't demand an entire cage reshuffle to play with them.
Perfect to share between multiple pets
Compatible with Ka-Bob treat hangers
From a sustainable source
Not visually exciting
Expensive for the pack size
Quality Cage Crafters Chin Spin – Best Chinchilla Cage Toy
Chinchillas need daily exercise to stay healthy. If you want a toy that will stimulate your chilly and stretch their legs, go for the Chin Spin Chinchilla Wheel from Quality Cage Crafters.
Quality Cage Crafters' premium pet wheels are famous for their excellent materials and innovative designs. Their chinchilla wheel comes with all the features owners have come to expect from this premium small animal brand. Constructed from metal and wood, this ultra-safe, squeak-free wheel will provide hours of fun as your chilly exercises, without any fear of injury.
The Chin Spin Wheel comes in a choice of gorgeous colors too including pink, purple, and a sparkling 'star dust' option. Many wheels on the market that offer color choices get chosen at random when shipping, so it's a bonus to get to make this choice, especially when the colors are so stunning.
Chinchillas are one of the biggest of the small pets and, as such, a standard small animal wheel will be nowhere near large enough for them to comfortably run. That's why the Chin Spin Wheel measures a massive 15-inches in diameter – and why measuring your cage is a must before investing in this toy.
And when I say invest, I really mean it. These wheels retail at over a hundred dollars so are a considered purchase. Clearly, this is not the toy for a beginner chilly owner who has a limited budget and doesn't even know if their chilly likes to run. However, experienced owners who want a toy that will last would do well to consider buying a wheel for their chillies, particularly if you have several and don't get to handle them as often as you'd like.
15-inch diameter to accommodate chinchillas
Squeak-free dual ball-bearing technology
Choice of beautiful colors
Expensive
Only suitable for very large cages
What to Look for When Buying Chinchilla Toys
Chinchillas are active, energetic, and playful little pets so having a variety of toys to keep them entertained and stop them from getting up to mischief is a must.
Types of Chinchilla Toys
Chinchillas enjoy a range of different toys that satisfy their various needs. Types of chinchilla toys include:
Climbing toys
Ladders, perches, hammocks, and ledges are all excellent toys for chinchillas as they love to climb, stretch and jump. Use climbing toys to challenge your chillies by arranging levels of playful platforms up the cage bars. Be sure to make sure the ledges are sturdy and safe to avoid falling and possible injury.
Exercise wheels
Wheels allow your chinchilla to stretch its legs and burn some energy. Chinchillas need a wheel much larger than a standard small animal wheel so aim for one that measures 15 inches across.
Dust baths
Just like gerbils, chinchillas love a dust bath. It helps them get clean but is often a chilly's all-time favorite activity. Pop in a dust bath and watch your chilly spend a very happy twenty minutes!
Chew toys
As with most small animals, chew toys are a must to maintain your chilly's dental hygiene and to keep their teeth worn down. Wood, hay, and grasses are often used to create interesting and exciting chew toys that are both fun and a healthy part of your chilly's daily routine!
Hides
Chinchillas are naturally prey animals in the wild so they love to hide. Cozy hideaways give your chilly a comfort zone in their cage where they can snooze, snuggle and remain stress-free.
Materials
The safest chinchilla toys feature wood, cardboard, grasses, and hay which are all fit for consumption and won't cause your chilly problems if they chew them. Some plastic toys are suitable too, depending on how sturdy they are. However, do not leave plastic toys in your chilly's cage unsupervised to ensure your chinchilla's safety.
Price
The cost of chinchilla toys can vary from a couple of dollars to over a hundred, so it's completely up to you how much you want to spend.
I would recommend spending less but picking a variety of toys rather than spending big on one item. This gives you a choice of toys to swap in and out and shake things up when your chilly starts to look bored.
Homemade Chinchilla Toys
You can make toys for your chinchilla with various items found around your home. Cardboard is the perfect material for a chilly toy so save any toilet rolls or kitchen rolls to make bridges and obstacle courses for your chillies. Any cardboard boxes leftover from deliveries make great forts during playtime – get creative and add doors, bridges, and windows if you fancy flexing your design skills!
Choosing the Best Chinchilla Toys FAQs
Buying Chinchilla Toys: What To Do Next
It is such a joy to watch chinchillas playing. Having a variety of toys that offer a range of activities can liven up dull days in their cage and make bonding time even more fun.
My overall favorite chinchilla toy is the Living World Teach-n-Treat because of the versatility it offers. A treat-based toy that encourages foraging while offering different levels of difficulty is an ingenious way of switching up playtime and keeping things fresh when using the same toy repeatedly. This toy has almost unlimited longevity and I defy your chilly to tire of this toy!
If you really want to treat your chilly, choose the Chin Spin Chinchilla Wheel from Quality Cage Crafters. The most premium toy on the list, it is beautifully made and will satisfy your chilly's exercise needs.
However, if you're looking for a toy that will keep your chillies busy and is big enough for two or more to play with at once, choose the Oxbow Enriched Life Play Wall. It not only ticks all of these boxes but also helps keep their teeth in check at the same time.
Being such intelligent, curious little critters, chinchillas do benefit from having a variety of toys at their paw-tips. Use our reviews to see what type of toy you haven't yet checked off your chilly's shopping list and treat your chinchilla today!