Just like all of our four-legged friends, ferrets love to be rewarded for their beautiful behavior. With three fun-loving ferrets at home, I scoured the web to find treats that could be as simple as opening a pack and pouring into their bowl. Knowing their love for all things meaty, it was no surprise that Marshall Goodbye Odor Treats were the best ferret treats for each of my furry friends.
Having my ferrets for numerous years, I have become a bit of a pro when it comes to choosing scrumptious snacks for them to adore. Often opting for raw meat for my Jills and Kiko, our boy, preferring cooked poultry, Marshall Goodbye Odor Treats are the perfect balance of the two. Featuring pure cuts of mouth-watering meat, for those ferrets that love a combination of raw and cooked protein, these treats are definitely a top choice.
From young ferrets to old ferrets, males to females, no ferret is the same, and nor should their treats be. For those opting for raw to ferrets with preferences for red meat over white, our list of the top ten treats will most definitely get their mouths watering and give you a well-deserved break from preparing their treats from scratch. With a plethora of treats on offer, take a look at my top ten and find a brand your ferrets will love time and time again.
Our Fan Favorites
As natural carnivores, all of the following treats showcase the finest cuts of meat and poultry on offer. Whether you have a growing kit or naughty nibbler living in your home, choose from our list of super six snacks that won't just provide your ferret with a scrumptious snack but will also supplement their dietary needs keeping them happier, healthier, and more wholesome each and every day.
Marshall Goodbye Odor Treats – Best Ferret Treat Overall
With specific dietary needs, finding treats for your ferret can be a troublesome task. As many bad ferret treats can contain unnecessary bulking agents like veggies and grains in their recipes, what makes Marshall stand out is that their treats contain a high percentage of pure meat content in every packet. This means your ferret gets the wholesome, healthy, and nutritionally beneficial treat they need and love.
For those extra smelly furry friends, these treats are a great way to reward their good behavior whilst the unique combination of ingredients helps to reduce excess odors in your ferrets. Containing heaps of tasty chicken, these tasty treats will provide your ferret with a scrumptious snack that provides all the vitamins and minerals to keep them happy and healthy each and every day.
Semi-moist meaning these tasty treats are soft and scrumptious being kind on teeth with each and every bite. These treats are a great reward for ferrets on a dry-kibble based diet as hard kibble keeps teeth clean and well-maintained. Avoid feeding to ferrets on a moist or raw diet.
Affordable (Great for bulk-buying for multiple ferrets)
High meat content (great for nutrition)
Not as beneficial for oral health for those on a sole-moist diet
Marshall Bandits Ferret Treat – Best Premium Ferret Treats
Made in the USA, these tasty treats are the pawfect product for ferrets whose taste buds extend a little further than their standard kibble. Owning three ferrets, often I notice them becoming bored with the same food and treats each and every day. Available in a plethora of fantastic flavors, Marshall Bandits Treats will ensure your ferret never gets the same flavor twice. From peanut butter to banana, these protein-based treats are everything your ferret wants with a little extra flavor.
Even with the superb selection of flavors, the protein origin in these treats ensures they keep all the nutritional goodness and support as feeding your ferret regular meat. Made with premium cuts of meat and poultry, these are treats with added va, va voom. Resealable, in a stay-fresh zipper pouch, the fantastic flavor is all locked in ready for the next time your ferrets need and want them!
Available in a range of flavors – great for ferrets on single-protein diets
Available to buy in multipacks – saving you money and time
Smell can be too strong for younger ferrets
Beaphar Vitamin Malt Paste – Best Treats to Aid Grooming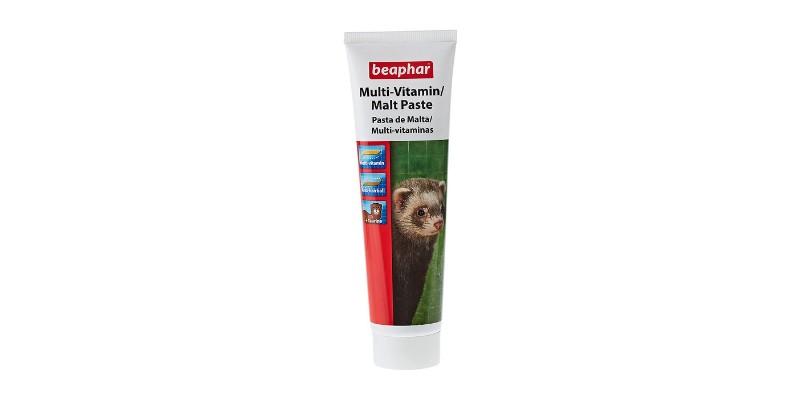 If the thought of clipping your ferret's nails makes you anxious and full of stress, Beaphar's Vitamin Malt Paste may just be the solution for you. Regularly grooming my three ferrets was a troubling task until I was recommended this pawfect paste. Both a treat and nutritional supplement, it contains vital vitamins such as taurine helping to keep fur soft and glossy and tummies in tip-top condition.
Wondering how to feed Beaphar to your ferret? Simply place a pea-sized amount onto their bellies and watch them lick away giving you the opportunity to clip their nails in a safe and anxiety-free environment. However, this isn't liked by all ferrets, my Hob, Kiko, absolutely adores and goes crazy as soon as I open the tube but my Jills tend to turn their nose up at this tasty treat.
Overall, I have found it an absolute miracle during necessary grooming episodes and I can guarantee you will too.
Easy to administer
Keeps your ferrets occupied for hours
Not all ferrets may like the taste
N-Bone Soft Ferret Treats – Best Grain-Free Ferret Treats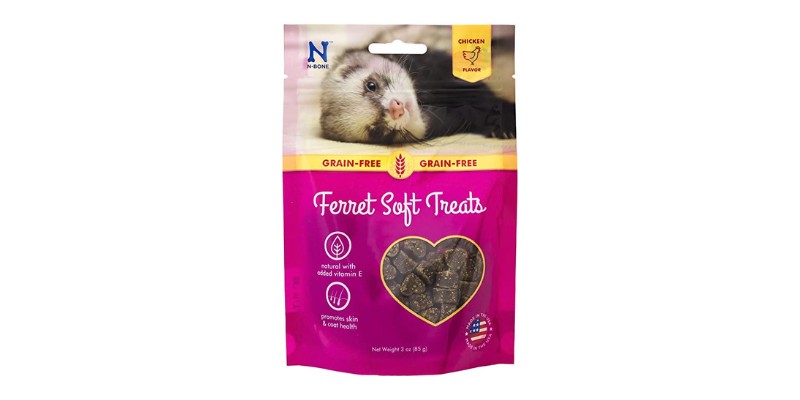 Over the past few years, the term 'grain-free' has overtaken the pet food industry and become a household name when out and about shopping for our pets. Free from any nasty bulking grains such as rice, wheat or barley, grain-free treats are better for digestion making them the best treat for the tiny tummies of our ferrets.
With extra Vitamin E to promote healthy skin and coat, these soft treats will provide your ferret with a mouthful of meaty goodness. Delightfully designed in heart-shaped pieces, N-Bone's scrumptious, grain-free snacks are the best for owners who wish to stay away from added bulking agents and whose ferrets may experience recurring tummy issues associated with grains.
Soft to bite so great for baby ferrets
Packed full of vitamins to support healthy coat and skin
Can sell out quickly so grab them whilst you can
N-Bone Ferret Chew Sticks – Best Long-lasting treats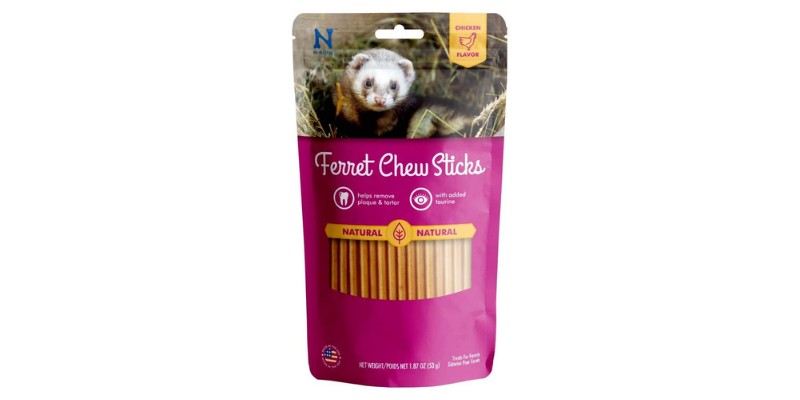 If you have a naughty nibbler that has a tendency to chew, gnaw and shred socks, shoes or anything they can get their paws on, N-Bone's Ferret Chew Sticks are a great way to satiate those needs to chew and chomp, saving both their teeth and your furniture. Having a naughty nibbler in my own crew of ferrets, I knew I needed a treat that would help reduce the likelihood of excessive chewing. Pliable but firm, these sticks give your ferret a good chewing session meaning you can sit back and relax knowing their environment is safe from any unwanted nibbles.
Made with a fantastic 35% meat content, these chews are more than just a treat. Designed to help ferrets naturally clean their teeth by removing build-up of nasty plaque and tartar, these sticks aren't just scrumptious; they are beneficial to oral health too!
Available in two fantastic flavors: Bacon, Chicken, and Salmon, no matter what flavor preference your ferret has, N-Bone has something for them.
Helps alleviate destructive chewing
Great for oral health
Supervision needed whilst giving your pet any form of chew
Marshall Bandits Freeze-Dried – Best for Kits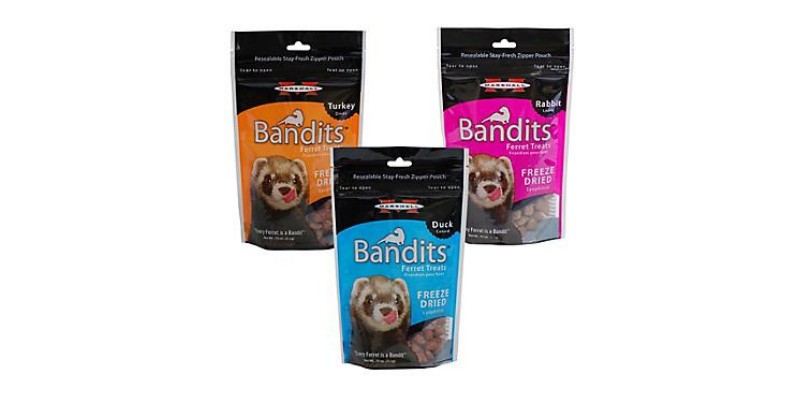 For first-time ferret owners or even breeders, ensuring your kit (or kits) have the right amount of nutritional support in their diets can be tricky. With so many brands of food and treats on the market, understanding what is best can be hard to decipher. Marshall Bandits Freeze-Dried treats are the ideal supplement boost for any growing ferret. Made with real cuts of Rabbit, Turkey, and Duck, these treats are simply just too tempting.
Freeze-Dried to lock in that fabulous flavor and nutrition, your Kits will go crazy when a few of these meaty morsels are placed into their cage. Like every Marshall Ferret Treat, these freeze-dried fancies are perfectly packaged in resealable zipper pouches ensuring they stay fresher for longer. A little pricier than other treats on our list but the flavor profiles of each of these treats is the selling point for these scrumptious snacks. Ultimately, if your ferret is on the hunt for treats with high-meat content, fantastic flavor, and nutritional benefits, Marshall Freeze-Dried is the treat for them.
Freeze-Dried locks in flavor and nutrition
Great for growing kits
Fantastic flavors to suit any meat-loving ferret
More expensive than other treats
A Guide to Buying Ferret Treats
For first-time ferret owners, understanding what your ferret needs and wants can be a tricky task. When bringing home my ferrets for the first time, I scoured the web for hours trying to understand their dietary needs. Making life a little easier for ferret lovers, here's what you need to look for when bringing home treats for your little furry friends.
Ingredients
As a ferret mom, one of the main things I look for when shopping for treats for my ferret is meat-content. Being natural carnivores, meat should be the basis for any food source you feed your ferrets. Treats should have a high meat content of 50% or more and avoid added veggies and grains as these can lead to gastrointestinal upset in our little furry friends.
Like hedgehogs, ferrets are lactose intolerant so ensure no treats contain any form of dairy product like milk or cheese. Try and stick to products labeled specifically for ferrets as these types of treats have been specifically designed to suit the nutritional support of our pets.
Storage
Treating your ferret is a fun and fantastic activity but you don't want to give them all of the excitement at once. Space out treating your ferret between 2-3 days so packaging that is resealable and foil-insulated will ensure their treats keep fresh and no nibbly paws can easily enter them without human supervision.
Price
For good quality ferret treats, you should expect to pay around the $2-3 dollar mark. This price reflects the standard of protein used to create the treats therefore anything less than this mark signals that cheaper and lower quality cuts of meat have been used.
For those looking to cut costs even further, seeking help from a local butcher is the way to go. Asking for "off-cuts" (the parts of meat undesired when requesting steaks etc) are pawfect for your ferret and easy on the purse strings too.
Best Natural Ferret Treats
For those looking to treat their ferret to something a little more natural, proteins that we prepare and cook ourselves can be a great alternative for your ferret than pre-packaged treats. As natural carnivores, ferrets should only be fed meat-based products and any form of dairy products should be greatly avoided due to the fact our little furry friends are lactose intolerant.
Fans of red meat and poultry, here are some great little snacks your ferret will love as a weekly treat to give them all the protein power they so greatly love and want.
Diced Beef
Raw beef is a fantastic treat for your ferret. Packed full of iron, this powerful protein will provide all the right vitamins and minerals to keep your ferret's cardiovascular system in tip-top shape. If your ferret is like mine and on an all-dry kibble diet, a weekly or fortnightly bowl of diced beef can be a well-needed treat after times of fun and play.
Although ferrets can enjoy cooked beef, it is best to serve raw so simply dice into small cubes and place them into your ferret's cage. Avoid cross-contaminating their dry kibble with raw meat so if you wish to try your ferret on raw food, it is best to purchase a new bowl to do so.
Top Tip!: Raw beef is a great source of iron for Jills in Heat (during May-September). Prone to anemia, if not mated, feeding your girls raw meat helps maintain their iron levels and keep them happy and healthier during this time.
Cooked Poultry
For homes that look to cook up chicken on a regular basis, feeding your ferret a little of your chicken leftovers is a fantastic way of giving them a nutritional boost. Unlike my Jills, my Hob, Kiko, has a preference for cooked chicken and turkey over raw meat, and being a little larger in size, a low-fat protein like chicken/turkey can help ensure he doesn't put on any excess weight.
If your ferret is growing noticeably larger or is a little older and less active, low-fat proteins such as poultry are a great way of rewarding your ferret without worrying about an extra weight gain. Turkey is a great treat for your ferret so when thanksgiving comes around the corner, perhaps save a slice for your caged furry friend.
Salmon
In its cooked form, salmon is one of the best natural treats to give to your ferret. Bursting with essential Omega-3 oils, salmon helps keep your ferret's coat and skin glossy, shiny, and full of natural oils. In addition to the fur-boosting properties, salmon is loaded with selenium too which helps regulate your ferret's immune system helping to fight infections and any nasty bacteria.
It is recommended to cook any form of fish for your ferrets, particularly salmon. Raw salmon can often contain parasites that can lead to food poisoning so it is always advised to properly cook this protein before feeding it to your pets.
Frequently Asked Questions (FAQs)
Buying Their Tasty Treats
With three hungry ferrets in my home, there is no treat I would recommend more than Marshall's Goodbye Odor. A fantastic way of rewarding your ferret whilst minimizing odors from sweat, urination, defecation, and heat (we all know they can be stinky from time to time). Packed full of protein to give your meat-lover all the nutritional benefits they need to stay happy and healthy all year round.
But for those ferrets out there who fancy the best ferret treats that are something a little different, our superb selection of scrumptious snacks are just a browse on Chewy or Amazon away.
Need some more ferret help? Check out these guides!: