Anyone who has seen a gerbil run will know they have A LOT of energy to burn. That's why the best gerbil wheel, the Exotic Nutrition Silent Runner Wheel, is a perfect solution to stretch your fuzzy friends' legs day or night.
As a gerbil owner, I know it can be a challenge to handle them, especially when you have several in your brood. I found the Exotic Nutrition Silent Runner Wheel to be the ideal solution when life is too hectic to handle several gerbils daily with its size allowing for a couple of gerbils to run at once (and my two love to do everything together).
Of course, every home is different, so we've researched and reviewed the best picks to suit every gerbil and its owners. Read on for our guide to the best wheels and reviews of our favorites.
The Best Gerbil Wheels Reviews
We've put a selection of gerbil wheels through their paces to bring you a round-up of the best out there for your fuzzy friends. Read on for the best wheels for tight budgets, premium pets, and multi-gerbil families.
Kaytee Silent Spinner 10" Wheel – Best Budget Exercise Wheel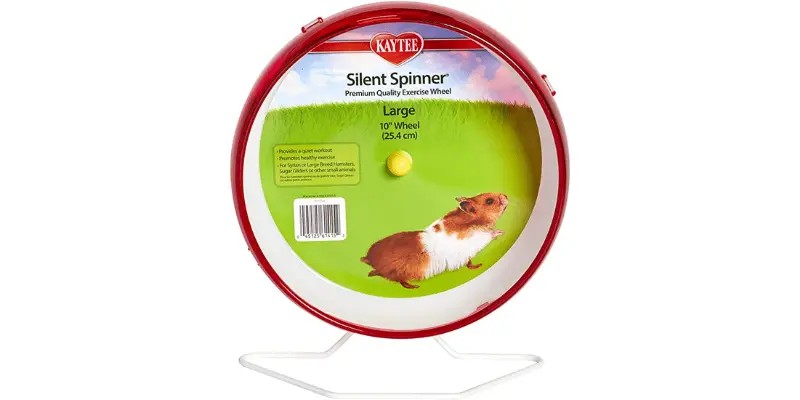 Kaytee's Silent Spinner Wheel is the perfect wheel for new gerbil parents who want to see how their furry babies get on with vertical wheel running. Enjoy watching your babies run with a fully open front and no protruding axle for ultra-safe exercise!
Measuring 10-inches, the size is what makes this wheel a real contender. One of the larger wheels on the list, the Silent Spinner easily accommodates two or more gerbils. A larger wheel takes up more room in your cage so check you have plenty of space before buying.
While able to stand freely, we recommend attaching to your cage's bars if possible as the stand is more lightweight than our more premium options on the list.
Overall this wheel does look and feel more budget than some of our pricier options but is the perfect way of testing out a wheel on your gerbils – as long as you have the space!
Best Features
Cheap to buy – a perfect starter wheel
Large size is ideal for multiple gerbils
Can free stand or attach to cage bars
Watch Out For
Lightweight base
Cheap appearance
Kaytee Tree of Life 3-in-1 Pet Habitat Accessory – Best Multi-Use Accessory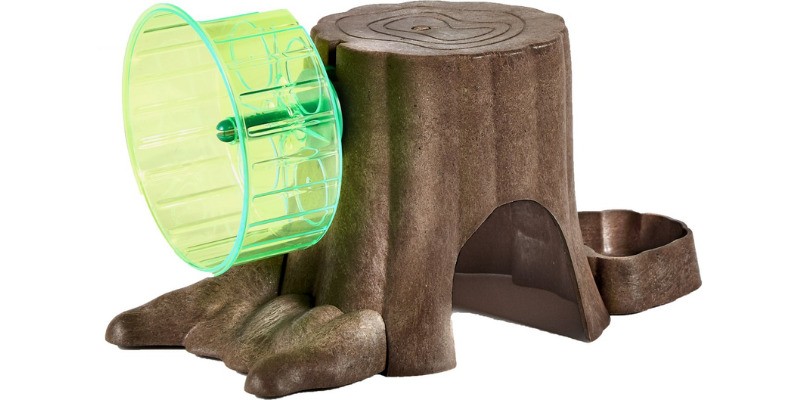 This multipurpose gerbil toy is perfect if you have premium space in your gerbil setup. A wheel, hideaway, and food bowl in one, your gerbils can eat, exercise, sleep and repeat.
The wheel itself is fairly small so it's best suited to young gerbils or a gerbil on its own and the tree takes up a fair amount of floor space so don't get this if your gerbils have toys aplenty already.
If you're looking for a fuss-free starter setup that includes exercise options, this cute woodland add-on is a great addition to your baby gerbils' home!
Best Features
Perfect for compact living spaces
Quirky woodland design
Easy to disassemble and clean
Watch Out For
Takes up more floor space
Needing a bigger wheel as your gerbils grow
Ware Flying Saucer Exercise Wheel – Best Saucer Exercise Wheel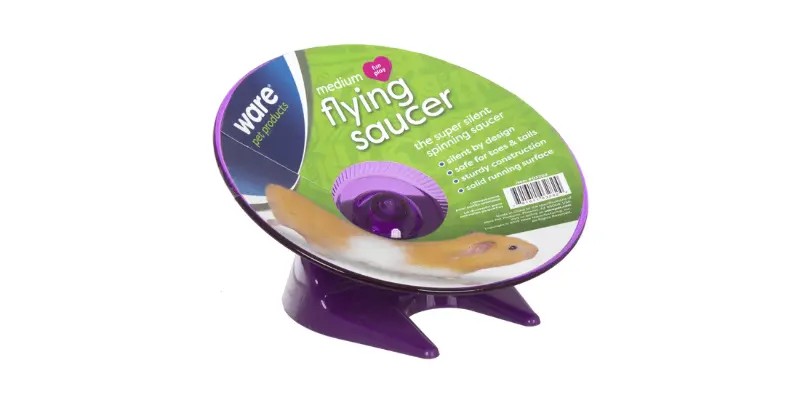 If you've found your gerbils don't enjoy running on a traditional wheel, a running saucer is a great alternative and the Ware Flying Saucer is our favorite of those we investigated. Designed to mimic a horizontal run, your gerbils will feel less enclosed than in a vertical wheel. Gerbils' toes and tails will never be at risk of catching either when running on this open-air exercise wheel.
Ware's flying Saucers come in a variety of sizes. The medium, measuring 7.5-inches should be large enough to accommodate a couple of gerbils. You'll need less overhead space in your gerbils' cage than for a vertical wheel but a flying saucer will take up considerably more floor space.
Coming in a variety of colorways, your order is chosen at random, so look elsewhere if you have your heart set on a coordinating color scheme.
Best Features
Safe, open saucer design
Various bright colors and sizes
Easy to clean
Watch Out For
Some gerbils don't enjoy saucer running
Takes up more floor space than an upright wheel
Exotic Nutrition 9" Silent Runner Wheel – Best Premium Quality Gerbil Wheel
Exotic Nutrition's Silent Runner Wheel tops many best small animal wheel lists (including ours) and with good reason.
Featuring dual ball-bearing technology, we were blown away by just how quiet this wheel is, offering practically squeak-free running for your pets. The sturdy base plate means gerbils can enjoy running at full speed without the risk of tipping over. There is also the option to switch to a bar attachment if you prefer to free up extra floor space.
Available in a range of sizes we recommend the 9-inch for a couple of gerbils but you can upgrade to the 12-inch if you have several in one cage and the space to fit it.
From the materials used to the innovative design features, everything about the Silent Runner Wheel is premium – and this also means the price tag. That said, if your gerbil deserves the best and you have the money to spend, the Silent Spinner won't disappoint.
Best Features
Ultra-quiet ball bearing technology
Choice of free-standing or a cage attachment
Sturdy design and premium materials
Watch Out For
Premium price
Some gerbils dislike a covered front
Prevue Pets 90013 Wire Mesh Gerbil Wheel – Best Metal Gerbil Wheel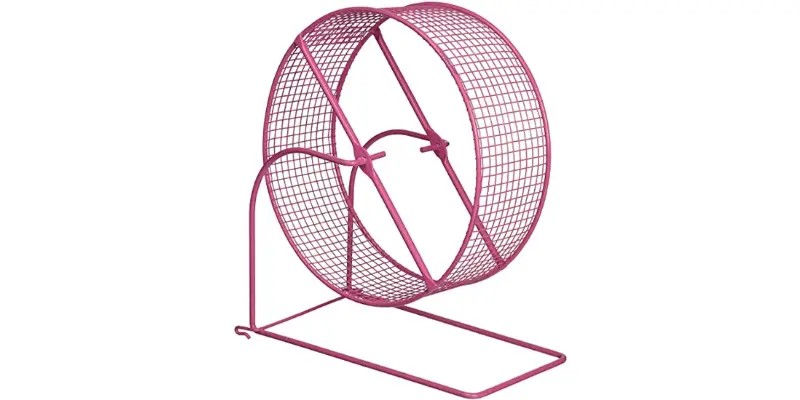 If longevity ranks highly on your gerbil wheel checklist then a metal construction is the way to go. The Prevue Wire Mesh Gerbil Wheel is entirely chew-proof and will outlast plastic and wooden wheels every time.
We loved that the mesh track design allows any mess to fall through making cleaning a non-issue. There are also no nooks and crannies for bedding, food or feces to get trapped.
The stand comes attached but wires can easily fasten to your gerbils' cage bars for added stability, should you wish.
There are four colors available but you don't get a say in what color you receive. The design is a bit simple and doesn't have the charm of some of the quirkier options on this list. However, if you want a great value, long-lasting wheel, the Wire Mesh Gerbil Wheel is an easy choice.
Best Features
Long-lasting metal construction
Easy to anchor to cage bars or leave freestanding
Stays clean
Watch Out For
Basic design
Random color choice
Niteangel Super-Silent Exercise Wheel – Best Wheel for Customisable Options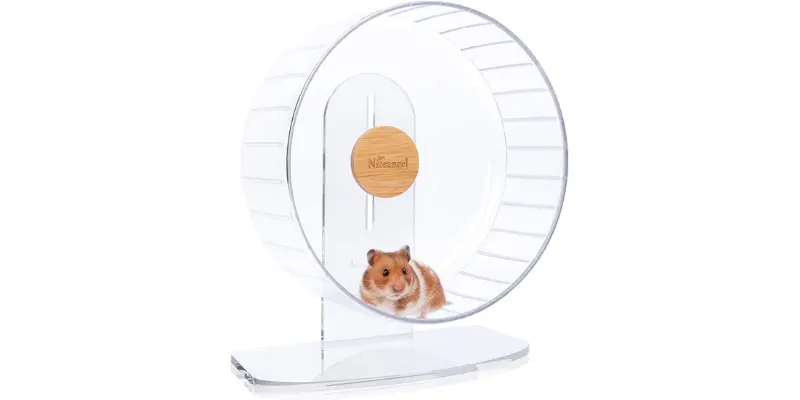 If you've been looking for a wheel that comes with options, then look no further! The Niteangel Super-Silent Exercise Wheel comes with over 10 different colorways so you can get your gerbils' home looking just right.
Available in three different sizes, the smallest at 8.2-inches is amply big enough for young gerbils (though do size up if your cage setup allows).
Our favorite feature of this wheel is the option to adjust the height of the wheel on the base. This allows the wheel to be closer to the floor for easy access when your gerbils are younger or older and less agile. You can then raise the height and increase the challenge as they grow!
While undeniably stylish, the Super-Silent Exercise Wheel also features the substance you'd expect from Niteangel. Chew-resistant, high-quality plastic creates a wheel that is smooth and comfortable to run on. Not only this, the wheel is as super-silent as the name suggests, guaranteeing any late-night runs won't keep you awake!
Our only bug-bear is that there is no cage attachment included but the heavy acrylic base should make up for this.
Best Features
Choice of heights – grow with your gerbils
Huge range of colorways
Sleek and simple design
Watch Out For
Petzilla Quiet Hamster Exercise Wheel – Best Wooden Wheel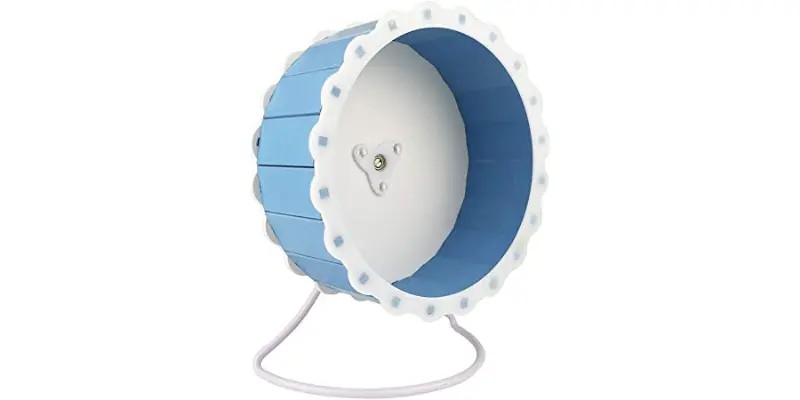 Knowing that gerbils are going to chew whatever is in front of them, a wooden wheel is a natural choice for providing an exercise outlet as well as helping to maintain dental hygiene.
This is by far the cutest design of any gerbil wheel we could find, with a floral-inspired design and a choice of four different colors to compliment any gerbil's home.
Available in 7.5-inch and 9-inch options, there's not much difference in the cost so we'd recommend sizing up if possible.
As with any wooden toys, keep an eye out for signs of wear and replace if you spot signs of chewing damage. Wooden toys also absorb any urine so this wheel could smell over time and will be harder to clean than plastic or metal alternatives.
However, if you're looking for a chew-friendly option that is absolutely adorable, this Quiet Hamster Wheel is a clear winner!
Best Features
Cute sunflower design
Chew-safe wooden construction
Choice of colors
A Guide to Choosing the Best Gerbil Wheels
Most small animals enjoy and benefit from wheel-running. Whether you're an old hand at gerbil care or are just starting on your gerbil journey, it pays to review what options are out there before picking a gerbil wheel. Think about what is most important to you (budget, space-saving, particular materials) before weighing up our top 7 gerbil wheels and why they'll suit you and your gerbils.
In their natural habitat, gerbils get their exercise from running massive distances in comparison to their tiny frames. This means they're unlikely to get the exercise they need just from running backward and forwards in their cage. An exercise wheel is a perfect solution, allowing your pocket pals to stretch their legs in the confines of their cage.
Gerbil Wheels – Frequently Asked Questions
What Size Gerbil Wheel Should I Buy?
Choose a wheel that measures at least 8 inches for a single gerbil or a coupe of juvies.
| | |
| --- | --- |
| Age / Number of Gerbils | Recommended Wheel Size |
| Juveniles / 1 or 2 | 7-inch to 8-inch |
| Adults / 1 or 2 | 8-inch to 9-inch |
| Adults / 2 or more | 9-inch to 12-inch |
The bigger the better, though, if you have multiple gerbils – particularly ones who like to run together. Look at your current cage setup and opt for the largest wheel you can comfortably fit to give your gerbils the best chance of stretching out.
What Materials Are Best for Gerbil Wheels?
You'll already know that gerbils live to chew. Metal wheels will outlast other materials as they won't wear over time, however wooden wheels are kinder to your gerbils' teeth, and are better for dental hygiene. Wooden wheels also, unfortunately, absorb urine, making for a potentially smelly – and costly – maintenance situation.
Plastic wheels divide opinion because of the safety implications when it comes to chewing (poorer quality plastics can splinter and become sharp, as well as potentially cause harm if swallowed). But if you're vigilant about looking out for any signs of wear and replacing any cracked or splintered plastics, you'll find some excellent plastic wheels available.
The brands included on this list only produce toys with your pets' safety in mind and use the best quality, chew-resistant plastics so as long as you follow the guidance on replacing worn-out wheels you'll have peace of mind.
What Features Should I Look Out For?
With gerbils, it's super important that there are no gaps in the wheel that tails can get caught in. A badly constructed wheel can cause tail slip – where the skin of the gerbil's tail will detach leaving exposed bone.
Rest assured we've vetted every choice for your gerbils' safety. No trapped tails here!
Do All Gerbils Love Running On Wheels?
Unfortunately, some gerbils just don't get the hang of running on wheels, no matter how hard you try. If unsure whether your gerbils enjoy the thrill of a high-speed run, consider one of our cheaper options first before upgrading to a more premium choice once they find their feet.
Next Steps: Which Is the Right Gerbil Wheel For Me?
When looking for a suitable exercise wheel, you'll have some particular criteria in mind that will inform your decision-making.
Our runaway favorite is the Exotic Nutrition Silent Runner Wheel for premium technology and unbeatable build. Our runner-up is the Niteangel Super-Silent Exercise Wheel for a phenomenal colorway choice without compromising on quality.
But if you want to go plastic-free, choose the Prevue Wire Mesh Wheel for a fuss-free exercise option that's also excellent value for money.