As the winter weather wanders across the globe, many of us will see a few extra visitors in our gardens seeking food and shelter before hibernation. One of these classic creatures is the hedgehog. Famed for its plethora of prickles, our gardens and nearby hedgerows become a perfect place for these classic creatures to settle as the winter season sets in.
Like all hibernating creatures, the hedgehog spends the fall months preparing for the time when food is sparse and hard to come by. With hedgehog species on the decline in recent years, it's no surprise that we are being encouraged more and more to welcome hedgehogs into our homes.
Helping hedgehogs through hibernation by supplying them with shelter and food can help make the change, so we begin to see a rise in these magnificent creatures, and our wonderful wildlife thrives once more. So, with that, here's everything you need to know about helping hedgehogs and giving them the best food.
Best Cat Foods for Hedgehogs
5 Tips on Choosing the Best Cat Food For Your Hedgehog
Here are some tips to follow before purchasing stocks of cat food for your hedgie, to ensure you get to buy the best cat food for your pet:
Food Safety
Even if your hedgehog would eat anything that you give them, you should still check the cat food for ingredients that might harm your pet. Carefully select and know the product's background before making a purchase.
Main Ingredients
There are different ingredients used in a lot of dry and canned cat foods, but we recommend that you mainly use chicken or meat as your pet's meal. This is because it's high in protein, which is crucial to your hedgehog's diet.
Nutritious Diet
Dry cat food should always be a part of your hedgie's diet. Since foods for hedgehogs are hard to find in the market, you can rely on cat foods to make sure that your pet is provided with the right diet they need.
Look at the cat food's nutrition guide, which is found on their packs, box, or labels, to find out the percentage of moisture, fats, protein, and fiber added to it. It's important for hedgies to have a properly balanced diet to become strong and healthy.
3 Best Cat Food for Hedgehogs Under 6 Months
1. Chicken Soup for the Soul Kitten Canned Food
Each can of this kitten food is slowly cooked and packed full of necessary nutrients, so you can feed this to your pet as a stand-alone meal or as a supplement. This cat food also has bits of vegetables in it, which hedgehogs love in the right amounts.
Chicken Soup for the Soul Adult Cat Food - Chicken & Turkey Pate,
We Are Committed To Producing A Superior Quality, Pure, Wholesome Pet Food Using Only The Finest, Freshest Ingredients Available.
We Are Committed To Producing A Superior Quality, Pure, Wholesome Pet Food Using Only The Finest, Freshest Ingredients Available.
We Are Committed To Producing A Superior Quality, Pure, Wholesome Pet Food Using Only The Finest, Freshest Ingredients Available.
Chicken Soup for the Soul kitten edition has chicken liver, chicken meal, cracked pearled barley, and chicken fat preserved with mixed tocopherols. In addition, its ingredients also provide a good source of Omega-3 and 6 fatty acids, and as well as Vitamin E and Zinc for your hedgie.
2. Halo Holistic Seafood Medley Dry Cat Food
If your pet craves something different, shying away from chicken, or if you want to change their usual diet, then try Halo Holistic Seafood Medley. Some hedgehogs prefer the taste of fish, which is fine as long as the fat and protein levels are well balanced.
Sale
Halo Sensitive Stomach Dry Cat Food, Seafood Medley 6-Pound Bag
Halo Sensitive Stomach Dry Cat Food, Seafood Medley 6-Pound Bag
ONLY REAL WHOLE MEAT HERE – We proudly give your cat delicious whole meat - never any of that rendered "meat meal," like "chicken meal" or "fish meal"
CERTIFIED SUSTAINABLY SOURCED, MADE IN THE USA – As much as it is healthy, our cat food is also humane; Halo says "NO" to factory farming, sources our high-quality fish from Marine Stewardship Council (MSC) Certified sustainable fisheries, and uses non-GMO fruits and vegetables. All Halo products are made in the USA, with quality ingredients sourced from US farms and around the world
HIGHLY DIGESTIBLE, GREAT FOR SENSITIVE STOMACHS – Our healthy and holistic dry cat food is highly digestible since there are no rendered meat meals, artificial ingredients, or preservatives. Plus, with added novel proteins and whole grains even cats with sensitive stomachs will enjoy easy digestion and healthier stools
DESIGNED FOR ADULT CATS – Give your pet the nourishment they need with added taurine that supports eyes and heart health, while also maintaining the muscles and energy levels of adult cats
Halo's main ingredients are trout, oats, salmon, eggs, pearled barley, and pea protein, and it comes with sufficient levels of fat and protein. This is also a good option if you are looking for cat food that has a good source of fiber as it contains 6.5% of fiber.
3. Taste of the Wild High Protein Meat Dry Cat Food
Here is another good seafood-based cat food, which is great for hedgehogs that are crazy about fish. Each pack of Taste of the Wild contains a unique mix of sweet potato, trout, potato protein, ocean fish meal, and potato.
It's also highly rich in nutrients and very digestible with proprietary probiotics, which will keep your pet strong and healthy. This is a completely grain-free option and is good for hedgehogs that aren't avid runners.
We like to avoid feeding our pets food full of grains since it only fills up hedgehogs instead of providing high levels of nutrition.
5 Best Cat Food for Hedgehogs Above 6 Months Old
Now, let's move on to the best cat foods for hedgehogs that are above six months old. Foods for young and adult hedgehogs may vary because their needs changes, which is why we have separated the best cat foods for both young and adult hedgehogs.
1. Chicken Soup for the Soul: Weight and Mature Care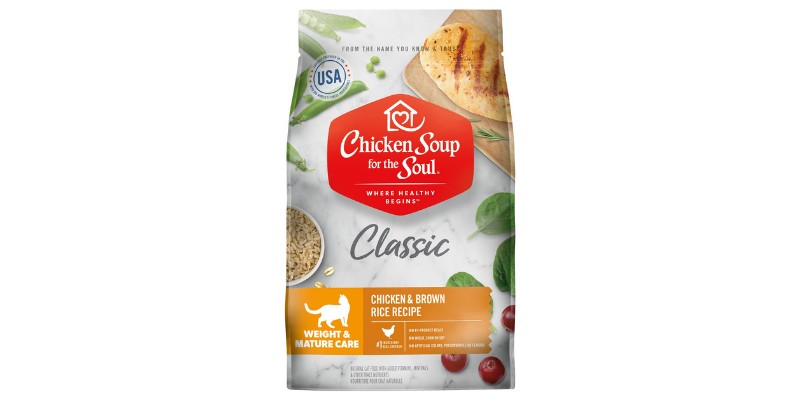 Created to help support the dietary needs of mature cats, Chicken Soup for the Soul: Weight and Mature Care recipe will provide your hedgehogs with high levels of nutritional support while managing their weight, avoiding obesity, and large amounts of fat consumption. Made with the finest ingredients, this recipe can help support your hedgehog's:
Digestion
Immune Health
Eye and Brain Health (with supportive Omega 3 oils)
As humans and mammals can't produce Omega 3 naturally, this recipe gives pawfulls of this essential oil to support both cats and hedgehogs with their eye, brain, and immune health, giving them a health boost before darker evening and winter colds arrive.
2. I and Love and You: Naked Essentials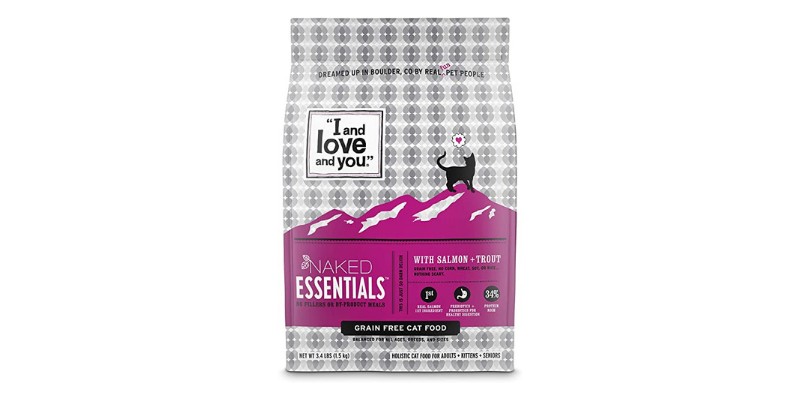 As natural insectivores, our wild hedgehogs aren't built to consume grains found in regular food. With the recent rise and push for grain-free diets, I and Love and You's Naked Essential range, featuring a scrumptious Salmon & Trout recipe, provides hedgehogs with a delicious dinner that won't cause any irritation or upset to their small and sensitive tummies.
With hand-selected ingredients chosen by their in-house holistic vet, Dr. Angie, their crunchy kibble is bursting with the Omega-busting fish that will provide your hedgehog with all the wholesome support they require.
I and Love and You select their ingredients from sustainable sources to maintain thriving oceans, purchasing this kibble will not only help your hedgehog survive the wild but can help make a small change to help the planet, one paw print at a time.
3. Blue Buffalo Weight Control Adult Dry Cat Food
Containing the finest cuts of real chicken, Blue Buffalo Weight Control provides all the nutritional support your hedgehog needs to stock up in preparation for hibernation.
Made with leaner chicken protein, this fantastic food is created to manage your feline's weight making it the ideal food source for healthy and happy hedgehogs.
Blue Buffalo Weight Control Natural Adult Dry Cat Food, Chicken & Brown Rice 15-lb
COMING SOON: BLUE Tastefuls! BLUE for Cats is getting a new name and look, but the tasty recipe is staying the same.
REAL MEAT FIRST: Blue Buffalo dry cat food always features real meat as the first ingredient; High-quality protein from real chicken helps your cat maintain strong muscles; Plus, it contains wholesome whole grains, garden veggies and fruit
FOR WEIGHT MANAGEMENT: Our weight control cat food is made with an optimal blend of protein and calories to help your cat achieve and maintain an ideal body weight; Plus, it contains omega 3 & 6 fatty acids to promote a shiny coat and healthy skin
WITH LIFESOURCE BITS: This formula contains BLUE's exclusive LifeSource Bits - a precise blend of antioxidants, vitamins and minerals carefully selected by holistic veterinarians and animal nutritionists, to support immune system health
NATURAL CAT FOOD: BLUE dry cat food is made with the finest natural ingredients enhanced with vitamins and minerals; It never contains chicken (or poultry) by-product meals, corn, wheat, soy, artificial flavors or preservatives
What makes this food stand out from the crowd is the specialist antioxidant ingredients added to the recipe to provide pawfulls of vital vitamins and minerals. Their LifeSource Bits offer a boost of healthy goodness, imperative for hedgehogs preparing for winter hibernation.
Containing zero additives and preservatives, this ravishing recipe will keep both your cat and hedgehog healthy, wholesome, and happy with every blissful bite.
4. Iams Proactive Health Adult Dry Cat Food
The IAMS original ProActive health offers flavorful and protein-packed ingredients made with chicken. Protein is important in a hedgehog's diet as it keeps them healthy, and helps grow strong muscles as your pet matures.
IAMS PROACTIVE HEALTH Adult Healthy Dry Cat Food with Chicken, 22 lb. Bag
Contains one (1) 22 lb. bag of IAMS Proactie Healthy Adult Dry Cat Food with Chicken
Chicken is the ingredient in this nutrient-rich cat food designed for a healthy body for play
Support your cat's healthy digestion with natural fiber and prebiotics
Promotes healthy skin and glossy coat with omega-6 and -3 fatty acids
Made in the USA with the Finest Ingredients
This product is made of prebiotics and beet pulps that help support your pet's digestive system. It's also a 100% complete balanced diet consisting of 33% of protein, 15% of fat, 3% of fiber, and even 10% moisture.
Understanding your Hedgehog
In the wild, hedgehogs primarily feed on live insects, but they are also not too fussy and eat a varied diet provided it's protein-heavy. They are known to eat baby mice, small snakes, frogs, fish, worms, eggs, fruits, and more. They aren't picky eaters, which is a good thing for hedgehog owners, but it's still better to provide them with a properly balanced diet.
When you decide to adopt one of these prickly pals, it's also important to understand the health of the hedgehog to best support its wellbeing. There is no "one size fits all" approach to feeding or caring for hedgehogs, like there isn't with our felines and canines, so understanding a hedgehog's condition will allow you to provide the optimal support and care.
An unhealthy hedgehog will display signs often like a human's reaction to the cold or flu such as:
Lethargy
Panting
Loss of Appetite
Runny Eyes and Nose
If you notice a hedgehog with any of these signs, supplemented heat or a good, healthy meal can help put them on the road to recovery in no time. Using an old blanket and investing in some high-protein cat food can really help your hedgehog regain its happy and healthier self.
Cat Food or Dry Hedgehog Food
If you spot one of these prickly pigs in your garden, high-quality cat food is recommended as its rich protein source can provide the hedgehogs with all the vitamins and minerals they need in harsh outside conditions.
Requiring low-fat diets, meat sources such as chicken and fish are recommended proteins to feed a hedgehog. These can be found in most high-quality cat foods on the market.
With your hedgehog's food, it is important to put out a small bowl of fresh water as hydration is just as significant in a hedgehog's diet. It is vital that you never give a hedgehog any milk-based products as they are highly lactose intolerant leaving them with severe stomach upsets that can often be fatal.
Is Dry Food Better for Hedgehogs?
When it comes to choosing food for our own furry friends, we are constantly reminded of the choice we make between wet and dry food.
As natural insectivores, it's highly encouraged to feed hedgehogs dry kibble as this closely relates to their diet in the wild. Like in our cats and dogs, dry food for hedgehogs is beneficial to oral hygiene as crunching on biscuits can help keep teeth and gums free from plaque and tartar benefiting their overall health and wellbeing.
However, like all mammals, hedgehogs do benefit from high-protein sources which can be supplemented with moist and meaty wet food. In addition to your hedgehog's dry kibble, you can add an option on a teaspoon of wet food to provide them with an optimum diet.
Can I feed a Hedgehog Dog Food?
The primary reason why cat food is recommended is the size kibble that we feed our felines. With smaller teeth and smaller in weight and size, cat food provides the same level of protein and vitamin nutrition compacted into bite-size pieces that can be easily eaten and digested by hedgehogs.
Often created with lower fat proteins such as chicken and fish, cat food provides the ideal level of fat needed to help maintain a healthy diet for our prickly pals.
With dogs often requiring larger protein content using red meats with higher fat quantities such as beef and lamb, due to their higher exercise needs, cat food ensures your hedgehog isn't adding any unnecessary and excessive fat into their bodies.
How much food do Hedgehogs need?
As one of the smaller mammals in woodland areas, hedgehogs don't require as much food as some may think.
Needing no more than 2 tbsp of dry cat food per day, feeding your visiting hedgehog is simpler than you think. Feed early morning and evening with potentially a small number of mealworms as a snack during lunchtime to ensure they still get their dose of insect goodness.
Building a hedgehog home is the ideal way to prevent neighboring predators (or even your own pet) from stealing your hedgehog's food and can be a pawfect place for them to ride out hibernation where they can be well looked after and cared for.
Feeding Your Hedgehog
Hedgehogs aren't picky eaters, but they do have special needs and diets. Cat food helps ensure the correct amounts of nutrients and proteins are provided for your pet, so you don't have to worry about meeting your hedgie's nutritional needs.
Luckily, all the foods reviewed here provide all of that and more. All you need to do is to choose a product that seems best for your little hedgie.