Hedgehogs are one of the cutest pets on the block, so it's a no-brainer that they're growing in popularity. Creating the perfect home for your hedgie comes with its own challenges. You'd think that picking some bedding for your hedgie would be a straightforward task, right?
Unfortunately, not.
Once you start doing your research, it soon becomes obvious that there's a lot to consider when choosing the perfect nesting materials for your hog.
Luckily, we've taken the legwork out for you! Read on to discover why picking a suitable bedding material for your hedgehog is so important and which picks are best for your prickly pal.
Our Top 9 Hedgehog Bedding Choices
Clean & Cozy by Kaytee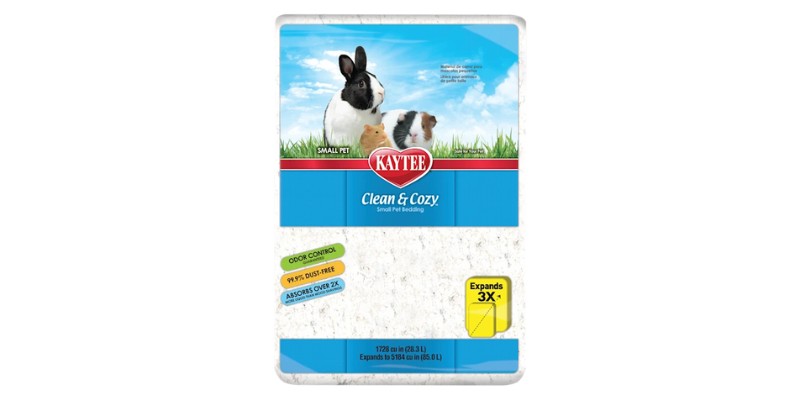 Kaytee has over 150 years in the small animal business, so they know their stuff when it comes to small animal bedding.
Their Clean & Cozy bedding is super soft and fluffy to make nest-building and burrowing a dream for your hedgie. Ultra-absorbent, this bedding will mop up over twice as much liquid as wood shavings, which is equal to six times its own weight!
The bedding also expands to triple the original size – so a little goes a long way.
Lock in nasty smells for longer with their odor control guarantee. With a 99% dust-free formula, Clean & Cozy also helps maintain a tidier environment for your hedgehog.
Best Features
Odor control guarantee
Can buy in bulk
A little goes a long way
Carefresh Small Animal Bedding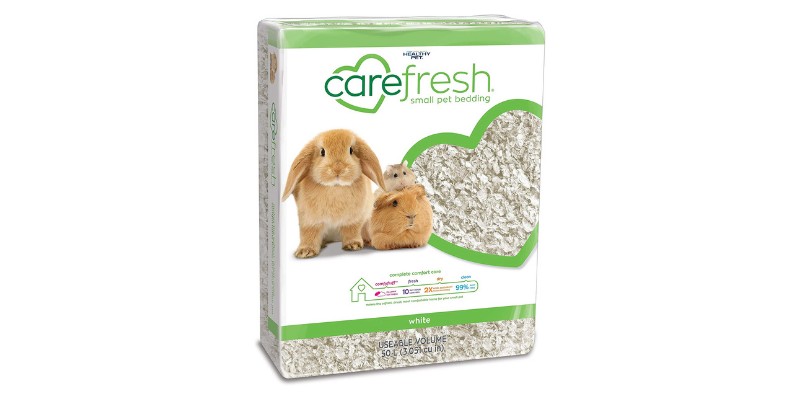 Carefresh promises to take your pet's comfort to the next level with its range of small animal bedding.
Boasting Comfyfluff tm technology, this bedding is entirely made from scratch and guarantees the snuggest of nests and the softest underfoot experience for your hedgehog.
Upcycled pulp from unwanted wood, pulp, and paper means you can do your bit for the planet while caring for your hedgie. Carefresh also features a special Odor Stoptm formula which locks in ammonia for up to 10 days, giving you more time to spend playing and less time cleaning.
Not every hedgie will appreciate the texture of this bedding as it is coarser than some. You can buy a range of sizes so consider a smaller pack to test out initially and check your hedgie gives its seal of approval.
Carefresh also has a range of special edition small animal bedding that comes in a variety of fun, mixed colors. You can jazz up your hedgie's home with confetti colorways including Tutti-frutti, Sea Glass, and Sprinkles to add some fun to cleaning day.
Best Features
Choice of special edition colorways
10-day odor control
Comfyfluff tm technology for luxurious comfort
Kaytee Soft Granule Blend Bedding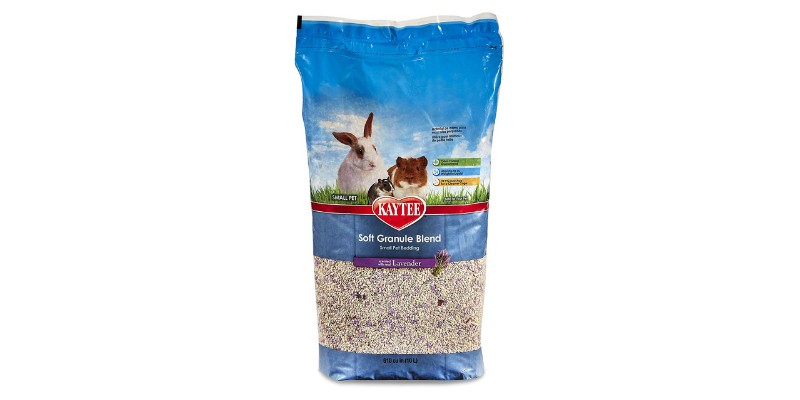 Reformed wood fibers make up Kaytee's Soft Granule Blend Bedding's comfy, crumbly consistency.
The look and feel of this hedgehog bedding is like cat litter with its pellet-like texture and ultra-absorbency. It's 99.9% dust-free so it's a great option for allergy sufferers.
Your hedgie will struggle to make an adequate nest out of Soft Granule Bedding alone but it makes a brilliant cage liner if your hedgehog is a messy roommate and goes to the toilet all around its cage. Add some soft nest-building fabric on top and get the best of both worlds.
A recommended weekly clean is more frequent than other brands but your hedgie's cage will stay hygienic and comfortable for the effort.
You can also opt for the lavender-scented version which has a pleasing aroma and a cute purple color to match its fragrance. Perfect if your hedgie prefers the finer things in life!
Best Features
99.9% dust-free
Excellent for lining the cage bottom
Very absorbent
Small Pet Select Aspen Bedding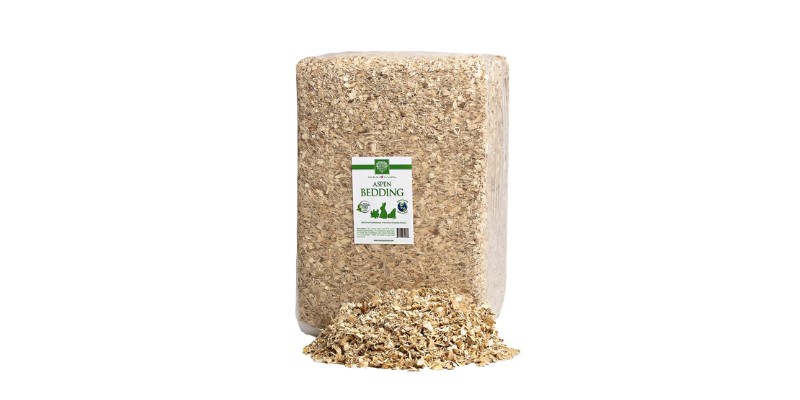 Unlike cedar shavings, aspen shavings are not harmful to hedgehogs. Containing no toxic oils, your hedgie's respiratory system will not suffer.
Made from kiln-dried log shavings, Small Pet Select promises no dangerous sludge and toxins in their small animal bedding. As with other Small Pet Select bedding, you'll find it's great value for money but may be less effective in absorbing smells and keeping your hedgie's cage floor dry.
A trade-off for the cheap price tag is that there is more dust with this product than the paper alternatives. If mess is a dealbreaker, keep looking.
Small Pet Select Aspen Bedding fluffs up well but will also get kicked out of the cage by active hamsters making cleanliness a double issue.
Best Features
Very cheap
Pleasant natural wood smell
Fluffs up a lot
Dr Hemp All-Natural Bedding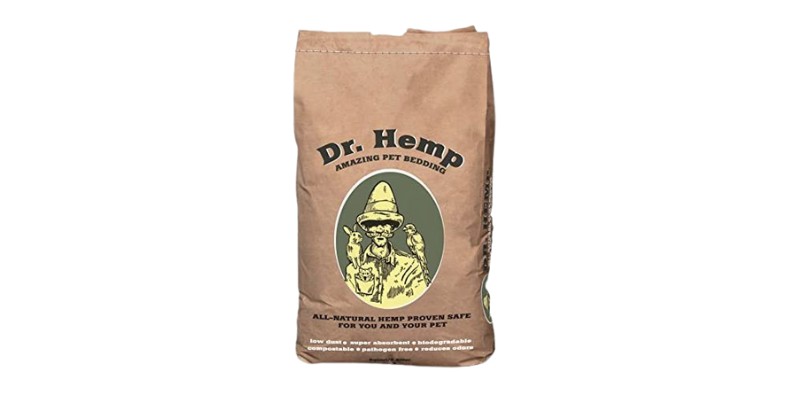 Looking for a sustainable choice of bedding? Then check out Dr Hemp All-Natural Bedding which comes in biodegradable, compostable, and recyclable packaging.
This is the perfect eco-friendly choice for your hedgehog. Boasting an ultra-high absorbency, Dr. Hemp stays drier much longer than wood shavings, suggesting you need only replace the bedding every 6-8 weeks.
Dr Hemp All-Natural Bedding does come in smaller sizes than many other ranges of bedding, which could be a downside. However, the long-lasting formula promises a positive impact on your wallet, as well as the environment.
Best Features
Biodegradable, compostable, recyclable
Long-lasting
Chemical-free
Brown's Naturally Fresh! Corn Cob Bedding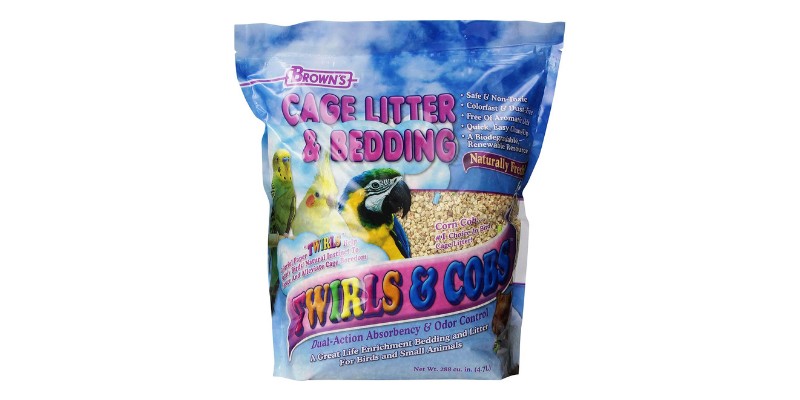 If you're looking for a natural, biodegradable choice, Brown's Fresh Corn Cob Bedding is a fun alternative for your hedgehog.
Absorbent, dust-free, and odorless, this bedding promises to keep your pet's cage fresher for longer, increasing the time between cleanings. This small animal bedding combines dry corn cobs with paper twirls. This gives both interest and a variety of nest-building materials for your hedgie.
Spot cleaning is a breeze – just remove any soiled clumps.
If you have a sensitive little hedgie, they might prefer softer bedding, but more adventurous hedgehogs will love this for tunneling and nesting. This bedding is only available in smaller packages, so we recommend pairing it up with another bedding to maximize efficiency and create a stimulating environment for your hedgehog.
Best Features
Eco-friendly
Free of any aromatic oils
Interesting mix of corn cobs and paper twirls
Vitakraft Fresh World Small Animal Bedding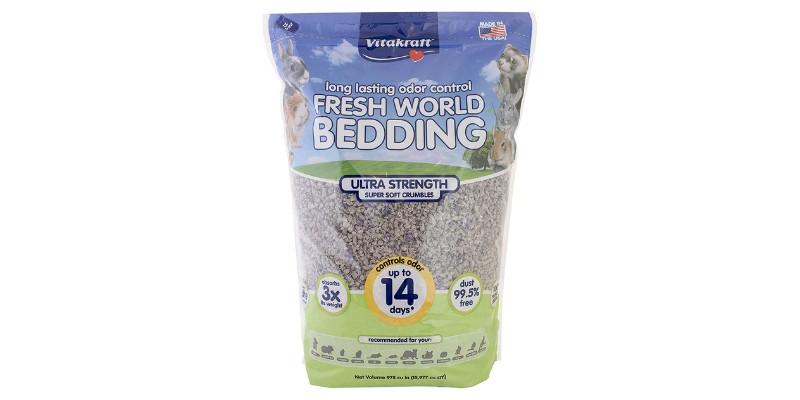 If your hedgie is less than fragrant, Vitakraft's Fresh World Bedding is a natural choice.
Another crumbly consistency, the Fresh World Bedding is soft and comfortable while out-performing cheaper options in absorbency. It does come with a premium price tag compared to other brands, but the results match the asking price.
An Odor Blocker Formula with Zeolite locks in the worst smells and absorbs any moisture speedily. With regular spot cleaning, cages stay fresh for up to two weeks.
Make sure you have a high-sided cage if your hedgie likes to dig as the light crumble formula can be easily knocked over the edge. Avoid if tidiness is a priority.
Best Features
Superior odor control
Longer times between cleans
Biodegradable and made from 100% recycled paper
Small Pet Select Premium Small Animal Bedding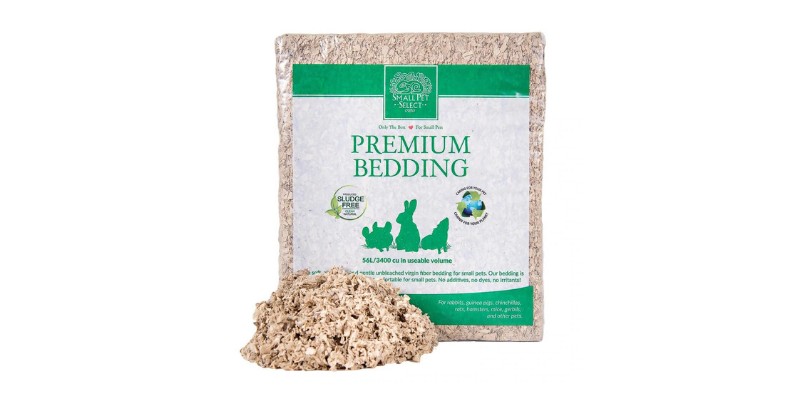 100% natural, unbleached paper fiber, Small Pet Select promises no hidden nasties in your small animal bedding.
Safety is a clear priority for the brand, and they make sure to pass their assurances on to you. There are no chemicals or additives used to improve odor control, so the Premium Small Animal Bedding relies on good absorption.
Spot clean and remove any soiled areas between full cleans and fluff up the remaining bedding to keep your hedgie feeling fresh. Peace of mind not only comes in the additive-free ingredients but the auto-delivery options on their website. Never run out of bedding again with regular deliveries of all sizes available.
Best Features
Available in jumbo sizes
Auto-ship option – never run out of bedding!
Great value for money
Carefresh Shavings Plus Small Animal Bedding
Carefresh's Shavings Plus offers a decent compromise between wood shavings and paper bedding if you're on a tight budget.
Combining kiln-dried wood shavings and the bedding pieces found in their Small Animal Bedding, you won't get the same high absorbency of the Small Animal Bedding. What you will get, though, is up to 5 days of odor protection, which is more than wood shavings alone.
Best Features
Combines shavings and paper bedding
More absorbent than wood shavings alone
A cost-effective compromise
Hedgehog Bedding Buyer's Guide
There are some key factors that you need to consider when purchasing the best bedding for your hedgie. Always keep in mind that whenever you buy bedding for your cage, make sure that it's safe for their health, comfortable to walk and sleep on, supplied by a reputable company, and dense enough for your pet to dig through.
Choosing the Type of Bedding
Suitable beddings for hedgehogs come in various types, but you'll mostly find paper-based beddings as they are safe to use for hedgehogs. They come in compressed packaging and need to be fluffed to achieve full size. They are also great for odor control and absorbing waste and are soft enough to burrow through.
Types of bedding that you should avoid using are pine and cedar shavings as they carry scents and toxins that are harmful to your hedgie.
But if you insist on using them, make sure that it is kiln-dried, free from sharp edges, and soft enough for your pet to sleep on and burrow through.
Dust-free Beddings
Aside from toxicity, another thing that you look for in bedding is to be dust-free as possible. Hedgehogs and other small pets have sensitive respiratory systems, therefore, having dusty bedding in their enclosure could lead to breathing problems.
It can also cause eye problems, so always make sure that their bedding is virtually dust-free.
Materials Used for the Bedding
Beddings that are specifically made for small animals like hedgehogs are made from various types of materials. The most common material used would be compressed recycled paper that undergoes extensive processing to suit your pet's needs.
During the processing method, the recycled papers are cleared of dyes and other paper additives before being heat-treated, which helps to make sure that the papers are free from any traces of harmful toxins.
The highest-quality paper bedding material should be made from unrecycled and unbleached papers.
Size, Scent, and Colors of Beddings
Most hedgehog beddings come in different colors, but most colored beddings come from recycled papers. This is not very surprising as most hedgehog beddings are made from recycled papers, but we assure you that the dyes used are natural extracts and perfectly safe for your pet's health.
Most bedding for hedgehogs isn't scented as hedgies have sensitive respiratory tracts, but still, you should make sure that the product you have bought is unscented. And as for the sizes, make sure the granules can't be ingested by your pet to avoid potential choking hazards.
So, Which Hedgehog Bedding Should You Choose?
Like most small pets, hedgehogs have a particular set of needs that good bedding will fulfill. It will be absorbent, dust-free, and make the coziest of nests for your hedgie to hide away in.
Most cozy
For the snuggest nest, Brown's Naturally Fresh! Corn Cob Bedding will allow your hedgie to feel safe and warm while having loads of fun getting their bedroom just right.
Most environmentally friendly
Dr Hemp All-Natural Bedding ticks all the boxes for the eco-conscious buyer. Protect the planet while caring for your hedgie with this biodegradable, recyclable, and compostable choice.
Best odor control
Lock in smells for longer between cleans with Carefresh Small Animal Bedding and keep your hedgie smelling sweet. Plus, you get the added bonus of funky colorways!
Best combo
Get the greatest absorbency and odor control by lining your hedgie's cage with Vitakraft Fresh World Ultra Strength Crumble for Small Animals. Increase the comfort by also using Clean & Cozy by Kaytee on top for a luxurious nest.
Remember to keep an eye on your hedgie's bedding to check for any dampness, discarded food, or other messes. Replace any soiled bedding and keep your hedgie comfy and cozy.